Best Friends volunteer awarded lifetime volunteer achievement award
Best Friends volunteer Chuck Austin is awarded PetSmart Charities lifetime volunteer achievement award for his commitment and work with the animals.
By Denise LeBeau
"When I was in kindergarten, my teacher sent my mother a note that said we should adopt a dog," says Chuck Austin. "I've always loved dogs."  Later, as a city inspector in northern Utah, he saw the way some dogs were neglected, and as a lifelong animal lover, he knew he wanted to make a difference for animals in need. So 15 years ago when he heard about Best Friends Animal Society in Kanab, Utah, he seized the opportunity to apply his talents to volunteer. What started out as a week-long stint turned into many years of dedication to Utah homeless pets statewide.
A life of volunteering and loving animals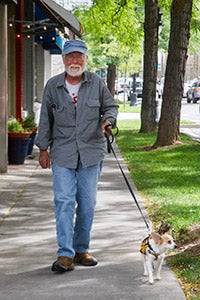 Chuck first volunteered to help homeless pets by taking his vacations at the Sanctuary. Back then, he was often the only volunteer on duty for two of the dog buildings. As his head hit the pillow after a day of feeding, walking and socializing the dogs, he'd already be dreaming of his next trip to Kanab.
When Best Friends opened its first office in Salt Lake City, Chuck was thrilled to start volunteering closer to home. It was a perfect fit, giving him a lot of time with dogs like Nikita the Akita, who he remembers fondly. "She was a good dog, but reserved, like many Akitas." His heart was filled with joy when she went to the perfect home in Oakland, California. For Chuck, it's all about the dogs.
In addition to helping out with dogs in Best Friends' care, Chuck has also volunteered for years at the events that help many animals, like Strut Your Mutt and super adoptions (now called NKUT Adoption Weekends). "Without the volunteers, these events wouldn't be so big," says Chuck.
Holly Sizemore, director of Best Friends community programs and services, recalls Chuck's ingenuity at an early event. "Opening the front gate at one of our first super adoptions was really hard. It would drag across the asphalt. So Chuck built a skateboard-like device that became a staple at every following event. Always ready with a clever quip, he was also always reliable, calm, and a great problem solver."
PetSmart Charities lifetime volunteer achievement award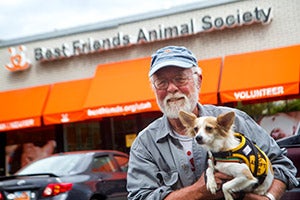 In 2009, PetSmart Charities® presented Chuck with a lifetime volunteer achievement award for his work with Best Friends. Though touched by the presentation at that year's Christmas party, the most heartwarming accomplishment to him is the new Best Friends Pet Adoption Center in Sugar House placing more than 1,000 pets for adoption in its first year. "It's so great to look at the adoption board and see how many pets went home," he says. "The center has a wonderful mix of dogs in such a friendly setting."
Adopting a cocker spaniel mix
While Chuck muses that he "can't bring them all home," there was one irresistible cocker spaniel mix. He adopted Lisa, who came to Best Friends from West Valley City Animal Services, and within two days of meeting her, she was his. "I would like to adopt them all, but I know I can't. Volunteering allows me to make a difference for many dogs in need. It's so rewarding to see them go home, even if it's not my home."
Get involved helping animals
All around the country, there are multiple Best Friends volunteer opportunities to help animals in need, especially if saving dogs and cats is on your to-do list.
Photos by Sara Ause Kichas