Best Friends volunteer turns fostering into art
Foster volunteer Namitha Kim has found a unique way to celebrate her experience and remember the cats she's cared for.
By Ana Merkulova
Namitha Kim doesn't believe that she's doing anything extraordinary. To hear her tell it, she (like many of us in COVID times) simply found more free time on her hands than usual. So, she decided to fill her days with some foster cats from Best Friends. Then, after struggling with saying goodbye to her first kitten litter, she began making clay paw prints as keepsakes of her time with each cat.
Now, that may not seem like a big deal, but in truth, what Namitha does is nothing short of extraordinary. For one thing, she's fostered 12 cats in six months! That's a lot of paw prints.
Danielle Barnhart, Best Friends lifesaving outcomes coordinator in Salt Lake City, says that people like Namitha are helping to keep the no-kill movement going during the pandemic. "Fostering really does save lives," says Danielle. In fact, she estimates that today there are three to four more times the number of pets in Best Friends foster homes than there are at the lifesaving center.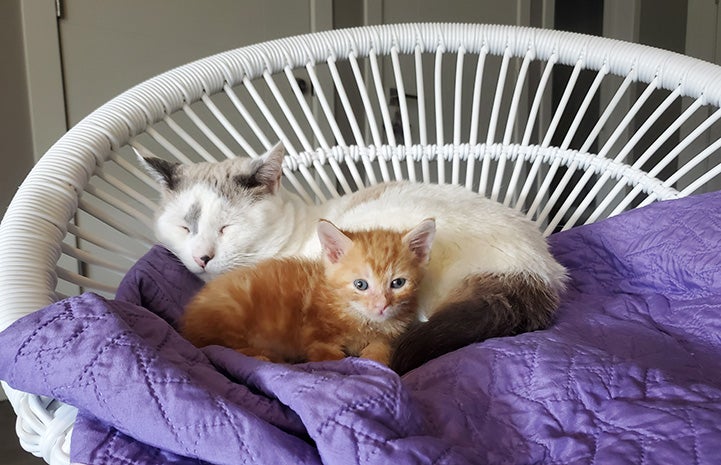 Paw prints and memories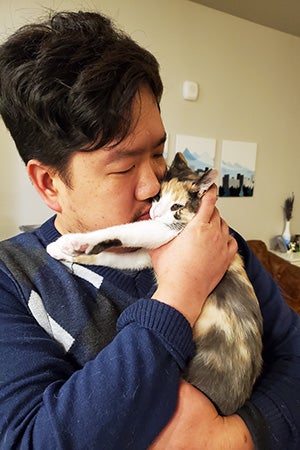 Since beginning her fostering journey in August of 2020, Namitha has cared for seven adult cats as well as five (and counting) foster kittens. She says that she always wanted to foster pets, and especially young kittens, who have a soft spot in her heart.
She and her husband, Josh Kim, have three cats (including a six-month-old "foster-win" named Riley) and a dog. All four are Best Friends alumni.
Caring for young kittens can be challenging, but as it turns out, Namitha is a natural when it comes to fostering, and her first litter of foster kittens thrived. But the closer they got to the day they could be adopted, Namitha found herself wishing she could stop time.
That's when she decided to reach out to fellow fosters on Facebook to talk about her experience and how difficult it was to let go. Someone suggested making clay stars with paw prints of her fosters before they left for a new home, and that was her lightbulb moment.
Over the next few months, what started out as a quirky art project turned into a treasured collection of memories. Creating the paw prints became Namitha's way of celebrating each animal coming through her house and the journey they shared.
[Meet a videographer who helps pets smile for the camera]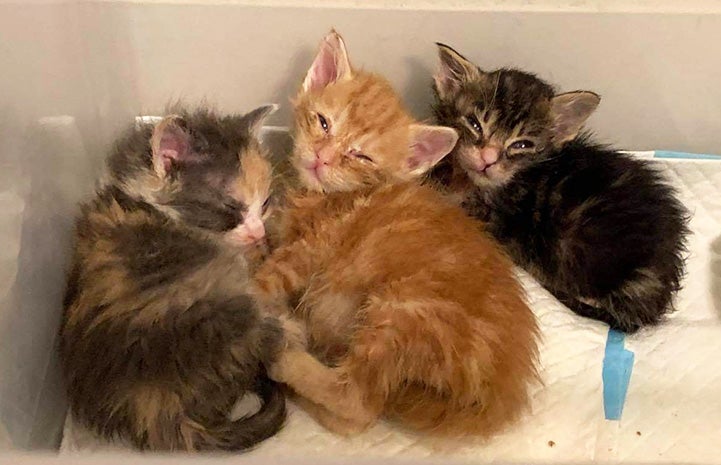 Foster cat muses
So, just how does one get cats to put their paws down for something that involves squishy stuff touching their feet? The key, says Namitha, is only doing prints for the curious, collaborative cats and kittens she fosters. Of course, the shy cats also get their mention on the (cat) walk of fame. Namitha simply writes down their names in the clay.
When she's not fostering, Namitha also paints portraits of her animals, although lately she admits that she's been taking a break. "I don't think I have any more walls to put paintings on," she says with a laugh. She hopes to move to a bigger space at some point and get back to her brush and canvas.
Whether through her art or fostering, Namitha is without a doubt doing something remarkable. Her next step: Complete a vet technician program and help even more pets.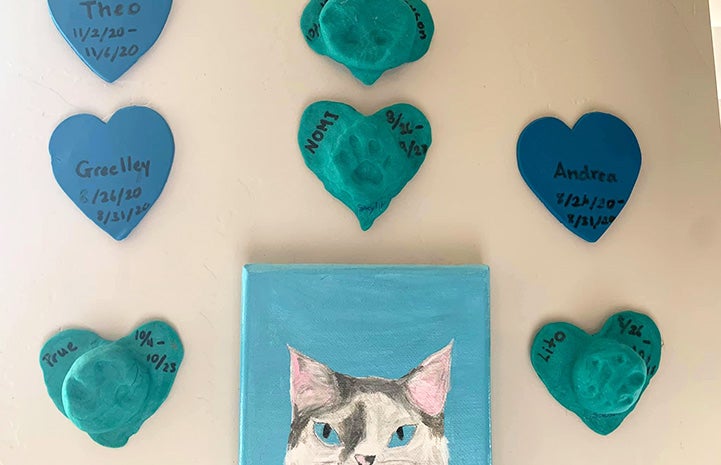 You can help pets, too
Master wand toy-wielder? IT guru? Laundry savant? Share your secret talent and help the animals.
Read more
Volunteer's help proves invaluable for homeless pets in 2020
5 acts of kindness from everyday heroes
Adventure cat discovers the world on hiking trails
Photos courtesy of Namitha Kim