Beverly Hills retail pet sale ban
Beverly Hills pet stores will no longer be allowed to sell dogs, cats or rabbits from mills. Pets must come from shelters or rescue groups.
By Kelli Harmon
The change was a long time coming. Best Friends' focus on fighting puppy mills from the consumer end began eight years ago with peaceful protests in front of one notoriously bad pet store in Beverly Hills, California. Since then Best Friends' work on its puppy mill initiatives has helped create a sea change in many U.S. cities, whose citizens no longer want puppy mills to stock local pet stores. Recently, the work came full circle as Beverly Hills is poised to become the next city to say no to mill-bred pets — for good.
A history of puppy mill–supplied pet stores in Beverly Hills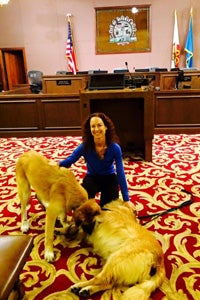 Back in 2007 Best Friends, along with other organizations and the Beverly Hills community, began organizing peaceful rallies around one pet store, with the intention of exposing the fact that the store's puppies came from mills. Elizabeth Oreck, national manager of Best Friends' puppy mill initiatives, says, "Those rallies drew a lot of media attention and helped us educate the public about the connection between puppy mills and pet stores. It wasn't long before the store closed its doors."
While that store was the last one in Beverly Hills to sell mill-bred pets, it was the constant threat of public pressure that prevented new ​puppy mill-supplied pet ​stores from opening, Elizabeth says. "We wanted to make sure that milled puppies would never again be sold in Beverly Hills pet stores."
She worked with Lili Bosse, city council member, and the city attorney's office on an ordinance, and when it was recently brought to the city council for a vote, it passed unanimously. Now, Elizabeth says, "Pet stores within Beverly Hills will not be allowed to sell dogs, cats or rabbits​ unless they come from shelters or rescue groups." The city joins more than 80 other municipalities throughout North America that are putting a stop to selling milled pets, but in many ways, Beverly Hills was already ahead of those other communities.
Humane pet store
One reason the city was ready to embrace the change is that it already was home to a successful pet-oriented business that's an asset to the community without being an outlet for milled pets. Since Pussy & Pooch Beverly Hills opened, the store's founder and chief creative officer, Janene Zakrajsek, has had no interest in selling pets in this store or in any of her other retail locations in Southern California.
Janene says, "The concept of the independent pet retailer has evolved over time to be more modern." Instead of selling animals, the store offers an array of pet products and services, provides an ultra-swanky home to three rescued cats, and gives back to local pet rescue groups.
Rescued feline mascots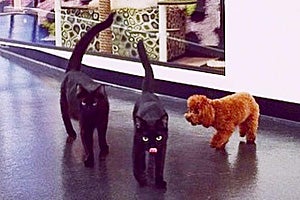 While stores that sell milled pets are part of the problem, Janene's stores are part of the solution. And although the store's customers bring in their pets for grooming, training, day care and spa treatments (it is Beverly Hills, after all), the only pets who stay at the store full time are three exceptionally lucky cats. Their lives are a far cry from the old days of pet retail, when animals with big price tags lived in tiny cages until someone bought them. Instead, Romeo, Julius and Harlow, the store's feline mascots, live and play in specially designed digs that include catwalks and cubbies, allowing them access all over the store.
As Janene explains, "Although our cats are not available for adoption in the store, we have them there as brand ambassadors to showcase their modern cat lifestyle, which is focused on nutrition and enrichment, and so we can talk about the fact that they were rescued."
Stores like Pussy and Pooch prove that a pet store doesn't need to support the cruelty of the commercial breeding industry in order to be a successful retail business. And that makes a huge difference in the fight against puppy, kitten and rabbit mills in the U.S. because, as Elizabeth says, "When people walk into pet stores and learn about rescued pets, it's a win for the animals."
The credit for this most recent win, says Elizabeth, goes to the city's elected officials. "We were fortunate to have a very compassionate mayor and city council who understood the importance of taking a firm stand against inhumane pet mills. The world is always watching Beverly Hills, and by setting an example for other communities to follow, the city is helping to spotlight the issue and keep our momentum going."
Keep the successes coming by giving to Best Friends.
About Best Friends' puppy mill initiatives
Through Best Friends' puppy mill initiatives, we are educating consumers about puppy mills, helping create and lobbying for humane legislation, and working with pet stores to offer pets for adoption instead of selling mill-bred pets. Together, we're making an impact and saving lives. Join us and help bring about a time when every dog can feel safe, happy and loved.
Learn more about the Puppy Mill Initiatives.
Photos by Sarah Ause-Kichas and Best Friends staff