Big-cheeked survivor kitty lands a new loving home
Samson had big time dental issues when he came to Best Friends, but a visit to a veterinarian and an amazing foster family changed all that.
By Nicole Hamilton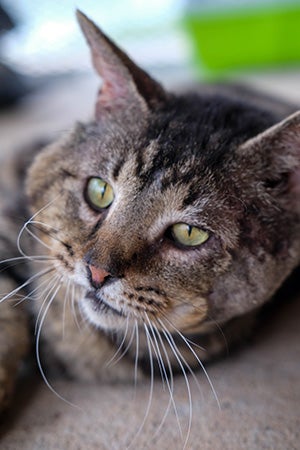 Jannifer York was somewhere between Tulsa, Oklahoma, and Bentonville, Arkansas, when she looked at the cat sleeping in the back seat of her car and knew he'd be going home with her.
She and her husband, Peter, had just taken the day to drive Samson, a 14-pound cat with gloriously big cheeks, to a specialist in Tulsa to receive much-needed dental care. When she thought about how much he'd been through, it made her heart melt. Right then and there, she decided she'd do everything possible to make sure the next chapter of his life was the best one yet.
Best Friends or bust: 17 cats get tickets to ride
By the time Samson made it to Tulsa, he was already a well-seasoned traveler. Earlier this year, he'd come to Best Friends in Northwest Arkansas by way of an Alabama shelter ravaged by tornados. When the shelter put a plea out for help, Best Friends answered the call by arranging a transport of 17 cats from Tulsa to Bentonville.
[Rescued cat comforts adopter during his panic attacks]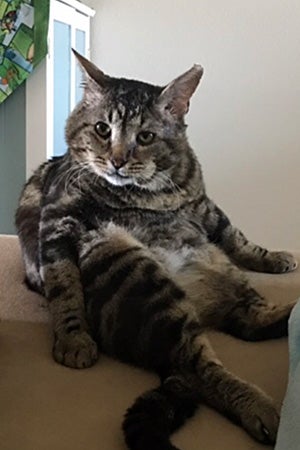 Samson was one of those cats. And when he arrived at Best Friends and the team took a good look at him, it was clear he needed medical care. "We started by getting him neutered," says Kathleen Lehman, Best Friends lifesaving and cat care specialist in Northwest Arkansas. "And it turned out he needed major dental work as well."
In fact, one of Samson's lower teeth was digging into his gums enough to cause an abscess. He also had both inner and outer infections in both ears. Now that's the kind of pain you never forget, but Samson was tough and determined that nothing — not even an abscessed tooth — would get him down.
"In spite of his dental issues and ear infections, he was the sweetest cat," says Jannifer, who first met Samson when she was volunteering at Best Friends. "He was very affectionate, gave head bumps and wanted all the head scratches you were willing to give. He must have been in pain. Yet there he was, being sweet and not complaining."
When Jannifer heard about Samson's upcoming trip to a veterinarian in Tulsa for dental work, she offered to drive him all the way to Oklahoma. That evening she took him home to sleep in the guest bedroom so that resident cats Biscuits and Gravy wouldn't be stressed out. Then bright and early, they departed for the two-hour drive to Tulsa. "He's the most chilled-out cat in a car I've ever seen," says Jannifer. "He didn't make a peep. Our cats usually meow and cry the entire time."
A senior cat in age only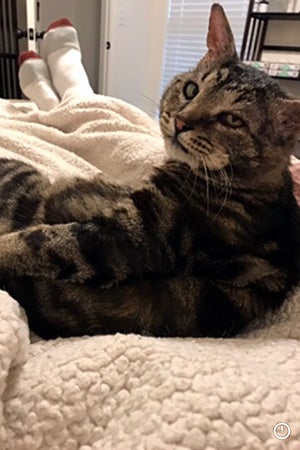 It turned out that Samson needed to have 10 teeth extracted. While he was getting his pearly whites in shape (or removed), Jannifer and her husband meandered around Tulsa until it was time to bring the take-it-all-in-stride (albeit groggy) cat back to Bentonville.
By then Jannifer and Peter were smitten, so they contacted the Best Friends team and arranged to foster him, at least until his next veterinary appointment 10 days later. Fostering him also meant that he could get plenty of one-on-one time at their place and possibly feel better sooner, which also would mean getting the all-clear to be adopted sooner.
[Timing is everything for two cats with feline leukemia]
"Day by day Samson perked up more and started feeling better," says Jannifer. "He's a spunky dude who loves to play with his mice toys, a ribbon and other toys. He's got a lot of life left in him."
Jannifer continued to separate the recovering Samson from Biscuits and Gravy. In the evening, she and Peter would hang out in his room and read books out loud to him. Samson loves story time and all the pets," she says. "And he kills me with his toothless yawn."
A month after his surgery, Samson had recovered well enough to be cleared for adoption. That's when Jannifer decided she wanted to make him a permanent part of the family. "I just couldn't imagine not adopting him and not letting him live his ninth life in our home," she says. "Thankfully, my husband agreed."
Today, Samson is thriving and Jannifer's phone is filled with photos of a senior, big-cheeked cat living the good life. He may have had to cross state lines (a couple of times) and lose more than half his teeth to get there, but sometimes long journeys make the destination a little sweeter.
Cats of all sizes need homes
Whether you're a kitten person or fall head-over-heels for big tomcats, you're sure to find a feline at your local shelter who's right up your alley.
Read more
Seven tips from a social media pro on promoting your foster pet
Puppies on the run at Best Friends Roadhouse
Inspired by Best Friends lifesaving dashboard, California shelter creates its own
Photos courtesy of Jannifer York