Big, energetic dog scores home on 50 acres in Virginia, but has to fly 3,000-plus miles to get there
Big, energetic dog is adopted in L.A., but has to learn to accept being in crate so he can fly across the country to his new home in Virginia.
By Nicole Hamilton
It was going to take some work, but somehow Angela Buongiorne was going to help Sam feel comfortable in a crate. But the big dog showed he wasn't up for it by pulling away each time Angela inched the crate toward him.
It was critical for Sam to get used to the crate, though. There was someone in Virginia named Jon who was missing him and cared about him deeply. Jon cared so much that, as he hopped on his motorcycle to begin his cross-country move from L.A. to Virginia, he was already plotting ways he and Sam could be together again. But to make the long journey across the country, Sam would need to be in a crate. Angela, a pet caregiver at the NKLA Pet Adoption Center, was going to help him get there.
Dog barks at strangers
Sam was about seven years old when he was brought to Best Friends from Los Angeles Animal Services. That's where he met Jon, a center volunteer who liked Sam right from the start and began working alongside the dog team to help him find a home.
Sam is typical of some dogs who find kennel life challenging. When he arrived at Best Friends, he often became overly excited in his kennel when new people stopped by to meet him. When they stopped in front of his suite, he'd bark (and bark some more), something that clearly wasn't helping him get what he deserved the most — a life outside of the center. He was scaring away the very people who might give him a home.
Leash skills proved difficult for Sam to master. His curiosity, coupled with his energy, often made it difficult for people to walk him. Sometimes while on his leash, he'd grow frustrated when he wanted to explore and check out new things, but couldn't. That's when Sam would pull on the leash, and since he's a strong dog, he needed a strong person to walk with him.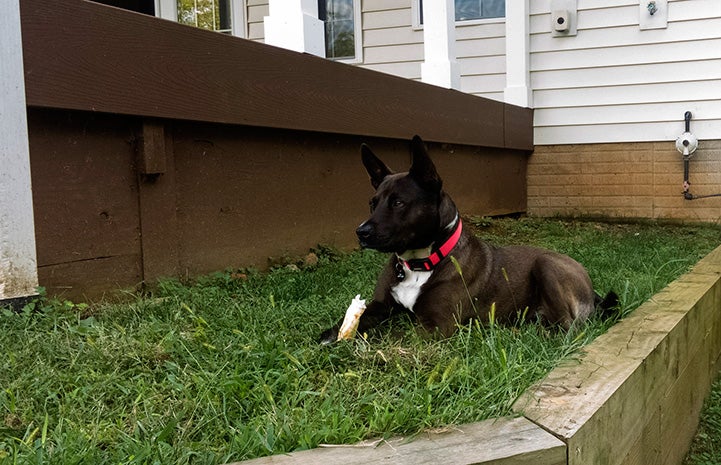 A dog and a volunteer become BFFs
Jon spent a lot of time playing fetch and tug-o-war with Sam — anything to help him expend some of his energy so he could relax in his kennel. Over time, the two developed a strong bond. Noticing that Sam was an extremely loving and happy dog, Jon looked forward to seeing him every week. And Sam made it clear that the feeling was mutual by feverishly wagging his tail as soon as he saw Jon at his kennel door.
The two became best buds and if it hadn't been for a restrictive apartment lease, Jon would have adopted Sam. Instead, he would have to be content seeing Sam at the NKLA center and hope that he'd be adopted by someone who cared about him as much as he did.
Getting a chance at the good life
When Allison Martin, Jon's girlfriend and an experienced dog handler, moved to Virginia to manage Their Voice Rescue and live on its sprawling sanctuary, Jon decided he'd move with her. And he'd adopt Sam. The plan made perfect sense. Sam would be able to spend his days playing in the fields and fresh air. It would be the perfect home for his boundless energy. But getting Sam to Virginia wouldn't be easy.
Jon had already settled on riding his motorcycle across the country. Sam would need to fly to get to Virginia, but if he had difficulty staying stay calm and quiet in his kennel, how could he possibly manage to sit still in a crate for a five-hour flight?
Crate training: The benefits for you and your dog
Let the crate training begin
When Jon asked for help from the dog team staff members, they were thrilled that Sam would be going home with his favorite person, and they immediately got to work on a crash course in crate training. Angela took the lead by doing just about anything she could to get Sam into the crate.
"I put blankets down. I tried with the top off, with it on, using hot dogs, Kong filler or chicken," she says. At first, Sam wanted nothing to do with the crate, but there were glimmers of hope.
Sometimes Angela would get into the crate and invite Sam to join her. Other times she'd place the crate, filled with treats, in the kennel so he could find them when he went in on his own. He started taking tentative steps in the right direction; however, on most nights, he'd sleep in front of the crate and not inside it.
All the patient work paid off and eventually Sam felt comfortable enough to step into the crate without any resistance. When the big day came for Sam to take his flight, Angela was cautiously optimistic. Before they set out for the airport and while the team prepared the crate, Angela had a heart-to-heart with Sam and told him how badly she needed him to do this. "I hoped for the best. I walked him up on the leash, holding my breath, and he jumped right in," says Angela, who almost cried in relief.
How Best Friends is helping L.A. reach no-kill
Sweet goodbye, smooth takeoff
Sam remained quiet during the ride to the airport, which made Angela feel better about his upcoming flight. But as she was checking Sam in, the airline agent asked to see Sam outside of his crate to double check that it was the right size and make sure Sam looked relaxed and confident enough to fly.
This prompted another heart-to-heart. "I squatted down, hugged him, gave him a kiss and told him I needed him to do it one more time," says Angela. To her relief, Sam walked back into the crate, turned around and sat without any hesitation.
"I really did cry that time," says Angela. "I can't think of a sweeter way for Sam to say goodbye to L.A. and to Best Friends than getting to fly to be with his best friend."
A fearless canine flyer
Sam's flight went smoothly and when he arrived in Virginia, Jon was waiting for him. When Sam saw Jon again for the first time, he stood up in his crate and thumped his tail so loudly that everyone could hear it.
In fact, when he opened the crate, Sam walked out and greeted Jon like he did every day at NKLA. Says Jon: "Sam's not super affectionate. He was like: 'OK, that's cool. Now, let's go for a walk.'"
Like any traveler, Sam is affected by jet lag, and his first walks around his new home were short ones, while he caught up on sleep and settled in. Once he was all rested, Sam was back to his energetic self. He's not a puppy anymore, but don't tell him that.
"He really likes being out here," says Jon, who spends plenty of time every day walking with Sam through the green fields of their 50-acre property. It's basically doggie paradise, especially for a curious dog like Sam.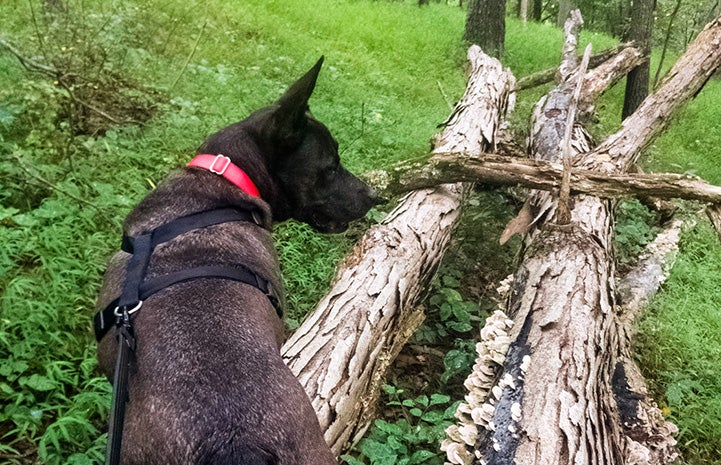 Take-it-easy mode
Back in L.A., Sam couldn't get enough of tug-o-war or fetch. But now when he isn't playing in the fields, he's content to sit and look out at them. In fact, some days, Sam's biggest goals are chasing deer (though he's got no chance of catching one) and figuring out how to make the thunder stop when he tells it to. (Good luck with that one, Sam.)
"He's a long way from L.A. now and I have a huge amount of gratitude for everyone at NKLA who helped make it happen," says Jon. "This is a good life for him. He's in take-it-easy mode now."
Adopt a dog near you. No flight required.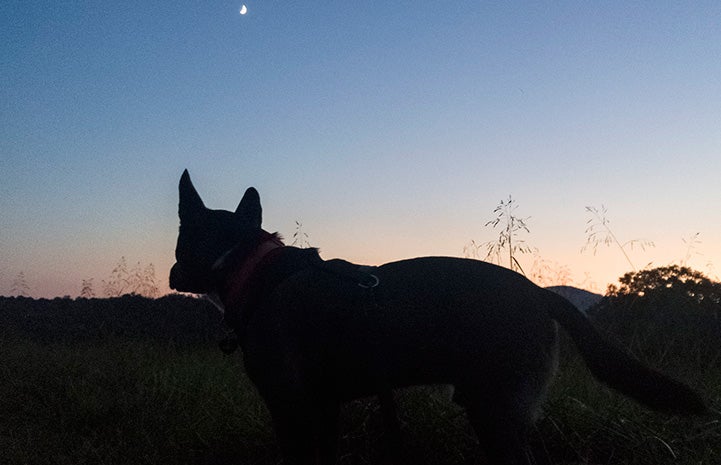 Photos by Amy Martin