Big orange tabby cat from Los Angeles charms adopter in Texas, road trips home
Steak managed to charm everyone in his Los Angeles foster home, including someone 1,500 miles away who decided to adopt him.
By Nicole Hamilton
When Diane Barber started sharing updates on Facebook about her foster cat, her friend Doug Parker found himself eagerly awaiting each one. The cat was a 16-pound orange tabby named Steak (as in a big red beefsteak tomato) from Best Friends in Los Angeles, and he had a way of grabbing the attention of people scrolling through social media. This was back when people all over the country were in mandatory quarantine, when stories about orange tabby cats crashing virtual happy hours were just the kind of therapy we needed.
As Doug learned more about Steak, one of the "chillest" cats Diane had ever had the pleasure of fostering, he began to consider adoption. He'd watched Diane and her wife, Karen, fall head over heels in love with him, and since Doug considers them family, he liked the idea of making Steak a part of the family, too.
There was just one issue: Doug lives nearly 1,500 miles away in Houston.
From the streets to the shelter to Best Friends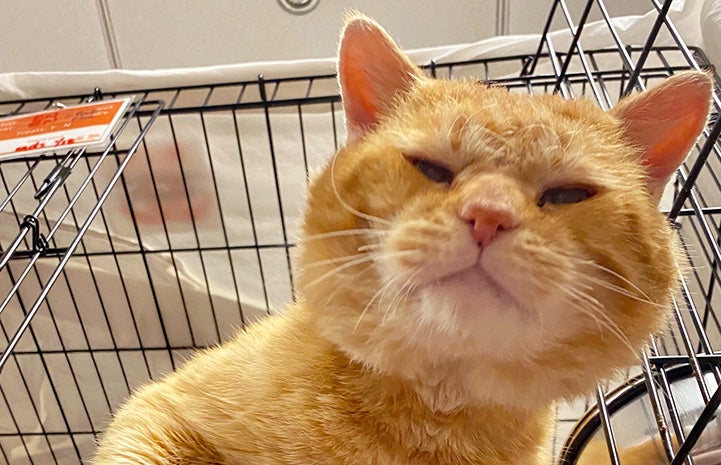 Steak is a laid-back, go-with-the-flow kind of cat, so Diane wasn't too concerned about taking him on a road trip from Los Angeles to Houston. Sure, she'd have to figure out some logistics (like where to put the litter box during the trip), but on the flip side her feline passenger would never be a backseat driver.
Besides, Steak previously managed a long, albeit different kind of journey, which began when he was found on the streets as a stray ― hungry, tired and with a bad case of sarcoptic mange (more commonly known as scabies) — and brought to a Los Angeles Animal Services shelter. But no matter how uncomfortable Steak felt in his skin, he greeted every stranger as if they were just friends he was waiting to meet.
Once his scabies cleared up, Steak was brought to Best Friends in Los Angeles, which is where he first met Diane, a former staff member who currently volunteers with cats. Diane immediately fell in love with the orange extrovert, and she wasn't the only one. Staff and fellow volunteers couldn't get enough of him, either.
"From the get-go, he was a wonderful cat," says Tabitha Newman, the center's lifesaving outcomes specialist. "He looks like a big grumpy tomcat, but was always happy to be petted and held, and he was always incredibly gentle."
The change in environment wasn't easy for Steak, and the stress of being in a new place resulted in gastrointestinal problems. He also had dry, irritated eyes that required treatment with medicated eye drops.
Big orange tabby alert
Once Steak beat the belly blues and his eyes were no longer itchy, he was adopted quickly. But his journey didn't stop there. Sometimes things just don't work out, and a few months later he was back at Best Friends. When Diane was alerted that her main squeeze was back, the first thing she said was: "I'll foster him."
Steak benefitted from having a history with Diane. She knew him well enough that when his eyes started to itch, she recognized the issue. When she brought him to the medical team for an exam, they discovered he had entropion, a condition caused by the eyelids turning inward.
Steak had a minor surgical procedure to correct the issue, and when he was all healed, he returned to Diane's home. Still, this wasn't the end of the journey, but it does get better.
[Surrogate momma's love helps kitten tackle world on three legs]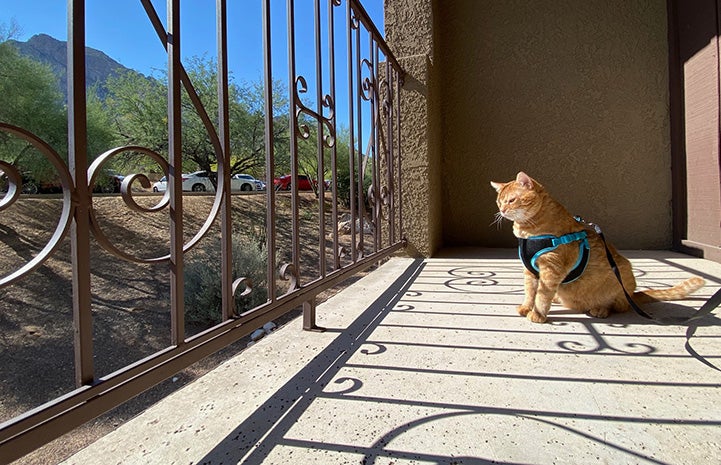 Cat comic relief
Steak has personality in spades (although you've probably already guessed this). He's one of those cats you swear is part human or makes you wonder if he's actually a dog in disguise. Needless to say, he made Diane's life a lot more fun during the quarantine. Karen appreciated the comic relief, too. "He's a rare creature," she says. "I've met thousands of cats and he's definitely one of a kind."
One Friday night after interrupting Diane's Zoom call with friends, he became a regular guest. He also took over her Facebook page.
As Steak held court with Diane and Karen, his journey was being closely followed by Doug in Houston. Since he'd heard Diane and Karen call Steak "truly special" more times than he could count, he decided he wanted to adopt him. That was good news for Diane, too, because she would still be able to keep tabs on her favorite tabby.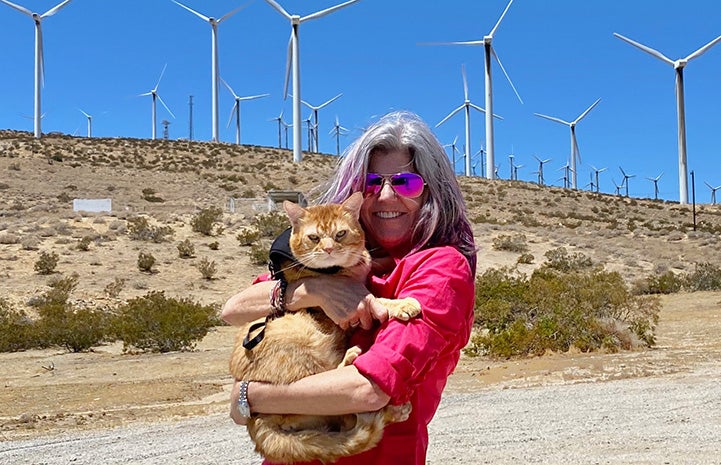 Road tripping with a cat
Driving across a good part of the country with a cat sounds daunting enough, let alone doing it during a global pandemic. To make sure the trip went as smoothly as possible, Diane and Karen waited until the quarantine was lifted in L.A.; meanwhile, they got the car ready and took extra precaution to stay healthy.
Steak, it turns out, is quite an easygoing road tripper. "He was amazing," says Diane, who averaged five hours a day driving. "We'd pick up stuff for a picnic and find a park for lunch. We put a harness on him and he sat on a blanket with us."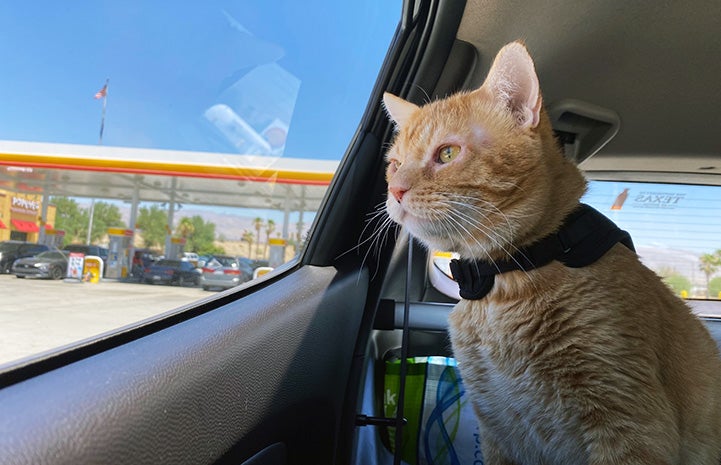 For most of the trip Steak sat in his carrier in the back with the front door open so he could see between the front seats and look at the open road. It was as if he was watching his life unfold in front of him.
Steak, Diane and Karen arrived to applause when they were the first guests to stay at a brand new hotel in Dallas. Also along the way, he got to take in cool sights like the Painted Desert in Arizona. But the best part of the trip was when he reached Houston and met Doug. That's when his long journey home finally wrapped up.
[Senior survivor Hurricane Katrina cat goes home]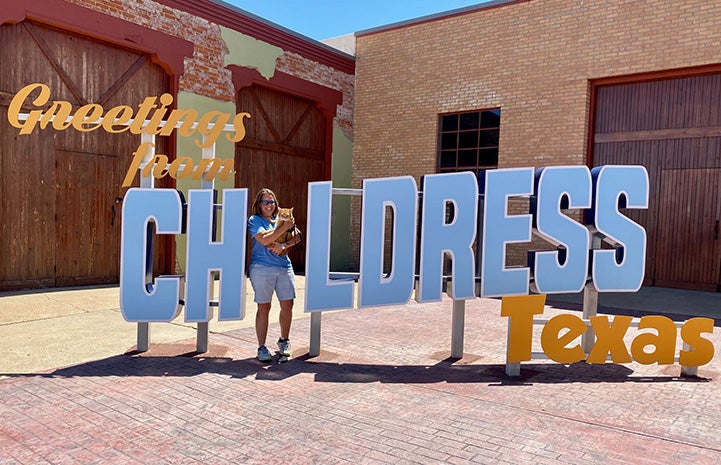 It's good to be home
Steak was so friendly with Doug's two tuxedo cats that it only took a few days for the three to begin living together in harmony (with the occasional, but short-lived territorial dispute).
"They've even started to groom each other some and hang out," says Doug. "Steak has found a place on my sofa where he pretty much lives."
Doug, you could say, is the new Diane. Now he's the one sharing updates about the big orange cat who won his heart. He's even consulting with a social media expert.
So, be on the lookout. Someday — maybe when you're tired of election coverage and in need of a break — you may just open your laptop and read (another) story about a big orange tabby cat, who left a Texas-size impression on everyone in L.A. before finding forever love in the Lone Star State.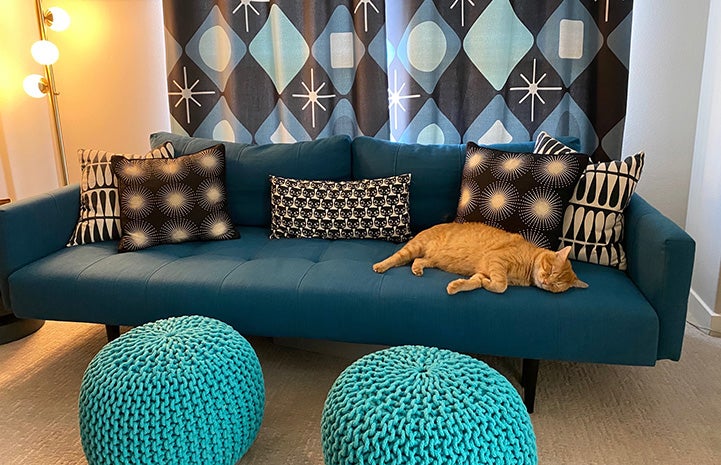 Help more cats on their journey home
Cats in shelters all across the country could use a little help going from homeless to home.
Read more
[Three tough tabbies survive a wildfire.]
[Despite his special needs this kitten was born to be happy.]
[Will the real Dennis Quaid please stand up?]
Photos courtesy of Diane Barber