Big senior dog steals the hearts of a family looking for a puppy
Image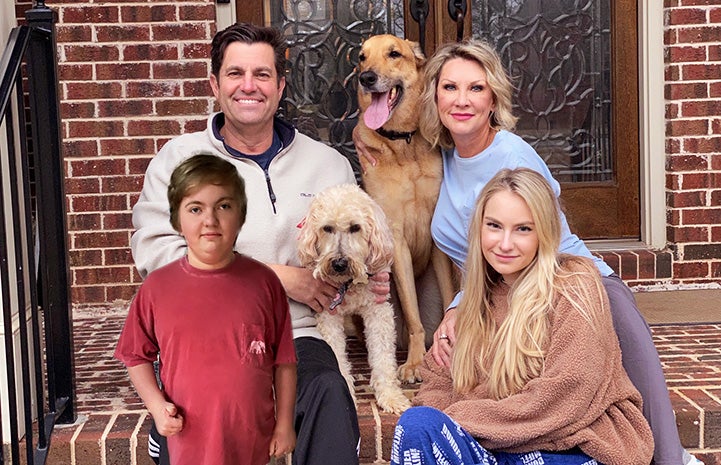 Kangaroo wasn't the type of dog that members of the Zahorodny family thought they wanted, but he was everything they needed
By Nicole Hamilton
Kangaroo radiated peace and love when he first arrived at the Best Friends Lifesaving Center in Atlanta. The extra-large senior dog lost his home and ended up in a shelter before making his way to Best Friends. Despite losing everything he knew and having his life upheaved, he remained chipper and greeted everyone with a smile.
He's a striking dog (a shepherd mixed with — anyone's guess — maybe a little bit Great Dane or perhaps greyhound). His reaction to people walking by was standing on his back legs with his paws on the gate. Everyone wanted to meet Kangaroo.
At first, the attention made the eight-year-old dog happy, but each day that passed chipped away at his emotions. Despite the walks and playtime with staff and volunteers while waiting to be adopted, Kangaroo started to get frustrated with his lot in life. He was such a good boy and he could handle homelessness for a while, but not forever. He knew exactly what he was missing: a family and a home.
With Kangaroo's mood getting bluer by the day, the team at the center made plans to place him in a foster home to give him a break. There, he could relax and unwind away from the center and get back to loving life. But in the end, he didn't need a foster home after all.
A wonderful change of plans
While the staff was finalizing foster placement for Kangaroo, Terri Zahorodny and her daughter, Sophia, came into the center hoping to adopt a puppy to celebrate Sophia's 16th birthday. Terri has a soft spot for pit bull terriers, and so she hoped they could find a pit bull or part pit bull pup.
With no puppies there at the time, they walked around to meet other dogs. As they made their way down the kennels, they noticed Kangaroo sitting quietly in his kennel while the dogs around him barked in excitement. Kangaroo was the exact opposite of what they were looking for. He was much older, much bigger, and from the looks of his coat, probably quite a shedder. But there was something about him. They asked to meet him, spent some time with him and then left the center with their mission unaccomplished — or so they thought.
Once Terri and Sophia got home that night, they couldn't stop thinking about Kangaroo. Maybe they could foster him, Terri thought. They could spend more time with the sweet, giant dog with a funny name and still eventually adopt a puppy for Sophia. But by the next morning, Terri had made her decision: They would go back to the center and adopt him. So, they returned to Best Friends with their other dog, Lottie, who met Kangaroo for the first time with a tail wag — her way of giving the adoption her seal of approval.
A dog can help you through the tough times
Since going home with Terri and Sophia, Kangaroo is back to loving life and he's helping his family do the same. "He has made us so happy," says Terri. "We wouldn't trade him for the world."
Back before they met Kangaroo, life for the Zahorodny family was not without its challenges. "Sophia wanted a companion, since she's been going through some tough times in high school and I've been stressed due to worrying about her," says Terri. "Our son, Jackson, has special needs and I, too, wanted a loving dog to help me cope with the pressures of life and surviving breast cancer, which my family and friends got me through."
There's a lot of joy in the Zahorodny household these days, and while Lottie helps the family in her own way, Kangaroo has been able to give Lottie some backup. The two dogs are good friends now, and they've struck the perfect balance. Lottie, also eight years old, is lower key and quiet, while Kangaroo is more active.
"He is such a lover," says Terri. "He leans on us, puts his head down to get love, and he will paw us if we stop petting him or walk by him. It's so cute."
Kangaroo follows his new family members around and lies down wherever people congregate, whether it's downstairs watching television or sitting at the kitchen table. And at night, Kangaroo and Lottie both sleep with Sophia, although sometimes Kangaroo switches gears and sleeps with Terri and her husband, Steve. "He starts at the end of the bed and gradually moves up, and in the mornings he is right by my head. I love it," says Terri.
Now during the day, Terri is apt to get a call from Sophia checking in from school to see what Kangaroo is up to. And although he's not the birthday puppy Sophia thought she wanted, the Zahorodny family can't imagine life without him.
"I cannot believe how much I love him more and more each day," says Terri. "Kangaroo totally completes our family. He may not have been the dog we thought we wanted, but he's the one we needed."
Best Friends in Atlanta works collaboratively with area shelters, animal welfare organizations and individuals to save the lives of pets in shelters in the region. The Best Friends Lifesaving Center is a hub for animals and a base for local programming and coalition-building to help the metro-Atlanta area in its final push to achieve no-kill, while strengthening the movement in the Southeast. Together, we will Save Them All.
Photos courtesy of Terri Zahorodny