Big Utah mountains no match for a dog with a paralyzed leg
A dog named Long John Silver may have an immobilized hind leg, but that hasn't slowed him down one bit.
By Tara McKenney
When you first meet Long John Silver, it's easy to see how he got his name, but you might be surprised to learn that, although he has a paralyzed hind leg, it hasn't slowed him down one bit.
That's what his foster family discovered the first time they took him hiking and saw he had no problem walking up mountains and scrambling over rocks. Six weeks later after that first hike, Long John Silver was adopted by an active family that quickly learned the same thing. Today John Silver isn't seen as a dog with special needs, but simply as a lovable, capable dog.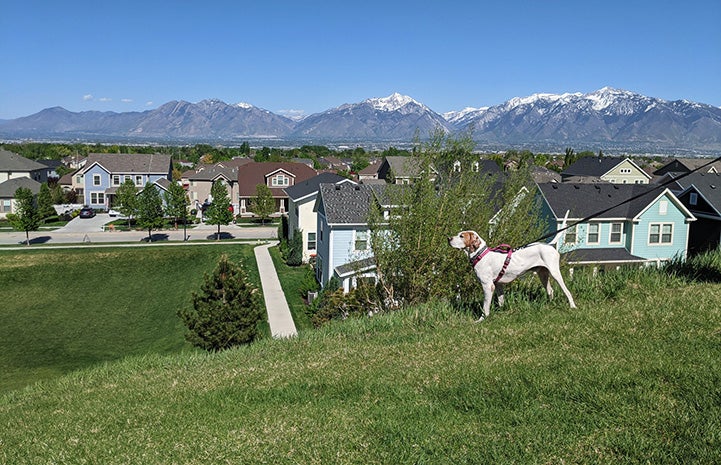 Special-needs dog seizes the day
When Long John Silver arrived at the Best Friends Lifesaving Center in Salt Lake City from a municipal shelter, the medical team diagnosed him with fibrocartilaginous embolism (FCE), which is likely caused by blocked arteries or veins in his spinal cord. The condition immobilized one of the dog's back legs, which he drags behind him like a pirate's peg leg, hence his name. But that doesn't stop him from living a full life. "Despite his condition, Long John is always adventure-ready," says Justice Jellinick, the center's foster coordinator.
Long John Silver spent time in various foster homes before meeting Matthew Rocha and Heather Layman, theatrical stagehands who put their careers on hold during the coronavirus pandemic. Since Matthew and Heather would be spending more time than usual at home, they decided it was the perfect opportunity to foster a dog.
Their first experience as foster parents had gone smoothly but was short-lived when their foster dog was quickly adopted. Not wanting to go too long without a canine quarantine buddy, they started looking on the center's website for dogs eligible for foster homes. That's how they first learned about Long John Silver.
After a conversation to learn more about Long John Silver's immobilized hind leg and special needs, they met the six-year-old hound mix in person and could see clearly that his leg didn't slow him down a bit. Confident they could help the dog, they happily brought him home where he settled in quickly.
How Best Friends is helping Utah reach no-kill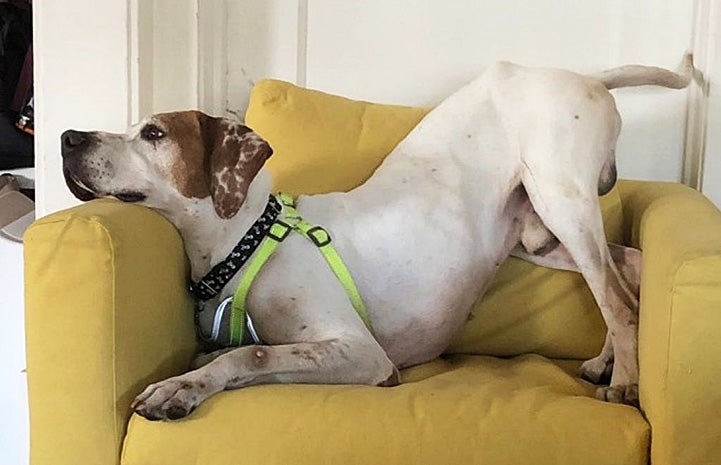 Outdoor personality, indoor manners
It wasn't long before Long John Silver demonstrated his love for the outdoors to his new foster family. He's a roll-in-the-grass, lie-in-the-sunshine kind of pup, and the couple was pleasantly surprised to learn that he loves walks and hikes, and that when he runs, his gait is normal.
They also learned that when hit with a case of the zoomies, Long John Silver will sometime use his rear leg to his advantage ― as a rudder to make sharp turns at high speed. The only thing that seemed challenging for him was jumping up on anything higher than a couch. Besides that, Long John Silver could do nearly anything another dog could do; in fact, he never showed any concern or discomfort for his leg except when another dog would go near it and he would become protective.
Long John Silver matched his outdoor personality with indoor manners. "Long John is the sweetest and silliest of puppers," says Heather, noting that one of his most endearing quirks is his comfortable sleeping position with a leg placed on the top of his head. After his morning walk, he seemed to transform into a snuggly lap dog. His elementary leash manners improved. And after a little time in his foster home, he no longer pulled or darted after every bird or rodent within view.
"Matt and Heather were the perfect temporary home for Long John Silver," says Justice. "They are incredibly dedicated to providing their foster pets with the enrichment they need."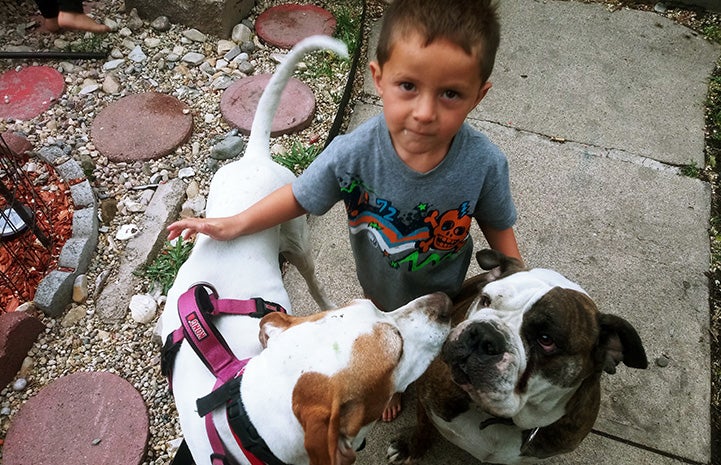 Love is blind to limitation
For months, Renee Cleary scrolled through the Best Friends website looking for another dog to add to her family, when she saw Long John Silver's profile. At the first virtual meeting with Matthew and Heather, Renee and her family knew they had found the perfect match. "His condition doesn't and didn't matter to us," she says.
Though Renee's active family includes children and cats, Long John Silver (renamed Luke) adjusted well to both. He now enjoys truck rides with Charlie, his dog sibling. He loves drinking from the hose, as well as chasing sticks in the backyard. Luke's transition has been seamless, as if he has always lived with his new family.
"Animals don't let their disabilities slow them down," says Renee. "They still live their lives to the fullest of their capabilities. Be the hero and give them the home they deserve."
As for Matthew and Heather, they are already fostering another Best Friends dog, even though they know it's hard to let go at adoption. They encourage everyone with fostering ability to do so. "It's very rewarding to know you have changed the life of a dog," Matthew says. "Even if you only have a weekend, giving a break to a dog from a shelter can make a world of difference."
Be a hero. Foster a pet near you.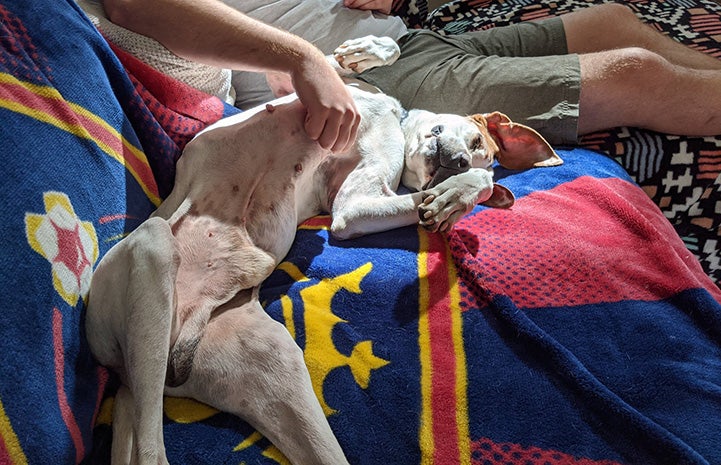 Best Friends in Utah works collaboratively with animal rescue groups, city shelters and passionate individuals, all dedicated to the mission of making Utah a no-kill state. As part of this mission, Best Friends hosts adoption and fundraising events, runs the Best Friends Lifesaving Center in Salt Lake City, operates a spay/neuter clinic and leads the No-Kill Utah (NKUT) initiative. Together, we will Save Them All.
Photos courtesy of Heather Layman and Renee Cleary