Blind, deaf cat escapes a hurricane and gets a new home
How a gorgeous white cat with impaired vision and hearing went from a shelter in the path of a hurricane to being loved in her new home
By Lindsay Hutton
In June of 2018, a petite cat with snow white fur and ocean blue eyes was taken in by a shelter in North Carolina. Her fur was matted and she seemed in pain. It was clear that she'd come from a difficult situation. According to her intake notes, that beautiful cat —soon to be named Pia — didn't take long to start moving beyond whatever difficulties had landed her in Guilford County. After just a few days, she allowed herself to be petted and expressed curiosity.
The staff noted that she might have hearing impairment and that she had some abnormal head movements, but that she was affectionate. Unfortunately, it wouldn't be the last time Pia experienced hard times. Storms were headed her way. And yet, while she's only about half the weight of a gallon of paint, this small girl has a big, strong spirit. She would weather them.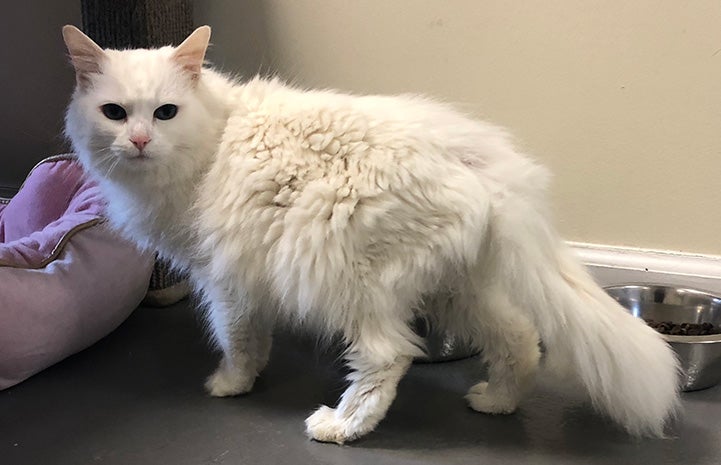 Hurricane evacuation and a new arrival in Atlanta
Pia was still at the Guilford County shelter when Hurricane Florence swept through the Carolinas, prompting disaster relief efforts across the animal welfare community. Best Friends in Atlanta took in Pia and many other pets from the shelter through an evacuation transport before the storm made landfall. Staff members drove through the night to get the animals to safety.
The evacuated pets settled in at the Best Friends Lifesaving Center in Atlanta and staff and volunteers began getting to know each one. They grew very fond of Pia, in particular. For example, Kathy Moran, a volunteer who for four and a half years has helped facilitate cat adoptions at the center and fostered more than 100 kittens, always made sure to stop in and spend time with Pia. It was unclear how well the timid cat could see or hear.
Kathy says Pia would often hide in the cat room. "But if you came in, sat with her, showed her your hand and let her know you were OK, she'd sit in your lap." Pia loved to sit in Kathy's lap, loved getting chin scratches and loved treats. Describing her as a sweet and timid lap kitty, Kathy told potential adopters that Pia would be the perfect companion.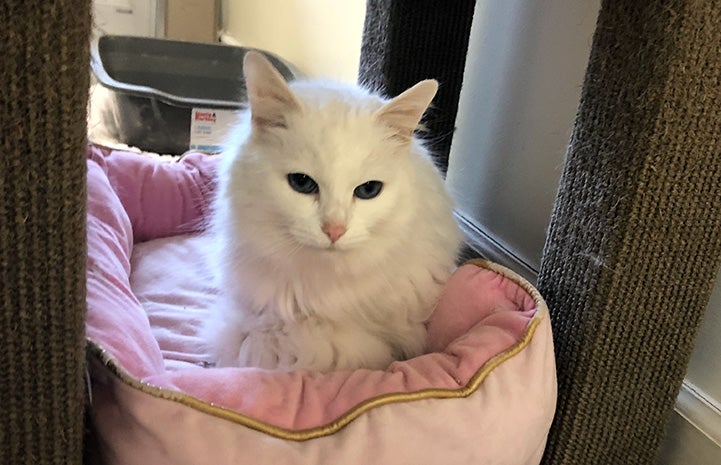 When Heather met Pia
A number of would-be adopters were drawn to Pia's beautiful blue eyes and princess white fur. But when they saw her hide or hiss in fear, they took it as a sign that she wasn't friendly (when she was just scared) or they were nervous about taking on the responsibility of caring for an animal with limited vision and hearing. Then came Heather Lewis.
When she saw Pia's picture and information online, she emailed immediately and then decided to go meet Pia to see if their personalities would work well together. Before she was a preschool teacher, Heather was a medical assistant for eight years. Her medical knowledge and her desire to help those who cannot speak for themselves led to a desire to help Pia.
The day Heather came to the center was a relaxed and happy one. Volunteers were putting up a Christmas tree and hanging ornaments. No storms here. Heather and her boyfriend, Lance Fountain, walked through the center until they arrived at the room where Pia was staying.
Heather describes herself as a "cat girl" who watches "My Cat from Hell" (the Animal Planet program featuring cat behavior expert Jackson Galaxy) to educate herself on good cat care. She'd been waiting for the right time to adopt, having lost her previous cat five years earlier. When she and Lance met Pia, they immediately fell in love and decided to adopt her and take her home.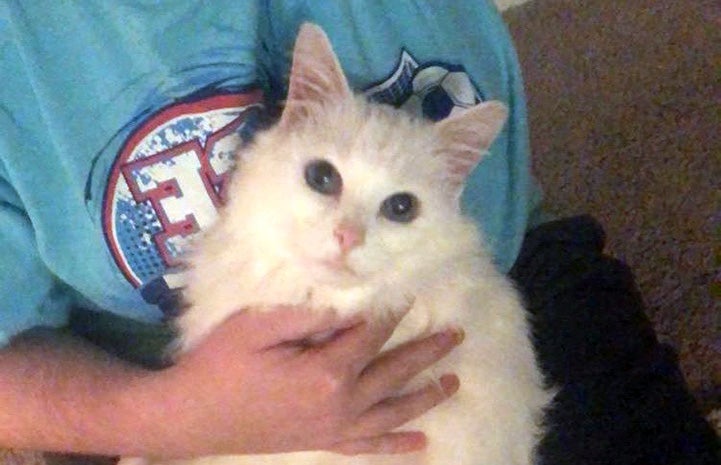 Rescued cat gets new home, new name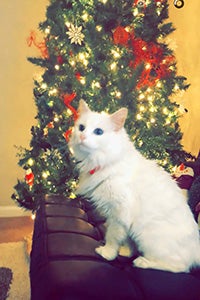 Since being adopted, Pia has been renamed Lilly. (Her nickname is Biscuit, because she is white, fluffy and well-fed.) At first, Lilly was very shy. She would constrict herself, tucking her paws completely under her body.
Heather strived to make home feel like a safe environment. She spoke quietly and gave Lilly the slow blink to convey that things were OK. She made sure that food and water were readily available. On her second day there, Lilly was sleeping on Heather's bed and it wasn't long before she was running around the house and enjoying the Christmas tree.
Heather says the word "resilient" best describes Lilly, because she bounced back so well from hard times after getting the care she needed, and because Best Friends staff and volunteers clearly had her best interests at heart. 
A sweet and relaxed Lilly accompanied Heather to her hometown of Jesup, Georgia, for Christmas with Heather's family. Though it was a 250-mile, four-hour drive, the travel didn't faze Lilly. She curled up inside a carrier that Heather had padded with a pillowcase that smelled of home and would reassure her. As the miles rolled by, Heather left the carrier open and Lilly stayed perfectly relaxed. No storm ahead, none following.
Join Best Friends and help save lives
Best Friends in Atlanta works collaboratively with area shelters, animal welfare organizations and individuals to save the lives of pets in shelters in the region. The Best Friends Lifesaving Center is a hub for animals and a base for local programming and coalition-building to help the metro-Atlanta area in its final push to achieve no-kill, while strengthening the movement in the Southeast. Together, we will Save Them All.
Photos by Best Friends staff and courtesy of Heather Lewis