Book review: 3 feel-good dog stories
Reviews of The Miraculous Life of Maggie the Wonder Dog; Piglet: The Unexpected Story of a Deaf, Blind, Pink Puppy; and Osa: A Curiously Different Dog.
By Sally Rosenthal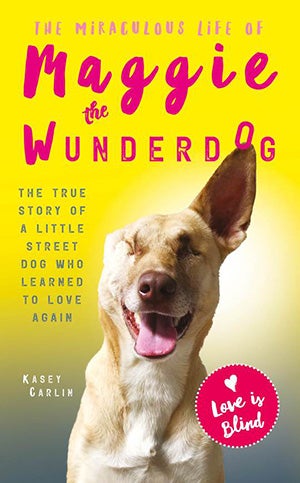 The Miraculous Life of Maggie the Wonder Dog: How a Little Street Dog Learned to Love the World, by Kasey Carlin. Mirror Books 2021, softcover, 304 pages, $15.95
By all accounts, the severely injured small dog living on the streets of Beirut, Lebanon, should have died there. Blinded and maimed, she would have become — were it not for a network of dedicated animal rescuers — just one more sad statistic. Thanks to the human angels who transported her to England where she was eventually adopted by Kasey Carlin and named Maggie, she not only healed but flourished.
Despite her rough beginnings, Maggie proved to be a friendly, loving canine. Her self-acceptance and outgoing nature rubbed off on people she met whenever she was out and about with Carlin; however, as is the case with so many stories of rescued animals, the person whose life Maggie changed the most was that of the author.
As their life together progressed, the formerly self-styled loner, Carlin, became happier and glad to interact with Maggie's admirers. Readers who need an animal rescue book with a truly happy ending need only pick up a copy of Kasey Carlin's ultimately joyous tale.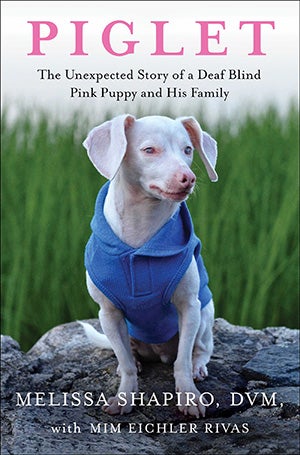 Piglet: The Unexpected Story of a Deaf, Blind, Pink Puppy and His Family, by Melissa Shapiro. Atria Books 2021, hardcover, 320 pages, $26
When Connecticut mobile veterinarian Melissa Shapiro agreed to foster a tiny puppy with multiple genetic conditions, she had no idea just how much work caring for a very vocal and anxious deaf, blind and pink puppy could be.
To say that Piglet (as Shapiro and her family named their foster pup) needed almost constant care and was not shy about making his demands known would be putting things mildly. As the weeks progressed, so, thankfully, did Piglet.
Shapiro and her family, including their six rescued dogs, took Piglet under their wings and into their hearts. When the foster period ended, Piglet joined the Shapiro family. And with care and through a nonverbal communication method, he claimed his place in his new home and in the wider community.
Intelligent and plucky, Piglet became a happy testament to self-acceptance. Not only did he charm everyone he met, but he also served as a role model of determination for children struggling with differences.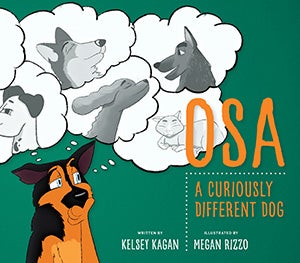 Osa: A Curiously Different Dog, by Kelsey Kagan with color illustrations by Megan Rizzo. Acs 2121, hardcover, 32 pages, $15
A lifelong animal lover, Kelsey Kagan fell in love with Osa, whom she calls "a curiously different dog," in the course of her volunteer work at an animal shelter. Adopted by the author, Osa, whose name means "bear" in Spanish, not only became Kagan's loyal companion, but she inspired the author's picture book for young children.
This seemingly simple tale of Osa's quest along with a neighborhood feline friend to find someone who resembles her, has a universally important message. As Osa searches to find another dog who looks like her, she slowly comes to realize that all creatures, in their own way, are unique and should be accepted by themselves and the world at large.
Kagan's message of celebrating one's diversity while being included is further enhanced by Megan Rizzo's colorful illustrations and age-appropriate discussion questions.