Book review: 3 tales of real-life blessings from special dogs
Tales of real-life blessings from special dogs
By Sally Rosenthal
Not Always Home Before Dark by Brooke Newman. The Troy Book Makers, 2020, hardcover, 186 pages, $23.50 
Ordering information
When a scruffy and bedraggled dog was rescued during Hurricane Katrina and eventually found himself at a shelter in Aspen, Colorado, he had no idea just how much his luck would change. Adopted by author Brooke Newman and her husband, Cajun (as the newest canine member of the family was named) became part of a ready-made pack with Brooke's Newfoundland retriever and dachshund.
Cajun, however, played by his own rules. Severely traumatized by the Katrina events, he had separation anxiety issues. At the same time, he developed a taste for exploring his new hometown. His wanderlust led his family searching for him for hours whenever he followed his nose on hikes, or when he decided to become an impromptu guest at outdoor weddings, picnics or some other Aspen attraction, such as riding a ski gondola. As he blossomed from a wary and frightened dog into a town mascot, Cajun won the hearts of its residents just as he had endeared himself to Brooke, who was wise enough to let him enjoy life.
Not Always Home Before Dark is a beautifully-written examination of the renewal of a dog's spirit and the joy he radiated to one family and one town.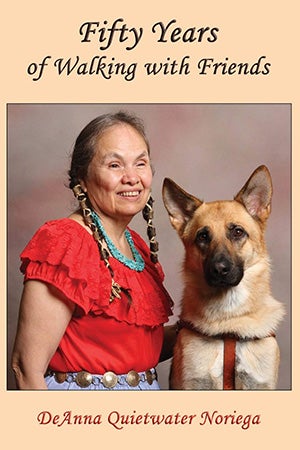 Fifty Years of Walking with Friends by DeAnna Quietwater Noriega. Independently published, 2021, softcover, 289 pages, $11.95 
Ordering information
Fifty Years of Walking with Friends by Deanna Quietwater Noriega is, quite simply, the best book about life with a guide dog I have ever read. Trust me on this one. As a guide dog handler myself for almost two decades, I have sought out and devoured anything I could find about working with the highly trained canines who every day make blind people's lives better. What makes this memoir so impressive is not the length of time the author has been partnered with her dogs. Rather, it is the quality of her relationship with each dog and how woman and dog become so much in tune with one another.
The first portion of this book is devoted to Noriega's life with Tammy, her first guide dog. Several weeks of training with Tammy at The Seeing Eye gave Noriega the confidence and skills she needed to leave home to attend college. Raised in poverty, the author realized that education was the key to a better life, and that without Tammy's guide work, the path to college graduation would be much more difficult.
Subsequent chapters focus on her life with the rest of her nine dogs, her marriage, work life and children. Throughout all these experiences, Noriega shows how a guide dog team works and educates readers on the proper ways to interact with blind handlers and their dogs. In addition to guide dogs, readers will learn about the author's Native American culture and family traditions, and the obstacles still facing people with disabilities. While she doesn't skip over the hardships she encountered, Noriega weaves them seamlessly into a narrative filled with wisdom and love.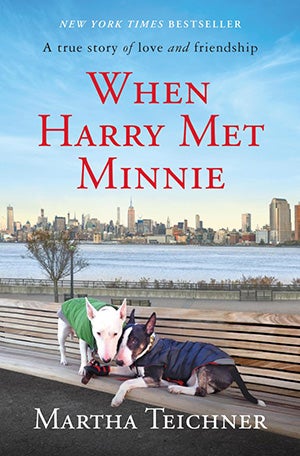 When Harry Met Minnie: A True Story of Love and Friendship by Martha Teichner. Celadon Books, 2021, hardcover, 259 pages, $26.00   
Ordering information
Call it fate, coincidence or a miracle, but sometimes people (and dogs) are precisely where they are meant to be. Just ask Martha Teichner or, better yet, read her life-affirming memoir, When Harry Met Minnie: A True Story of Love and Friendship. During a shopping trip at a New York city farmers market with her bull terrier Minnie, Teichner, a news correspondent for CBS Sunday Morning, had a chance encounter with an old friend. This friend knew someone who had terminal cancer and a bull terrier named Harry who needed a new home.
Had Teichner, Minnie and the old friend not met, none of the miraculous events in this touching book could have happened. Not only did the two bull terriers meet, but their meeting also set off a chain of happenings that changed their lives as well as lives of both the author and the dying woman, Carol. I can't go into detail without spoiling this bittersweet story for readers, but I can assure anyone who reads Teichner's book will come away from it a much more hopeful person.