Book review: James Herriot's classic tales
Enduring tales of a Yorkshire veterinarian in the mid-20th century republished to accompany new television series
By Sally Rosenthal
All Creatures Great and Small by James Herriot. St. Martin's Griffin 2020, softcover, 384 pages, $16.99
Ordering information
All Things Bright and Beautiful by James Herriot. St. Martin's Griffin 2020, softcover, 384 pages, $16.99
Ordering information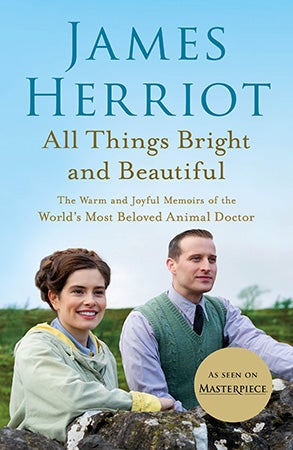 When I worked as a librarian in the 1970s, a gem landed on my desk one morning. The book in question was All Creatures Great and Small, the first American compilation of memoirs by a little-known English veterinarian. As I began reading the book on my lunch break, I fell under the spell of Herriot's stories of the farm and domestic animals he treated on the isolated and rugged farms in his beloved Yorkshire Dales. His descriptions of the individuals and the spectacular scenery reminded me of the tales my English mother told me about her own relatives, many of whom farmed in Yorkshire.
Soon, I wasn't alone as a devoted fan of Alf Wight who, under the pseudonym James Herriot, typed his stories while watching evening television with his family. His books became bestsellers and spawned a television series in the late 1970s. Today, there is a new series airing on PBS introducing Herriot and his Yorkshire of decades past to a new audience.
To coincide with the new production of All Creatures Great and Small, James Herriot's original American publisher has reissued the author's first two books, All Creatures Great and Small and All Things Bright and Beautiful. If Herriot's tales are new to you, you are in for a treat. If the vet from Yorkshire is an old friend, these two new editions will take you again on a journey filled with beloved animals and their humans in a world of the not-so-distant past.