BRATS is paving the way to No More Homeless Pets
Best Friends grant awarded to Badger Rescue Animal Transport Services that's saved over 5,000 animals. And counting.
By Denise LeBeau
Heavily pregnant Angel, an indeterminate mix with a boxy head and radar ears, could have easily become another sad shelter statistic. In Anytown, USA, dogs like her are picked up by animal control every day. But Angel wasn't just "another dog" and this wasn't just "any town" thanks to Wisconsin's very own underground railroad for pets, Badger Rescue Animal Transport Services, Inc. (BRATS).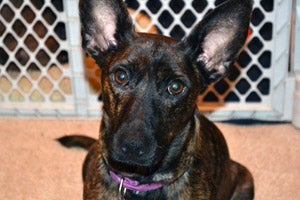 Angel
"We work closely with Milwaukee Area Domestic Animal Control Commission (MADACC)," says Lynn Mitchell, one of the founding members of BRATS. "They were wary at first of what our intentions were but when they realized we didn't get anything from our work other than the satisfaction that we're saving lives, our ability to save the most at-risk animals really took off."
The BRATS pack
BRATS, an all-volunteer animal welfare organization, has been in operation since 2008 and has transported 5,208 animals out of harm's way as of January 31, 2012. They take animals from overwhelmed shelters and transport them to rescues that are equipped to adopt them out.
BRATS has been recognized for their lifesaving work by Best Friends in the form of a $10,000 grant bestowed through the No More Homeless Pets Network. The money will go towards increasing their lifesaving efforts.
Pregnant dog who needed help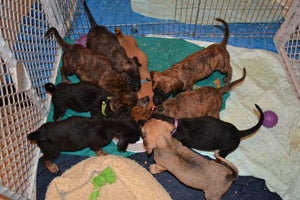 Angel's pups
Angel is the poster pup for how the grant money will be used to help save more lives. Angel was pregnant and needed someone to look out for her and her soon-to-be-born puppies. When MADACC called Lynn to tell her about Angel, Lynn's response was "we'll be there." She immediately reached out to BRATS volunteers and found a member who said "bring her over." When animals need some special care before going to their next shelter destination, BRATS provides it. Volunteers open their homes and hearts to the injured, sick, or, in this case, nursing dogs and their young. The BRATS foster homes are known as roadhouses.
Angel had nine puppies on December 1, 2011. All her puppies were doing great, but Angel developed a high fever two weeks after giving birth. Luckily, her next guardian angel, Shelter from the Storm, the rescue organization that has agreed to take all 10 dogs once the puppies are weaned, offered to examine her at their clinic. Angel needed — and received — an emergency hysterectomy.
Mission of animal rescue organization broadens
Before founding BRATS, Lynn was involved in golden retriever rescue. She would go to the shelters and pull the retrievers and their mixes. When she saw the other dogs' faces, however, she got that sinking feeling. "What about the other ones?" she wondered.
The feeling would not go away. So she switched gears, and her rescue mission broadened to help even more dogs, then cats, then birds — any animal who needed help.
"We work within the state of Wisconsin to save as many pets as possible," says Lynn. "It was great rescuing retrievers, but I realized there were so many other animals that needed help. By networking with other rescues, we are able to go into the high volume shelters and take those animals that wouldn't be adopted out, dogs like Angel, whose chances of being adopted out of the shelter were less than great."
If you're in Wisconsin, find out how you can get involved with BRATS.
Join us in saving more lives
Best Friends' No More Homeless Pets Network is made up of partner organizations that are making an impact on the number of lives saved in their community. If you volunteer or work for an animal organization that wants to increase its lifesaving reach, check out what being a No More Homeless Pets Network partner can do for the animals of your area.