Cat and kitten foster homes in Los Angeles
Cat and kitten fostering is a critical part of saving shelter pets' lives, freeing up space in the shelter system and getting animals adopted.
By Denise LeBeau
No-Kill Los Angeles (NKLA) is a Best Friends initiative dedicated to ending the killing of healthy and adoptable pets in L.A. shelters. Saving cats is at the forefront of the efforts.
Cat and kitten fostering in Los Angeles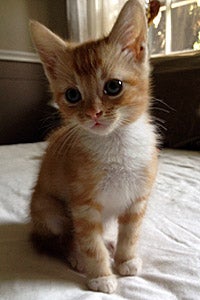 Foster homes needed
Keeping up with the numbers of cats and kittens entering the Los Angeles shelter system can be a daunting endeavor. Some of the litters come from unfixed community cats (aka feral and stray cats), some from cats whose owners waited to get their cat spayed, some from cats whose owners wanted to experience the miracle of birth. The most challenging time of year is spring/summer — "kitten season" — when the influx of cats and kittens increases exponentially.
WTF? What the feline are we to do?
Pet foster families to the rescue
As of May 2012, Best Friends Animal Society Pet Adoption and Spay/Neuter Center in Los Angeles has been addressing the need for kitten placement by cultivating a rigorous foster program. By taking the surplus kittens out of Los Angeles Animal Services (LAAS) — the ones LAAS doesn't have room for in their foster program — directly into our foster program, we are able to immediately get them on the road to adoption. This is an important part of realizing a No-Kill Los Angeles.
"In the last few months alone, we have been able to rescue 124 kittens because of the wonderful work of our foster families," shares Candi Crawford, Best Friends events specialist in Los Angeles. "The un-weaned kittens and cats with litters are a majority of the animals killed every year in the shelter system. Our foster homes are saving lives as soon as they open their hearts to these special cats and kittens."
Cat and kitten foster program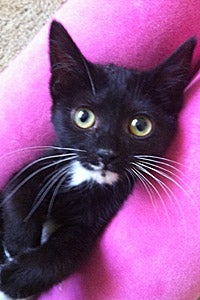 How could you resist this face?
The foster program operates like clockwork. All of the candidates go to the Pet Adoption and Spay/Neuter Center first where they are checked by a veterinarian, vaccinated, de-wormed and tested. Then they're ready to go straight to the next available foster home.
Once they are settled into their temporary digs, they enjoy all the amenities of home until they are eight weeks of age or two pounds. Then they go back to the center, where they are spayed and neutered and then adopted out via our staff.
Since many of the kittens have been exposed to different bugs along the way, it's not unusual for them to have treatable ailments, such as upper respiratory infections. Medical care is always available, and the families can call their foster contact anytime and get questions answered 24/7.
What's in it for animal foster families?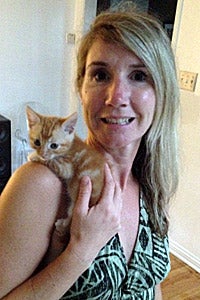 Dougal gets a free ride from Julie
Julie Somers, dedicated foster mom, explains what she gets out of the experience: "I wanted to help out because I love animals of all sorts. Saving lives can be a numbers game, and you can just do more by fostering. I've been so pleased with the way the program works — if I have a problem with any of the kittens, I can call Candi and within minutes we are on our way to a solution."
Well, Julie is a great foster mom, and she is also a great forever mom. She fell for one of her "little monkeys." The program policy grants foster families first dibs on the adoption of their charges. Her newest family member, Dougal, will surely look back on his kitten foster days with fondness as his family welcomes their latest litter.
Carol McKechnie is another awesome foster mom who gets her kitten fix by fostering: "My schedule doesn't permit me to care for kittens for an extended period of time, but by fostering I get to be a little piece of the rescue puzzle between getting saved and going home. I hope that I am teaching them some manners. I know I'll miss them, but I also know that they're going on to have great lives. I would recommend anyone interested in fostering to give it a try."
How you can foster an animal
Join our foster program in Los Angeles.
For more ways to get involved in helping animals in Los Angeles, check out nkla.org.
Images courtesy of Julie Somers