Cat charms adopters from way more than six feet away
How Mr. Geppetto, a long-time resident at the lifesaving center in Los Angeles, mastered the art of the Zoom call and had his adopters at "hello."
By Ana Merkulova
Truth be told, Mr. Geppetto got his tiny paws wrapped around his new parents' hearts long before they saw him on a thumbnail of a video call. And his history of charming fosters, volunteers and staff members bowled over Caroline Anderson and her husband, Vince Zalkind.
Those contemplative eyes (and one floofy ear) surely had something to do with it, too. It's not too much to say that they were in love with him before they even set up the call, which doesn't surprise Trinity Martin, lifesaving and care specialist at Best Friends in Los Angeles: "He's a really special boy and for the life of us, we couldn't figure out why he wasn't snatched up sooner than he was."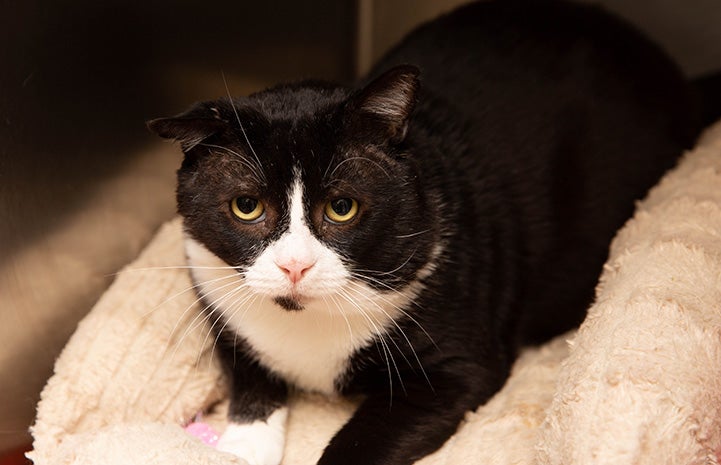 A kitty on a mission to be cute
Mr. Geppetto arrived at Best Friends in July 2019 after he was brought into a Los Angeles Animal Service shelter. And he stayed. And he stayed some more. Staff, volunteers and fosters all knew what a great cat he was, but every time potential adopters met him, they chose another kitty instead.
No doubt about it, Mr. Geppetto (dubbed affectionately as Mr. G by staff and volunteers), is the kind of cat who will charm your socks off so that he can play with them and bat them under the couch. Then he'll ask for a treat and settle down for a nap, preferably by your side. He's goofy, a tad mischievous, sweet and a marathon napper. There's simply nothing not to love about him. But like many cats, Mr. G comes with a healthy dose of "cattitude."
Trinity smiles when mentioning that as much as Mr. G loves his cuddles and attention, he also gives little love bites as if to say, "OK lady that's enough. I want my me time."
Mr. G needed an understanding pet parent who'd embrace cattitude as part of his charisma. Yet, too often in a shelter environment, certain cats aren't noticed by potential adopters because their attention is diverted by so many cute cats and those with a little spice like Mr. G. They are often overlooked, only because there isn't enough time for them to work their magic.
Mr. G also has feline immunodeficiency virus (FIV), a condition which can weaken the immune system and make a kitty more susceptible to infections and dental issues. FIV isn't contagious to humans, dogs or other pets, and most cats with the condition live full, healthy lives; nevertheless, some adopters get nervous when they see the FIV on a cat's bio. And as beloved as he was at the center, adopters always seemed to take a pass on Mr. Geppetto.
When COVID-19 shelter-in-place procedures were announced, the center was closed to the public and staff began working adoptions through a combination of Zoom calls and emails. Additionally, many animals, Mr. G included, were moved into foster homes. Trinity admits being nervous about virtual adoptions: "At first I was concerned because it's hard to adopt an animal that you have never met before. But to my surprise, it actually worked wonders. Seeing animals in a home environment versus a kennel is extremely helpful for adopters because it shows their true personalities."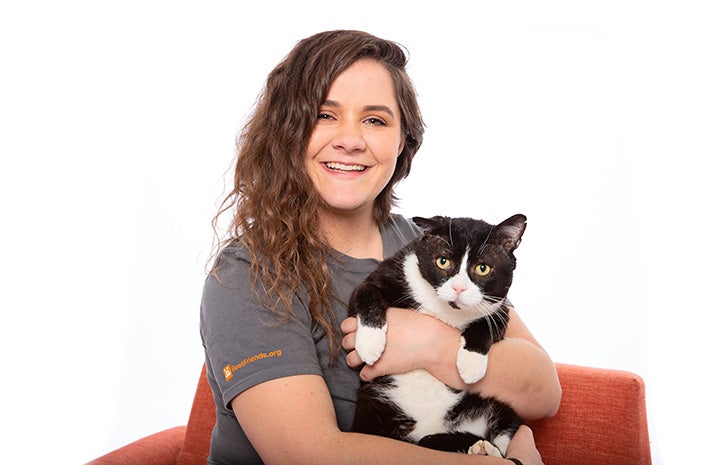 Charmed from a distance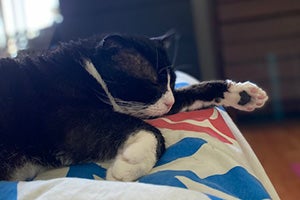 Caroline has been a Best Friends super fan for some time. When she was a kid, she even asked her family to stop at Best Friends Animal Sanctuary in Kanab, Utah, while on a trip to Grand Canyon. So, when she and husband were ready for a pet of their own, they headed straight to the Best Friends website.
More than anything, Caroline and Vince wanted to give a home to a cat who needed it most. That meant they were prepared to adopt either an adult cat or a cat with FIV, but they especially liked the idea of adopting a black-and-white cat.
Little did they know that description landed Geppetto on their perfect cat wish list. Caroline says Mr. G had the most glowing foster notes and everyone who ever met him is in love with him. "So, we were instantly in love and it doesn't hurt that his name is Geppetto," she says. "My husband and I are both huge puppet people. We got married at a marionette theater. We thought it might be destiny."
What about Mr. Geppetto having FIV? Caroline wasn't worried. Having worked with rescued cats, she knew that FIV mostly required vigilance on medical issues, something she always kept an eye on with any cat. By the time of the video meet-and-greet, Caroline and Vince had pretty much decided that Mr. Geppetto was the cat for them.
The couple was so excited on meet-and-greet day that they asked Trinity whether it would be overkill for them to wear shirts with cats on them for the call. "I said wear them all day and every day," says Trinity. "I logged onto the meeting and they were both wearing their cat shirts and pins. It was so cute."
The meet-and-greet was a smashing success and before long, Mr. Geppetto was on the way home, (via a safe transfer through his foster, of course). Mr. G wasted no time settling in. An hour after arriving, he was sitting on the bed and giving his new parents the ultimate show of cat love: the head-butt.
Love, naps and affection for days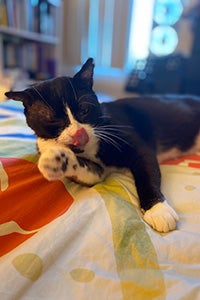 Caroline set up an appointment for her new kitty to go to the vet, and worried about what Mr. G would think: "We were (hoping) he doesn't think we're returning him," she says. As it turned out, they needn't have worried. Mr. G was ready to start his new life.
"I can't imagine this cat living on the streets," says Caroline. "He's such a homebody. He just wants to be on the couch or in bed or near humans." Mr. Geppetto's main concern these days is to wake up his parents in time for his breakfast, take long naps and bat at wand toys. Caroline and Vince make sure that he's never more than a paw-swipe away from one. "We got every kind ― wand with a mouse, wand with feathers, the wire kind," she adds.
Oh, and of course they have Mr. G posing for lots of cute photos on his Instagram. To say he's loved in his new home is an understatement.
L.A. staffers love scrolling through Mr. G's Instagram feed. As Trinity puts it, "Staying in contact with adopters afterward is one of the best parts, because we get to see (a pet's) new life. The biggest part for me is knowing that our animals are happy, safe and oh-so- spoiled!"
Mr. G's happy ending is an especially comforting thought in these days of "new normal." You can never have too many stories about love and happiness.
Find happiness. Adopt a pet near you
Best Friends in Los Angeles works collaboratively with animal rescue groups, city shelters and passionate individuals, all dedicated to the mission of making Los Angeles a no-kill city. As part of this mission, Best Friends hosts adoption and fundraising events, manages two pet adoption centers, and leads the No-Kill Los Angeles (NKLA) initiative. Together, we will Save Them All.
Photos by Lori Fusaro and courtesy of Caroline Anderson