Cat with Ehlers-Danlos syndrome finds home through social media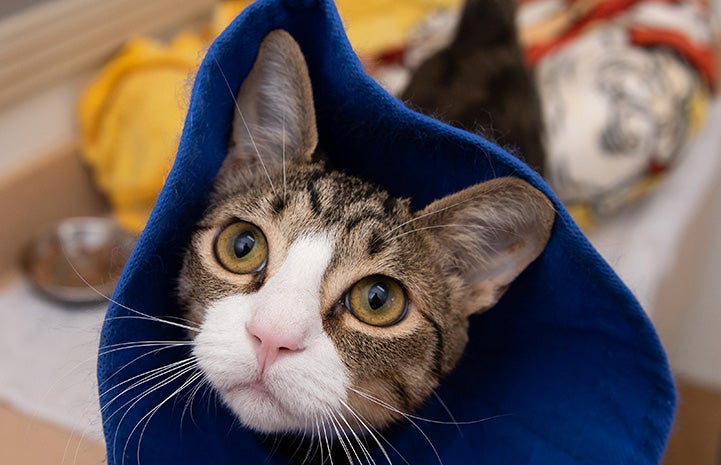 When Bubbles, a young cat with a rare skin condition was spotlighted on Instagram, it wasn't long until her perfect family found her
By Sarah Thornton
From fashionista to influencer, Bubbles isn't shy about showing the world how fabulous she is. With a stylish pink cone and matching shirt, she's living her best life in the Big Apple. Bubbles goes regularly for manicures and pedicures to keep her looking and feeling her best. She is a pampered princess and she knows it. Her pampering isn't just for fun. It keeps her safe and her new mom is happy to do it.
Bubbles has Ehlers-Danlos syndrome (EDS), a rare condition that effects the production of collagen and causes skin to become extra stretchy, loose and more fragile. This means that a stray claw or errant corner could easily tear her skin and it would take extra time to heal. She also lost her home and landed in a shelter in Los Angeles, which is no place for a kitty like Bubbles.
When she arrived at Best Friends Animal Sanctuary, the staff made modifications to her room. Since then, Bubbles has a new home that is just right for this sweet princess kitty.
Viral stories help cat get adopted
Shortly after Bubbles' arrival at the Sanctuary from Best Friends in Los Angeles, a description of another cat with the same rare condition started going viral on social media. A picture of Toby, with his unique saggy face and jowls, was all over the internet and not only showed off how cute he is, but also raised awareness of Ehlers-Danlos syndrome in cats. His story let people know that even though this condition affects cats, it doesn't stop them from having happy lives in a home.
Toby's family learned about Bubbles from a comment left by Heather Henley, a team lead in Cat World at Best Friends Animal Sanctuary. And when Bubbles was featured in an Instagram story, it attracted some of that viral spotlight, and the inquiries started rolling in.
Some people were curious about what sort of care she would require, and they were nervous about whether or not they could handle it. Her story was shared with a support group for people with Ehlers-Danlos syndrome, who understand what's needed to take care of delicate skin. But as Heather says, "With a cat, there are claws." However, Bubbles' special needs and claws didn't deter everybody. For one of Toby's Instagram followers, it was love at first sight and nothing could keep them apart.
Bubbles gets adopted
Cici Ogden, who also has Ehlers-Danlos syndrome, started following Toby's Instagram the summer he became famous. "My sister saw the account and showed it to me because she was surprised to find that cats can have EDS as well. I saw that little face and fell in love."
She emailed Best Friends about adopting, and Bubbles was soon headed to her new home in New York. It didn't take her long to find the warm lap of her loving new mom. By nightfall, Bubbles was snuggling up and giving Cici all the little kisses she could take. After a few days she was asking for attention all day, every day and tucking herself in to sleep with Cici at night.
A social media star is born
With Bubbles finding her forever family through social media, it was natural for Cici to set up an Instagram account for her. Cici has filled the page with adorable photos and videos of Bubbles, documenting their life together and Bubbles' particular brand of attitude. Many of the pictures are of Bubbles relaxing or napping, and summarized in a single photo caption written in Bubbles' own voice: "When I'm awake I run around too much for the camera to catch me."
There is no question about how comfortable this new home is for Bubbles, who's always cuddled up in soft blankets or in Cici's arms. Having her person with her all the time has made her happier than even getting the tastiest treat. (Well, treats are still pretty good.)
In just under a year, Bubbles traveled from one coast to the other, a big trip for a little cat. She gained admirers, friends and now she's living the life of luxury and enjoying cuddles both on and off camera.
Join Best Friends and help pets like Bubbles
Photo by Molly Wald