Cat sleepover program
Cat sleepover program at Best Friends Animal Sanctuary expands to include more loveable felines who can go on overnight slumber parties with people.
By Jennifer Hayes
Sanctuary life at Best Friends is pretty cushy. However, the animals sometimes just need a break — and sleepovers offer that opportunity.
Cat sleepover program launched
Dogs have regularly gone on sleepovers for quite some time, and the kitties wanted a piece of the action. Initially, the cat sleepover option was very restricted. Only people staying at the cottages on Sanctuary grounds could have a sleepover with one of two cats, either KC or Miss Bigglesworth.
However, Best Friends volunteers, regardless of where they're staying, are an animal-loving bunch, and evenings can be long and lonely without feline companionship. So management decided to try out a pilot cat sleepover program in 2008. But who could be trusted with the first cat?
Enter Cyndi Pearce, who has been coming from North Carolina to volunteer at Best Friends since 2005. She tried helping at Dogtown once, but explains, "Although I love dogs, I am just so hopelessly in love with everybody in Cat World, and I've made so many friends that I just can't go out [to Best Friends] and not spend every minute with them."
She and a friend took two cats, Apollo and Teela, and thus the cat sleepover program was officially born.
The perfect sleepover cat who is full of purrs
One sleepover and that's all it took for Cyndi. She was a convert.
"The cats love it," says Cyndi. "They enjoy getting out and away from the Sanctuary, from having so many cats to share their space with. They just love getting one-on-one time."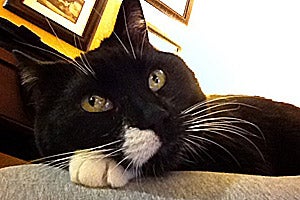 Who can resist that face?
Not surprisingly, she's got a favorite. In fact, her pal Jackie has proven to be such a gracious guest, Cyndi has hosted her on sleepovers almost every time she has returned to Best Friends, most recently in July.
Quite the veteran to sleepovers, Jackie is described as "the perfect cat" — she's full of purrs, and she's lap-friendly and a snuggler in bed. And perhaps Jackie took some home-decorating classes since the last time Cyndi visited. This visit, the clever cat rearranged the six pillows on the bed, creating her own little nest.
So why hasn't Cyndi adopted Jackie? There's nothing more she'd rather do. However, she has to keep the balance in her current household of four special-needs cats. She knows her limits, but is astonished that Jackie hasn't yet found a home.
New cat on the block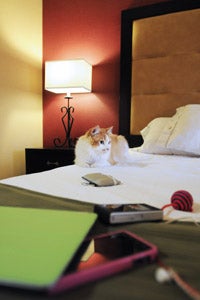 Sweet dreams for TJ
This year, the sleepover queen was asked to take first-timer TJ to show him the ropes and gauge how he would respond. He seemed a bit agitated at Cat Headquarters, but he took to his outing like a pro.
Turns out he was social, but low-key. However, when Cyndi took out the brush, all bets were off. He rubbed up against it, raising his paws in the air, his face full of bliss. Nirvana!
While TJ is the most recent in Cyndi's legacy, he certainly won't be the last. Over 1,800 feline sleepovers have taken place so far, and there are 154 cats on the sleepover list, who are approved to go on overnights.
Cyndi encourages others to participate in this win-win program, as it's an enriching experience for both the cats and visitors.
"That's why I keep coming, because it's a happy place," says Cyndi, "and [Best Friends] is doing everything they can to enrich the lives of the animals that are there and the sleepovers are one way of doing that."
Host your own sleepover
Coming to Best Friends? Be sure to get in on the fun by hosting one of these fabulous felines. Who knows, you might just fall in love.
Photos by Molly Wald and Cyndi Pearce