The cat who changed her mind
Catherine never considered herself a pet person, until she met Newton, the cat who turned all of that around.
By Sarah Thornton
Most of us know someone who never wanted a pet, but is now snuggling up with a cat or dog for a nap on the couch or doting on the pet with special treats. Maybe another person in the household wanted a furry friend, and so that someone begrudgingly relented, only to be won over eventually by the new family member.
Sometimes, a special animal comes along, steals your heart and changes your mind. For Catherine Smith-Gaines, who had never had a pet before in her life, that special animal was Newton, a cute orange tabby cat who won her over and turned her into an animal lover.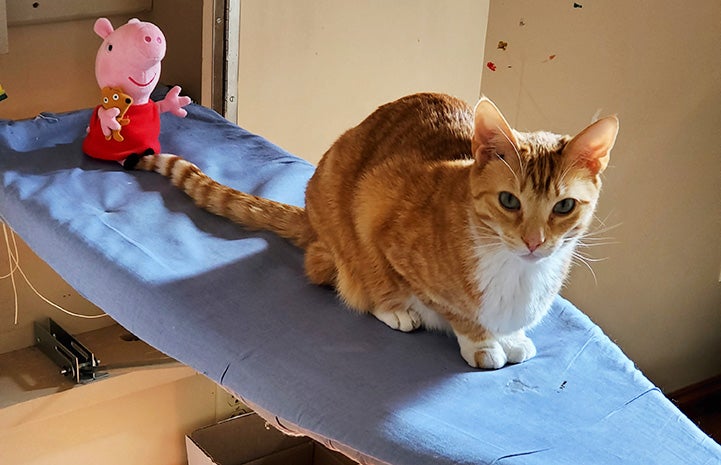 An introduction to pet care
Catherine grew up the oldest of 11 siblings, and with that many children in the house, it's no wonder there wasn't time or space for family of the four-legged variety. "My mother didn't allow pets in the house," Catherine says. "She had enough going on. And although some of my siblings have pets, I've just never been into it."
Gene, Catherine's husband, says that when they first met, she had no interest in pets at all. After touching a dog, she'd look for the nearest place to wash her hands. But their daughters and granddaughters were another story. "Betsy, our oldest daughter, worked one summer at Best Friends," explains Gene, "and Katie has been down there at spring break a couple of times with our granddaughters volunteering. It's an organization that the family has been very close to."
[Ebenezer the cat brings joy to his family in a bah-humbug kind of year]
It was one of those animal-loving granddaughters, Mae, who first decided that Catherine needed a pet. Because of a chronic illness, Catherine often has to stay in bed, and Mae wanted her to have a friend to keep her company. After doing research on proper care, she suggested a fish.
For several years, Catherine enjoyed caring for her aquatic friend, but when the fish passed away, Mae decided it was time to try again. "She did not think I would ever go for a cat or dog," Catherine recalls with a laugh, "so she did all this research and decided that I should get a gecko."
A gecko wasn't quite what Catherine had in mind. This time, she decided that she'd actually prefer a pet she could interact with more. When she finally agreed to adopt a cat, both of her granddaughters were over the moon that she would even consider it, jumping up and down and shouting with excitement. And the search for the perfect fuzzy companion began.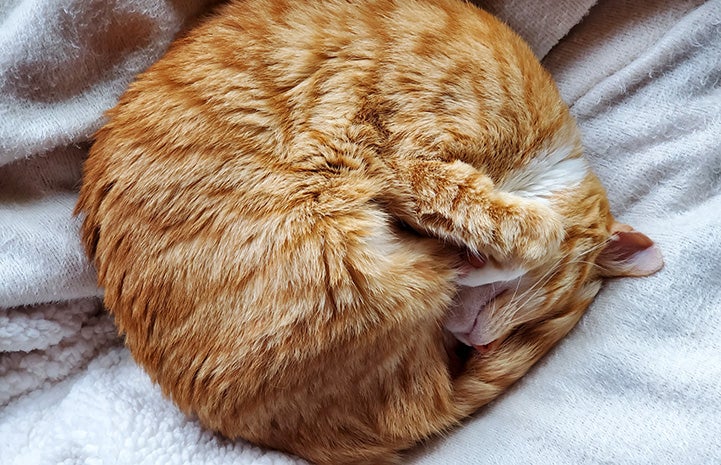 A full cat convert
They didn't have to look for very long. Mae, her mother, Katie, and her sister, Lily, were going to be spending spring break volunteering at the Sanctuary. It was the perfect opportunity to find just the right cat. Out of all the friendly felines they met, they sent Catherine pictures of two. It only took one look for her to make up her mind.
[Senior cat comforts adopter during cancer treatment]
"Newton was the first," says Catherine, remembering when she saw a picture of the sleek orange tabby. "I said, 'That's it, that's the cat. Newton is my boy.' And that was it, that's how easy it was."
Newton had come to the Sanctuary from a shelter near Salt Lake City, after losing his family. He was friendly with everyone he met, sweet and affectionate and always looking for attention or belly rubs. And he was about to go home for good.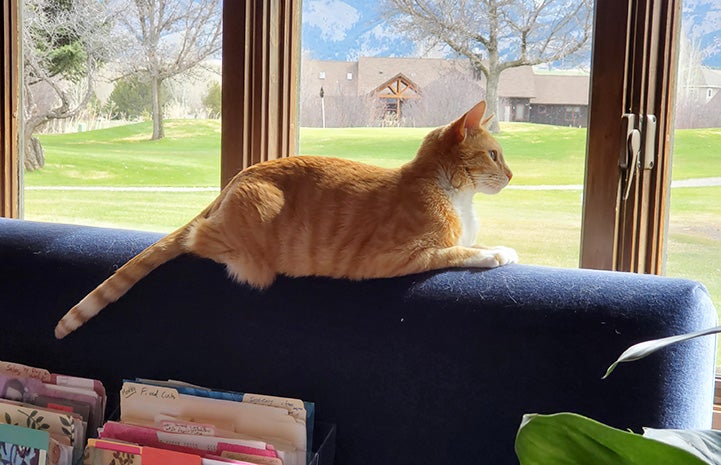 Catherine's granddaughters were so excited for her to meet Newton that they cut their vacation short to bring him to her. All of Mae's research and dedication to convincing her grandmother to adopt a cat paid off as soon as the two met. Catherine was completely in love right from the start.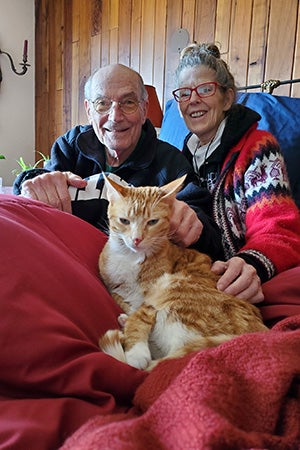 "Because I've never been exposed to a pet," Catherine explains, "I am in awe and in wonder of his every move. The beauty of his face, the touch of his fur, every little mannerism. I had no idea the love and the joy that a little guy can bring you."
Newton spent the first day in his new house checking out every nook and cranny, inch by inch, crawling under the beds and onto the backs of the couches. Then, he made himself completely at home. The couch back became his favorite spot, and the view from the windows provided the best entertainment. He especially enjoys grumbling at the birds, Catherine says.
In the mornings, Newton wakes Gene up by climbing on top of him and kneading with his paws, then waits patiently as he goes about his morning routine before breakfast. "He's a great morning alarm clock," Gene says. "I'm an early riser so it's not a problem at all. He just lets me know when it's time to get up."
When Catherine is up late at night, Newton is right there with her. All day, Catherine and Gene talk about whatever Newton is doing at the moment. Whether he's making Gene nervous by climbing up on high perches to chase flies or relaxing in the sun, Newton is the center of attention. "It's great fun," says Gene, "because all we heard beforehand is our two daughters talking about what their pets are doing. Now it's our turn."
Catherine says her family can hardly believe she adopted a cat, but considering how much she talks about and dotes on him, there's no doubt that Newton has completely converted her to the cat life.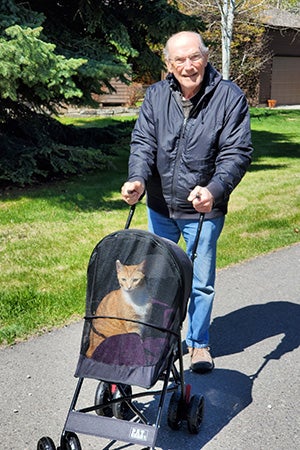 "I said to Gene, 'Can we get all new furniture so he can be entertained again?'" Catherine says, and they both laugh. She's only partly joking. She even ordered a pet stroller to take Newton on walks, and on their first trip out, he was completely focused on every new sight and sound.
"We are so grateful to Mae," Gene says. "She wasn't going to let it go."
Catherine insists, "It's been just the most amazing experience. Adoption is a great idea not only for people who already love animals, but people who maybe have never had an animal and would consider one. And I'm 70 years old; maybe the older set wants a little love buddy."
There's no question about it, Newton is well loved by his whole family. From the granddaughters who never gave up on an idea to the brand-new cat lover, everyone is happy to have him around.
Fall in love with a homeless pet
Whether you've been around pets your whole life or never before, it's not too late to fall in love.
Read more:
A boy, a broken heart and a very good kitten
Shy kitty finds her happy place in a new home
Kindergarten students help a three-legged kitten get adopted
Photos courtesy of Catherine Smith-Gaines