Catching up with the poster dog of No-Kill Los Angeles
Jewel, the face of Best Friends' No-Kill Los Angeles initiative, enjoys life out of the spotlight with her adoring family
By Michelle Sathe
He had seen her face before on billboards across Los Angeles, so it was a bit of a thrill when Jewel walked by David Eagle and his wife, Nancy, that warm spring evening in 2012 at the House of Blues.
The Staffordshire terrier was a poster girl for Best Friends' No-Kill Los Angeles (NKLA) initiative and Best Friends was hosting a launch party to celebrate. The House of Blues was humming with excitement from the bold idea of turning L.A. into the nation's largest no-kill city. Hundreds of politicians, performers and passionate animal welfare leaders mingled and watched as entertainers took the stage.
[Los Angeles reaches no-kill for the entire year of 2020]
David and Nancy were there representing NKLA coalition partner Karma Rescue, where David serves as a board member.
Jewel was escorted into the spotlight by actress Hilary Swank, who announced that the three-year-old dog was looking for a home. Smitten by her striking looks and sweet nature, David and Nancy thought they should give Jewel a chance to meet their dog and see if she was a fit for their family.
Within minutes, however, Jewel had attracted a crowd of interested parties. Since it appeared that she would certainly find a home with someone from the event, the Eagles decided to stand aside. They went home and tried to put Jewel out of their minds.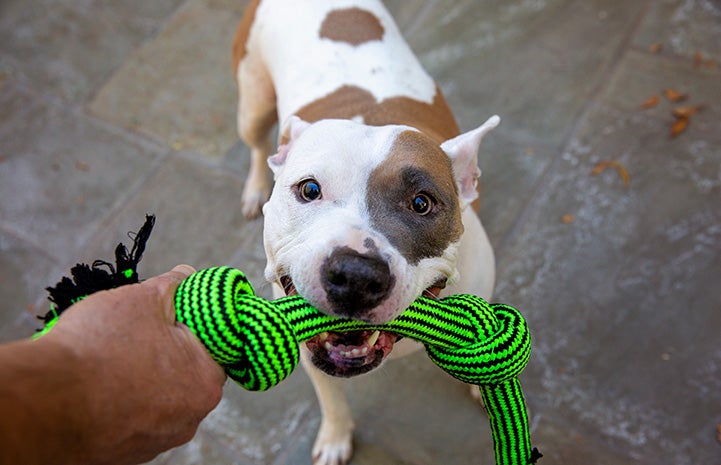 From shelter to star
Jewel came to the Best Friends Lifesaving Center in L.A. in January 2012. The center was part of a unique public/private partnership between Best Friends and L.A. Animal Services, which is also an NKLA coalition partner. In order to help the city become no-kill, Best Friends operated the city-owned center, pulling pets from the six L.A. Animal Services shelters to be placed for adoption.
[After wandering streets of Los Angeles, sweet senior dog finds the good life]
In November of 2011, Jewel was surrendered as a stray to the city shelter, which was a stressful environment for a young dog with a lot of energy.
By the time she left the city shelter and came to Best Friends, the stress of a shelter environment was beginning to take a toll on her. "She spent a lot of time jumping up and bouncing off the walls," recalls Angela Rovetto, who was an adoption specialist when Jewel came in.
It turned out that Jewel's behavior was just a symptom of her situation. Outside of the kennel, she was a different dog. "When I interacted with her out of the kennel, Jewel was really sweet and smart. She loved to learn."
Jewel was also a looker, with markings and an angular frame that was a perfect match for NKLA's edgy, black-and-white graphic campaign, created by the legendary agency, TBWA/Chiat/Day. "She looked strong and muscular, but if you knew her, Jewel was a total cupcake," Angela said. "She really represented all the blocky-headed dogs."
Soon, the images of Jewel and several other shelter dogs and cats were on NKLA billboards and in advertising across the city.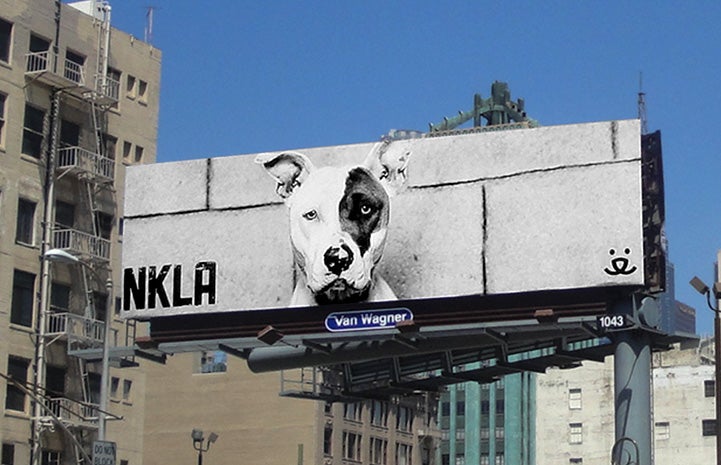 The call that changed it all
Two weeks after the NKLA launch party, despite all the attention, Jewel was still at the center waiting to be adopted.
Francis Battista, co-founder of Best Friends, who learned of David's interest in Jewel from a conversation with the founder of Karma Rescue, decided to call David, who remembers the conversation: "He said 'Wanna come and meet her?' I asked if I could bring my other dog and he said 'Sure.'"
Two days later, David, Nancy and their pit bull terrier, Brando, were in a play yard, interacting with Jewel. "They hit if off the second they met," David says. "I looked at Francis and said we would take her."
Jewel's adoption really hit home with Angela, illustrating the importance of collaboration when it comes to saving shelter pets.
"Because of the way she showed at the shelter, Jewel kept getting passed by," says Angela. "Networking these dogs is crucial when it comes to getting them into homes. It also made me aware of how many people wanted to help these dogs. Someone had heard about her and it was enough to change Jewel's life."
[72 kittens adopted from drive-thru event]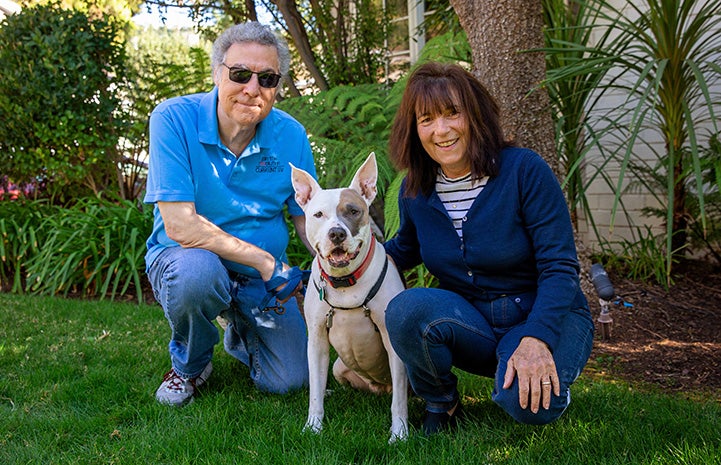 A gem of a dog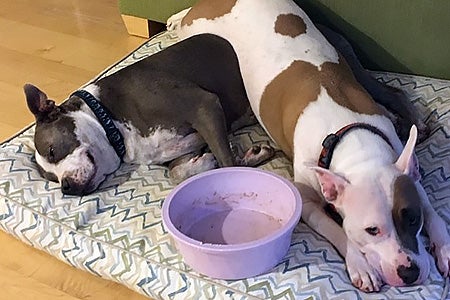 Jewel settled quickly into her new home high up in the Los Angeles hills. She also adapted well to a routine that included twice daily walks, plus daily play sessions in the backyard with Brando. And when the time came to nap or sleep, the dogs had three beds to choose from.
Jewel may look tough, but she loves everyone. "She just wants to kiss you," says David with a laugh. "She would let the worst criminal in the house and lick his face. She just loves people and exists to play with her ball or a game of tug of war."
Sadly, the Eagles lost Brando in late 2020. That makes Jewel, who's now approaching 11, even more dear to her dad. She spends the majority of her time in David's office, lying at his feet or basking in the sunshine near a floor-to-ceiling window.
"Other than my wife and human kids, Jewel is the love of my life. She's a wonderful creature who's brought nothing but joy to us," David said. "I will always be proud that she will be remembered as a representative for shelter pets in L.A."
Next up: No-kill everywhere by 2025
We're already at work applying the collaborative model of shelters, rescue groups and communities working together nationwide so that together, we can bring the entire country to no-kill by 2025.
You can make no-kill 2025 a reality
Read and watch more
How one of the least adoptable dogs finally found her people
At 13 years young, senior pittie finds his perfect person
Photos by Lori Fusaro and courtesy of David and Nancy Eagle