The Champions movie about former Michael Vick dogs
The movie about the former Michael Vick dogs, ''The Champions,' explores the resilience of these abused pit bulls who were used for fighting.
By Kelli Harmon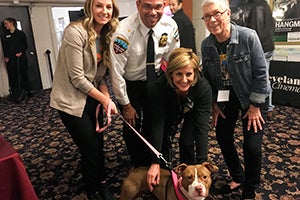 The Champions is more than just a film. Like many documentaries, it was made to give people a deeper look at something worth caring about — something worth changing.
Film about dogs from Vick dogfighting bust
The film follows five of the dogs rescued from NFL star Michael Vick's illegal dog fighting case. What happened with the dogs since then sheds light on the fact that all dogs — even those from the worst situations — are individuals, and they are worth saving.
Making strides for pit bulls
That's why, now that The Champions has been released in theaters everywhere, Best Friends is making sure it hits communities where we, along with our partners, are working to change life for pit bull terriers, just like the dogs in the film.
Download The Champions or find a screening
Just before the film's premiere in Los Angeles, Best Friends held a special screening in Sacramento, California, where we welcomed lawmakers to view the film. The screening was held as the lawmakers considered a bill to change a California law that arbitrarily deems all dogs and puppies seized from fighting rings as "vicious," thereby often condemning them to death. Beyond that, we co-hosted screenings with some of our No More Homeless Pets Network partners in 21 cities across the country, focusing on cities with laws that discriminate against pit bull terriers. But this is just the beginning.
Organize a screening of 'The Champions' movie
In addition to the Best Friends-organized screenings, now people can organize screenings in their own communities at a movie theater or other venue. All it takes is a visit to The Champions website, and a distribution company we've partnered with makes the rest incredibly easy. People are already taking advantage of it in a big (and exciting) way. Dog lovers around the country have set up more than 60 (and counting) screenings in their own communities.
The film is taking on a life of its own, in the very best way.
Support our work by becoming a Best Friends member
Reviews of the documentary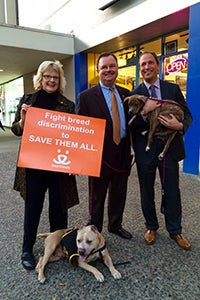 Here's what Best Friends No More Homeless Pets Network partners are saying about The Champions:
"Many people anticipated that this film was going to be hard to watch. I know many people decided not to attend because they thought that they wouldn't be able to handle it. But the film was uplifting and inspirational. I think if more people saw this film, especially those who are not pro-pit bull terrier, more people would be inclined to adopt pit bull terriers, not be afraid of them and perhaps even be less restrictive of where they live (HOAs, apartments etc.)."
– Pima Animal Care Center (PACC) in Arizona
"The timing of the screening was fortuitous as our state (Kentucky) is facing proposed legislation that creates loopholes that could insulate dogfighting operations from prosecution. The film became a powerful rallying point to mobilize phone calls and personalize the issue for many people. The film also provided a tremendous sense of hope and reinforced the importance and the value of animal rescue."
– Saving Sunny in Kentucky
"No matter what animals have been through, with time and a heck of a lot of patience, anything is possible. There were, of course, many quiet tears and I genuinely feel as though this film not only inspired current pit bull lovers, but also helped the skeptics."
– Delaware Humane Society
"We were excited to see our community get excited for this screening, and excited to see them laugh and cry and smile and cheer together for the dogs. [The film showed] that even 'the worst' dogs weren't bad dogs. They were traumatized dogs who, when given the opportunity to rise above what they had been subjected to, could thrive in ways the general public never thought possible."
– Electric City Pittie committee in Montana
"[The Champions] shows a totally different side of pit bulls. Whether the dogs were used in fighting or not, there is such a stigma to pit bull ownership, and I think this film succeeds in showing everyone what all of us in animal welfare know: They are just dogs."
– Milwaukee Area Domestic Animal Control Commission in Wisconsin