Cherry the Vicktory dog is adopted
Taken from Michael Vick's dogfighting ring, Cherry the Vicktory dog goes on to a new life and is adopted into a family.
By Best Friends staff
When Paul and his fiancé Melissa saw Cherry the Vicktory dog on the National Geographic show "DogTown," they fell head over heels in love. Of course they weren't the only ones. When Paul would hop on the Best Friends website to follow Cherry's progress journal each step of the way, he'd also notice the other eight zillion fans Cherry has out there. And even though he figured it was a long shot at best, he decided to fill out an adoption application. He told himself he at least had to try.
A good thing, too. Cherry has gone home!
A year of preparations to adopt Cherry the Vicktory dog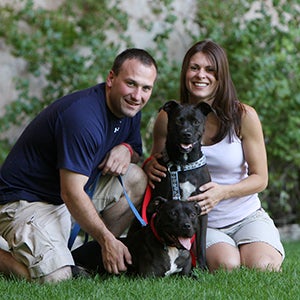 Backing up a bit, Paul actually sent in his adoption application a full year before Cherry came home. These Vicktory dogs all have a long list of court-mandated requirements that must be met before they can ever be considered for adoption. And even then, it's always a foster home first (for six months) and then a reevaluation for the final adoption. Not a simple road.
All along, Paul says that Best Friends' adoption coordinator Kristi Littrell was great. During the past year, says Paul, "I think I bugged her more than I've bugged anybody in my whole life!" Hey, this is Cherry we're talking about. He's worth a little bugging over, don't you think? Paul and Melissa certainly thought so, and so did Kristi. Together they kept working toward the goal, as did Cherry's caregivers.
Meeting Cherry for the first time in person
After almost a full year of preparation, it was finally time for the big meet and greet. Paul and Melissa came with their pit mix Madison. Madison, a female they've had since a puppy, is a super confident and friendly dog. They all thought she would do great with Cherry, who has some issues with confidence (yet loves other dogs).
The plan was for Paul and Melissa to meet Cherry without Madison, and then go from that point. Only problem, Cherry decided to hide under the desk. Dogtown co-manager Michelle Besmehn tried to coax Cherry out, but it was no use. Finally, Michelle suggested that they might as well try to introduce Cherry and Madison, since he's always done better with dogs than people anyway.
That's when things really started to turn around. They went over to a neutral play area and the two dogs hit it off amazingly well. After letting the dogs play for a while, Michelle suggested they all go to a smaller space so there would be a better chance to get to know Cherry.
They went back to her office, this time with Madison in tow, and then flopped down on the floor for five hours! Paul and Melissa sat very quietly, and Madison lay down for a nap in between them. After observing the situation from every possible angle, Cherry also parked it right next to Madison. He allowed Paul and Melissa to pet him and the connection began.
They spent the next two days with him and took him on two sleepovers. With every day, Cherry's confidence grew, as did his trust in Melissa and Paul. As for Melissa and Paul, they were more in love than ever. Because of their early flight schedule, however, they couldn't bring Cherry on a sleepover for their last night in town.
Bringing Cherry home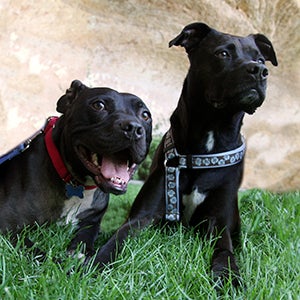 That final evening, Paul and Melissa looked at each other and realized something was missing. Their family wasn't complete any more. They knew Cherry belonged with them. It would be a long week and a half before Cherry could come live with them, and Paul describes that as the "longest stretch" in the entire year. But oh, was it worth the wait! Cherry is now living the life he's always deserved. He has two people who adore him to pieces and a dog friend he can play with day in and day out. Madison has taken on sort of a mother role with him, teaching him confidence and teaching him to trust. Within short weeks, Cherry has made miles of progress.
"He learns a new confidence every day," says Paul.
And with that confidence, they've been able to see a whole new side to Cherry. A side most people don't get to see. Cherry gets to romp through the woods with Madison. He gets to go hiking and conquer high peaks. And, best of all, he has developed his very own "Cherry dance."
Here's how the Cherry dance goes. First, he stops all movement whatsoever. You might imagine he hears something in the distance, but no, he's just gathering his artistic energy, honing it into a ball of creativity that explodes after thirty seconds of utter stillness. First he starts to stomp his feet up and down rapidly, then he performs several impressive sideways hops, and finally he tosses his head and ears around in reckless abandon. After a minute or so, he freezes again to let the focus build once more. . . .
The dance makes Paul and Melissa laugh every time. But, more than that, it shows he is feeling at home, which is worth every single hoop they had to jump through along the way.
Read more about the former Michael Vick dogs.
Photos by Sarah Ause and courtesy of Paul and Melissa