Childhood dream of having a horse
Image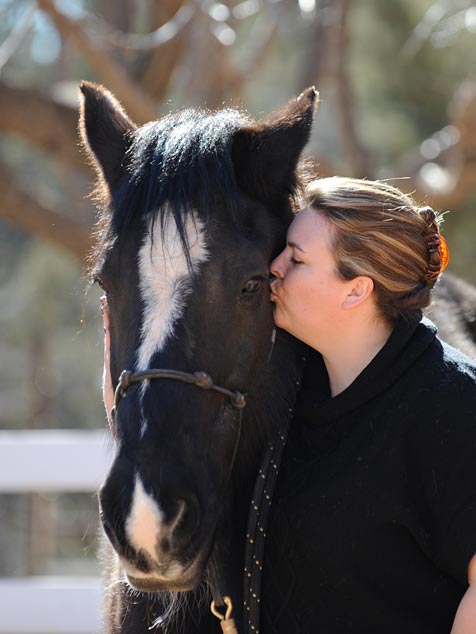 Woman finally realizes her childhood dream of having a horse when she falls in love with and adopts a horse from Best Friends Animal Sanctuary.
By David Dickson
When Julie Webb of Winnemucca, Nevada, was growing up, she asked her mom for the same present every birthday and Christmas. She wanted a horse. Sad to say, not all gift requests are as easy to fill as others. If a kid asks for a Tickle Me Elmo doll year after year, eventually the parent can usually find a way to make it happen. A horse, on the other hand, is a different story. No matter how many times Julie pleaded, a horse just wasn't in the picture for her family.
Volunteering with horses
That doesn't mean she ever stopped thinking about horses. When she came to Best Friends for the first time nearly two years ago, Julie wanted to make sure she spent part of her time volunteering at Horse Haven, the horse part of the Sanctuary.
Clyde (left) and Bonnie
Upon first arriving at Horse Haven, Julie remembers the exact moment when her life would change forever. She rounded the corner and laid eyes on two particular horses: Bonnie and Clyde. "I immediately fell in love," Julie says. "They were just so beautiful."
That first day Julie asked if she could help Bonnie and Clyde in any way whatsoever. She was put to work cleaning out their stall. Thus, a lifetime love began to form. All of Julie's childhood dreams swirled to a head when she laid eyes on those two horses. She loved everything about them. Once it came time to head home, she couldn't stop thinking of them. She couldn't stop thinking about how incredible it would be to have Bonnie and Clyde in her life every single day. Her mind made up, Julie filled out an adoption application.
For those who don't know these two, Bonnie and Clyde came to Best Friends together when their family could no longer meet their needs, in particular Clyde's medical problems. Clyde is a Guardian Angel horse at the Sanctuary. When Julie met them, they weren't in a position to be adopted. Clyde's, severe canker in his feet was a long way from clearing up, and, at the time, the two horses were kept together as a pair.
In love with two horses
Still, Julie was smitten. No other horses would do. She could have adopted different horses from Best Friends or certainly could have adopted from another rescue. Yet she never gave any different course of action a moment's consideration. She was in love, and that was all there was to it. "I was willing to wait," she said.
Ever since then, Julie has come to Best Friends as often as possible, at least once or twice a year for a week at a time. As seems to happen with many regular volunteers, Julie receives odd stares from her friends when she tells them her vacation consists of mucking out stables. To Julie, nothing could make more sense.
The months rolled by, but Clyde's feet refused to cooperate. The medical and caregiver teams made terrific progress, yet the canker in his feet never fully went away to where he could be cleared for adoption.
Bonnie
Along the way, something else happened. Bonnie, his pasture pal, began gaining weight and started developing aches and pains from all her standing around. She'd had arthritis from the get-go, which wasn't helped any by her added weight and lack of exercise. Caregivers decided Bonnie needed to move into a bigger pasture last September. She had been staying with Clyde in a large covered building for Clyde's sake, but now Bonnie needed more room to stretch her muscles.
Bonnie and Clyde each wound up with new friends at that time. Clyde got along great with Amir, and Bonnie enjoyed her new pasture pals as well. Most important of all, Bonnie's health improved tremendously. Getting out and about did wonders for her. This all added up to one thing: Bonnie was now cleared for adoption.
Horse adoption
Julie remembers the precise time and place she received the news. She was attending the No More Homeless Pets conference in Las Vegas when she got an e-mail on her phone with the subject line of "Bonnie." Her heart dropped. She'd known Bonnie's health had not been the greatest in previous months. Julie feared things had taken a turn for the worse. When she opened the e-mail, which asked if she'd be interested in adopting Bonnie, Julie said it was all she could do not to run on stage and scream to the entire auditorium full of people, "I get Bonnie!" Needless to say, she was ecstatic!
As an interesting side note, Julie had been fostering a pair of mini horses for a friend who was no longer able to care for them. Her friend offered to let Julie keep them permanently right around the same time she knew Bonnie was coming home.
The caregivers at Best Friends suggested that the minis might be great company for Bonnie. So it was that Julie, who had wanted a horse all her life, ended up with three of them in a relatively short timeframe. The three horses hit it off famously right from the start. "They are so cute together," Julie says. "They have completely bonded."
Bonnie has settled into her new routine with flare, and Julie couldn't be more thrilled to have her friend home at last. "Bonnie's main job is to be loved and adored by me, and she does it very well," Julie explains. Julie still hopes she might end up as Clyde's mom some day. She plans to visit him as often as possible, just as always. For now, she's relishing her childhood dream come true at last.
It was a year and a half between when she met Bonnie until she could take her home. "It was worth every minute," Julie adds. "She's the best part of my day."
Barnyard pals
Make your own childhood dreams come true! There are wonderful horses looking for a paddock to call their own at the Sanctuary. Whether you're looking for a pasture pal or a pocket pony, you'll find the right horse for you from our Adorable Adoptable horses.
You can help make our horse's dreams come true by showing your support. Sponsor a barnyard pal today!
Photos by Molly Wald