Citizens helping people and pets during COVID-19 pandemic
Animal lover Emily Park switched her focus to helping people during COVID-19 and found herself helping pets, too.
By Michelle Sathe
As an employee at Best Friends Animal Society, Emily Park of Orlando, Florida, was used to spending her time and energy on helping pets; however, when COVID-19 broke out, she switched her focus.
Inspired by a call to action from Best Friends CEO Julie Castle for employees to help their neighbors during the pandemic, Emily did just that and in the process created a ripple effect she never anticipated.
A few cards start a movement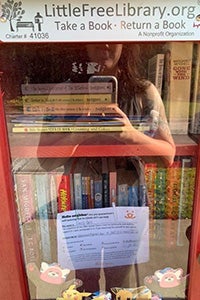 Emily printed a few #ViralKindness cards and placed them in three Free Little Library stations. The cards were designed by Best Friends to connect neighbors who may be able to help those in need with services like dog walking and grocery shopping.
"I didn't expect any responses, since most of my neighbors appear to have means," Emily says. But three weeks later on Easter Sunday, she heard from a needy family, whose main wage earner was furloughed and waiting on unemployment compensation from an inundated Florida system. With a spouse, two children and two pets, she was feeling desperate about no longer being able to provide for them.
Emily quickly found resources for pet food, but she needed help figuring out the rest.
Connecting with neighbors
Emily posted on Nextdoor.com to see if anyone could join her in helping the family. She connected with Wednesday Hugus, a neighbor who had opened a contamination-free pantry in her garage to help people and pets. She mobilized a team of volunteers to prepare and deliver meals to neighbors in need. They also distributed 1,100 viral kindness-style cards of their own.
Within a matter of hours, Emily heard from 20 neighbors willing to provide the family with supplies, grocery gift cards, money to help with utility bills and other items. She shopped for groceries from her new friend's pantry, which also provided many large containers of homemade food.
Emily and her husband, Min, soon had enough goods for the family to fill her trunk and they delivered it all to the family. Shortly thereafter, Emily received this message from the mother: "You are such a shining light in this dark time. I am so relieved just knowing someone wants to help us. You are an angel to my family."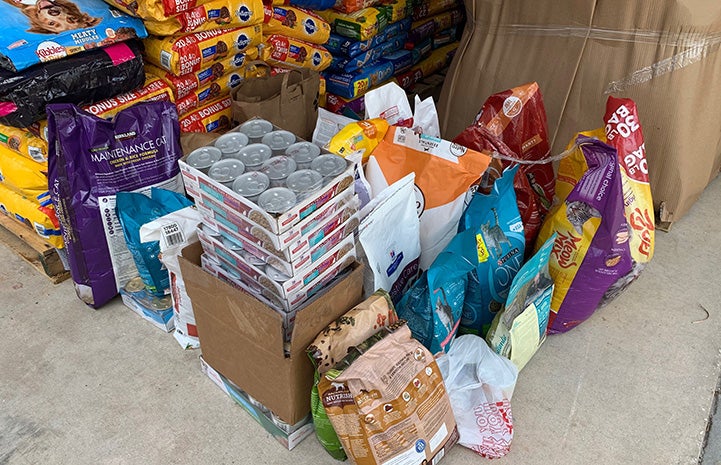 Network keeps on helping others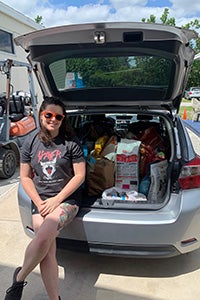 With her newfound neighborhood network in place, Emily continues to receive daily offers of support and donations, which she passes on to those most in need. Recently, Wednesday collected 300 pounds of extra dog food that Emily was able to donate to the Pet Alliance of Greater Orlando, just in time for its drive-through pet food pantry.
Emily says being a part of the whole experience has been humbling and in many ways eye-opening. "It's helped connect me to the beautiful community I didn't realize was right outside my door and given all of us something to feel good about during a really devastating time," she said.
As time went on, Emily received more texts from the first family she helped. Her favorite read: "Thank you tremendously for all of your help. The food was delicious! It was refreshing to have a home-cooked meal. My animals are so full, happy and off to bed already."
That really touched Emily's heart. "By helping people, pets get to stay in loving homes," she said. "We're all connected."
Photos courtesy of Emily Park