Claire Rose's new puppy reminds the globetrotting trendsetter there's no place like home
When COVID-19 took travel off the table, Instagram influencer Claire Rose canceled her trips and adopted a puppy from Best Friends in New York City.
By Nicole Hamilton
Claire Rose likes to say she has two full time jobs. The first, as a digital influencer, involves traveling the world to keep up on the latest fashion and lifestyle trends. The second is being a mom to a newly adopted puppy, who wakes her up at all hours of the night for slobbery puppy kisses.
Growing up in the Netherlands in a family of animal lovers, Claire Rose always had a dog by her side. But since she was an on-the-move influencer with more than 460,000 Instagram followers who look to her for fashion and travel inspiration, adopting a dog just wasn't practical ― that is, until the COVID-19 pandemic tabled her travel and made her seriously evaluate her lifestyle.
She wanted to spend more time at home, which would also mean she could finally adopt a puppy. That puppy turned out to be Billie, a sweet black-and-white dog from a Texas shelter who found her way to Best Friends in New York and on short notice needed a place to go.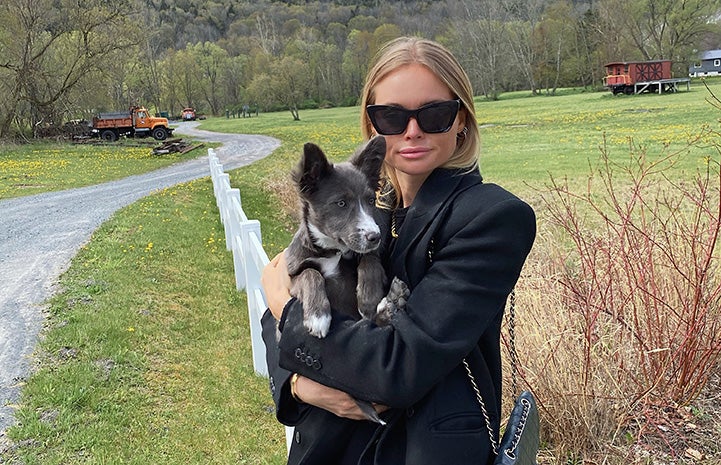 Puppy learns in a foster home
Billie is only about five months old, but she's already lived quite a life. Born in Edinburg, Texas, she came to the Best Friends Lifesaving Center in New York City from Palm Valley Animal Society along with her siblings, and then on to the foster home of Whitney Clark. Whitney loved fostering Billie and taught her all the skills a well-behaved puppy needs.
Having a dog = a healthier lifestyle
Meanwhile, Claire Rose was getting used to spending more time relaxing at home. Before the pandemic, she took an average of three to six flights a week and the jet-set lifestyle, while fun, was beginning to take its toll. "I was getting tired of traveling so much," says Claire Rose. "I was ready for a more healthy lifestyle."
As she shifted her focus to self-care, she encouraged her Instagram followers to do the same. And she was also excited to share her journey of adopting a puppy. Just as she began the process of signing up to volunteer with Best Friends in New York, it turned out that Billie needed to move into a new foster home or a permanent home.
It's a small world after all
When Whitney began experiencing symptoms associated with coronavirus, she notified the team at Best Friends, who temporarily moved Billie to a boarding facility as a precaution. As it turned out, Claire Rose asked about volunteering and adopting just at the right time, because Billie needed a place to go after a two-week quarantine. A Best Friends staff person told Claire Rose and her husband about Billie's situation and wondered if perhaps Billie could go to them. The answer was a resounding yes.
Overjoyed at the prospect of adopting Billie, Claire Rose shared a photo of her on Instagram. Whitney, who was still in self-quarantine, saw little Billie's familiar face in the post and asked for more details about one of her favorite foster pups.
"I shared more photos and videos of Billie so they could get a better idea of her personality," says Whitney, who also mentioned that Billie doesn't bark, loves to snuggle, listens to commands and enjoys running on the beach.
"Whitney said Billie was an angel," says Claire Rose. "And when I heard she's a beach girl, I loved that."
New puppy, new chapter
It was Claire Rose who gave her the name Billie because the Billie Eilish song "Everything I Wanted" perfectly sums up the way she feels about her puppy. Now every time Claire Rose watches Billie run on the beach or makes a passerby smile on a walk, she's reminded that the puppy is a big part of the life she's always wanted, just like the song that inspired Billie's name.
She and Whitney (who is in good health now) keep in touch and Claire Rose is grateful for all the training Billie received in her foster home. "Billie is a fun little girl. She's smart and vibrant, but she's also easy and calm and listens to us," she says.
Claire Rose's calendar is starting to fill up again, but having Billie has taught her to enjoy slowing down and to cherish her time at home. "Our dogs are a reflection of ourselves," says Claire Rose. "With her, I am more patient with myself and others. She represents a new chapter in my life, and I am so happy."
Billie is happy too after quite a bit of travel in her young life, all the way from Texas to New York City. Thanks to Claire Rose's popularity, Billie already has many adoring fans. But her biggest fan is, of course, her new mom who has years of puppy kisses to look forward to.
Be a hero for more pups like Billie: join Best Friends
Best Friends in New York works collaboratively with city shelters, local animal welfare organizations and individuals to save the lives of pets in shelters in New York City and the surrounding tri-state area. As part of this work, Best Friends has a national lifesaving concept space and pet adoption center in SoHo, hosts adoption and fundraising events, and runs a foster program in partnership with Animal Care Centers of New York City. Together, we will Save Them All.
Photos courtesy of Claire Rose and Whitney Clark