Couple with soft spot for overlooked pets adopts the perfect pair of cats with special needs
Two kitties with the feline immunodeficiency virus (FIV) are rescued and then find a home together with a loving couple.
By Christelle L. Del Prete
Emma and Hastings are feline friends who share both a sad history and a terrific change of fortune. They were living in a house that had about 100 cats, but luckily, they were all rescued. The two-year-old cats later came to Best Friends Animal Sanctuary, and within a few months they found a new home together.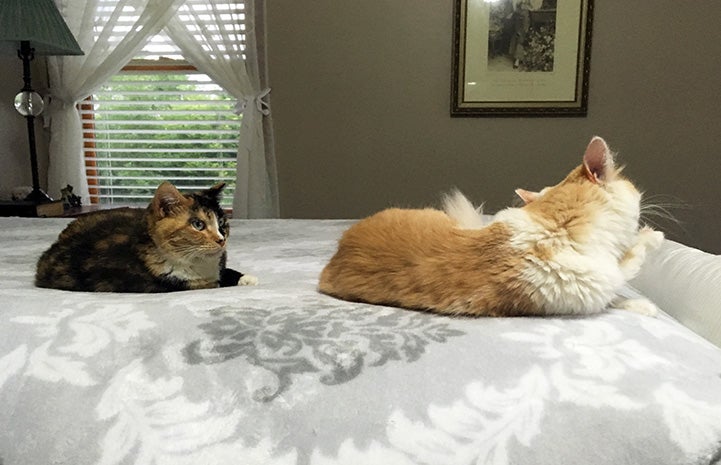 Rescued cats come to Best Friends
When they arrived at Best Friends, both cats were underweight and had ear infections. Emma was also treated for a terrible upper respiratory infection (cold) and Hastings needed help with some stomach issues. Both cats also have feline immunodeficiency virus (FIV), which weakens a cat's immune system.
Although FIV cannot be cured and doesn't just go away, cats who have it can live normal lives, both in terms of quality of life and life expectancy. All they need is good care, just like any other cat, but getting adopted can sometimes be difficult because of the many misconceptions about FIV. In the case of Emma and Hastings, the rescuer caring for them helped them get to Best Friends, where they'd have a better chance of being adopted.
Cat lovers volunteer at the Sanctuary
Emma and Hastings spent some time at Cat World, home for the Sanctuary's many felines, where they received all the medical care and TLC they needed. During that time, the sweet kitties liked hanging out with everyone (cats and people alike), but it was clear that they especially enjoyed the company of each other.
Since Emma is a little shyer than Hastings, she leaned on him for courage and support when they first arrived. Caregivers watching the cats' sweet interactions hoped the pair would get adopted together. But they had no idea if that would happen — that is, until cat lovers Carol and Loren Evers, in the midst of their fifth volunteer trip to the Sanctuary, met them and fell in love with them.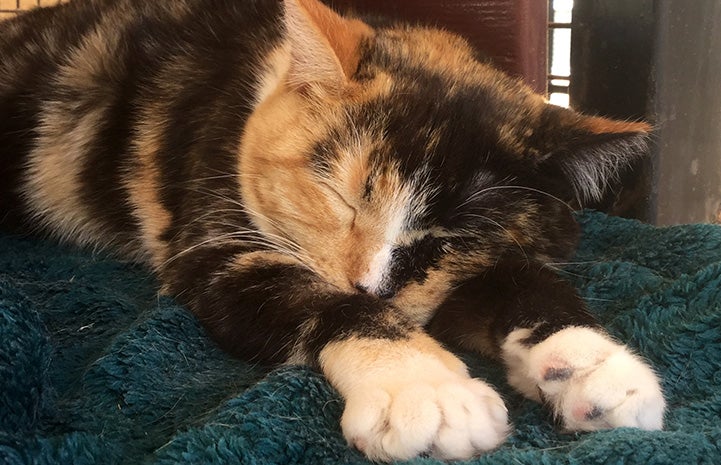 It was in 2012 when the two Minnesota residents took their first trip to volunteer at the Sanctuary. While working in Cat World at Quincy House, the residence for many of Cat World's special-needs felines, they recognized a cat named LaHela from an email they'd received from Best Friends. Once a feral (unsocialized) cat, LaHela had lost her eyesight after being attacked by another animal. Carol and Loren, who had recently lost one of their two senior cats, adopted LaHela (who they call Hela) shortly after that trip.
When the second of the Evers' older cats passed away the following year, they decided to adopt another cat. As they had with Hela, they wanted to help one who might wait a little longer than others to be adopted because of special circumstances or needs.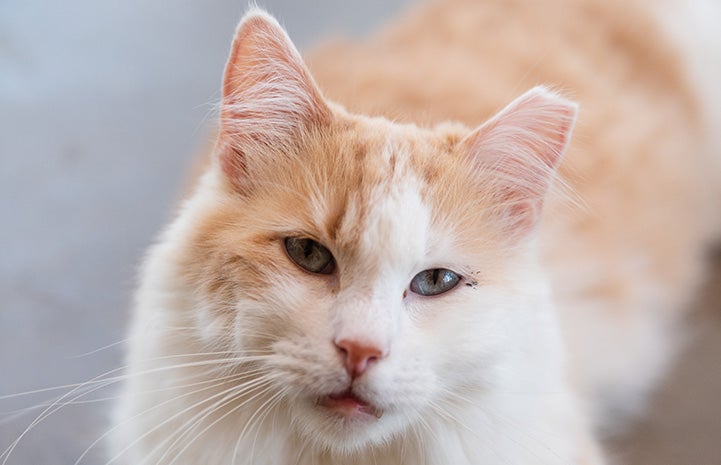 How do cats get FIV?
They chose Ringo, a black cat who was missing some toes. Ringo, who has FIV, can live safely alongside those who don't have the virus, because it isn't spread through regular contact and isn't contagious in the same way as a cold. For example, FIV can't be spread through shared items such as food or water bowls. The most common way cats get FIV is through a deep bite from a cat with the virus. So, as long as cats aren't fighting in the home, they can live together with no problems.
Ringo and Hela had no interest in fighting, but she also had no interest in befriending Ringo. Although Hela seemed just fine without a buddy, Ringo seemed lonely, so Carol and Loren decided to adopt from Best Friends again. They chose Maddie, an adorable Siamese kitten who also happened to have FIV.
The cats all lived together peacefully until Ringo passed away about a year ago. Once again, there was an open spot in the Evers' home.
Lots of love to go around
The couple met Hastings (now renamed Tigger) and Emma while cleaning one of the rooms at Cat World. They noticed that Tigger was really friendly and Emma was always hanging around him. They learned that both cats had come to the Sanctuary on the same date from the same place, and they later found out that they'd been rescued together. Soon, both cats were on their way home to Minnesota — together.
The last four cats adopted by Carol and Loren have FIV, but Carol insists they don't specifically seek out FIV cats. Instead, they are more interested in cats with special needs or those often overlooked by potential adopters. "There isn't really anything wrong with them, although they may have more specific medical needs," says Carol. "We just want to provide them a loving home."
After more than a month in that loving home, Emma and Tigger have settled in nicely. Carol and Loren are going slowly about introducing them to the other two cats, though that's mainly for the sake of Maddie and Hela. After all, Emma and Tigger have lived with other cats their entire lives. Now, they're learning what it's like to live in a home where there're plenty of love and attention to go around.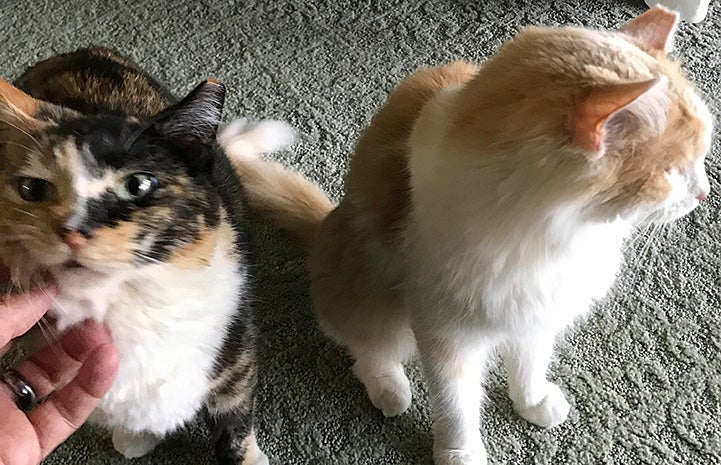 Photos courtesy of Loren Evers and Best Friends staff