Cute kitten overload: Adorable pictures of kittens
Image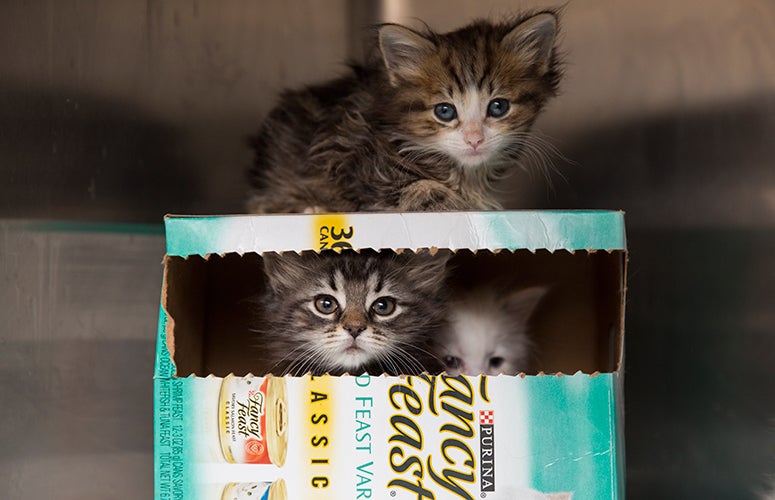 These extremely adorable kitten photos will be the cutest thing you see today! See Siamese and tabby kittens and runt of the litter pics!
By Best Friends staff
What's cuter than a baby kitten?
You've got us. We kind of think nothing. Right side up or upside down. Here are just a few of the reasons, along with photographic evidence, that kittens are the cutest things ever.
1. They look pretty cute upside down.
2. Their stuffed animal is often bigger than they are.
3. They can squish themselves into boxes. And do. For no reason at all.
4. They have no table manners.
5. They don't know the meaning of "personal space."
6. They're even cute when they are yelling at you.
7. They fit in all kinds of places. Like right in the palm of your hand.
8. You can hold three of them in your arms at one time.
They are more than just cute. They're silly, sweet, mischievous, and perhaps best of all, grow up to become cats. And at many shelters, few animals are in as much danger when they arrive.
It's because newborn kittens need round-the-clock care that's hard to provide. And so no other animal is in as much danger when she arrives at a shelter.
Best Friends knows how to save these lives. But we need to expand what's working.
Right now in Los Angeles, shelters are flooded with kittens and our nursery is full nearly every day. Volunteers care for and feed kittens around the clock, every two hours for the youngest ones. We're saving the lives of kittens every day. We could save 4,400 more if we could build a second kitten nursery.
L.A. is on the brink of becoming the largest no-kill city in the nation, setting the stage for the rest of the country to follow suit. Kittens — believe it or not — are the little animals who represent one of the biggest challenges on the way to no-kill. We're making progress, but our kitten programs need to expand.
The need is urgent. We can Save Them All. But only together.
There are a lot of furry little faces who are counting on us.
Make a lifesaving donation and invest in the lives of kittens today.
Photos by Best Friends Photographers