Cutest animal couples at Best Friends
These dynamic animal duos are sure to warm your heart as they snuggle up together for cute Valentine's Day photos.
By Sarah Thornton
Things are about to get cuddly. Cuddle puddles, puppy piles, flocks or herds (whatever you call them), there is no shortage of love at Best Friends Animal Sanctuary. Just like people, some animals just live for snuggling up with a buddy. Others find a best buddy to romp with or share their snacks with. No matter what kind of love connection, these pairs have us all charmed. Meet some of the cutest furry, feathered and whiskered Valentines who call the Sanctuary their home-between-homes.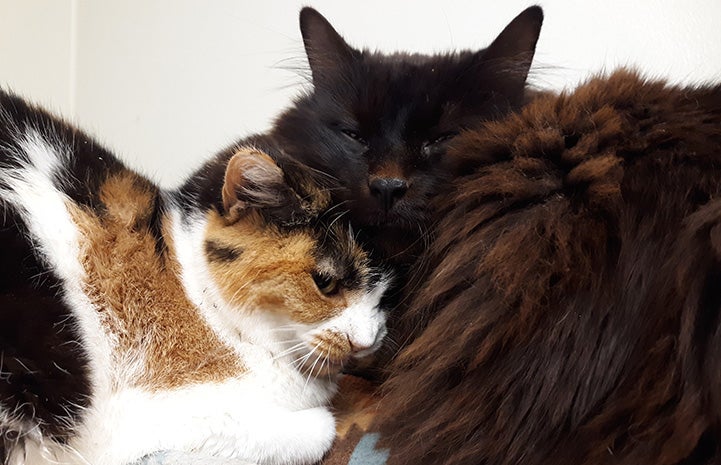 Ariel and Pepe
Ariel and Pepe, two of the incontinent cats living at the Sanctuary, are one of the most loving couples in Cat World. They are always snuggled up together, and if you have one on your lap, you have both on your lap.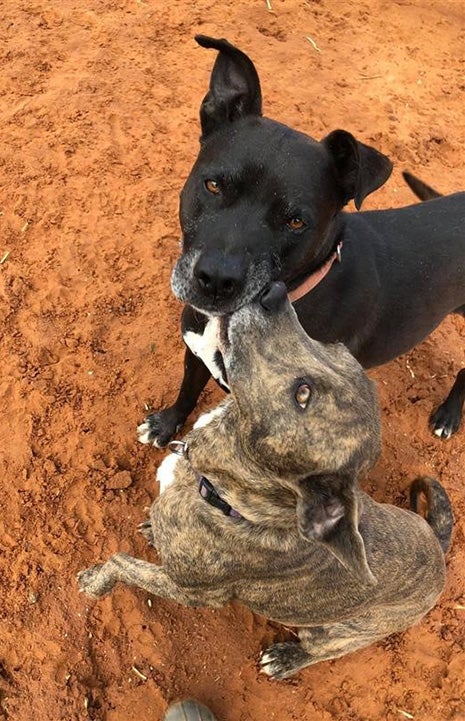 Cordelia and Chaplin
Cordelia and Chaplin have been besties for years, and while confident Chaplin can be a little awkward socially, shy Cordelia adores him and truly comes out of her shell when she's around him. Cordelia follows Chaplin's lead, and it has helped her overcome obstacles she might have struggled with on her own.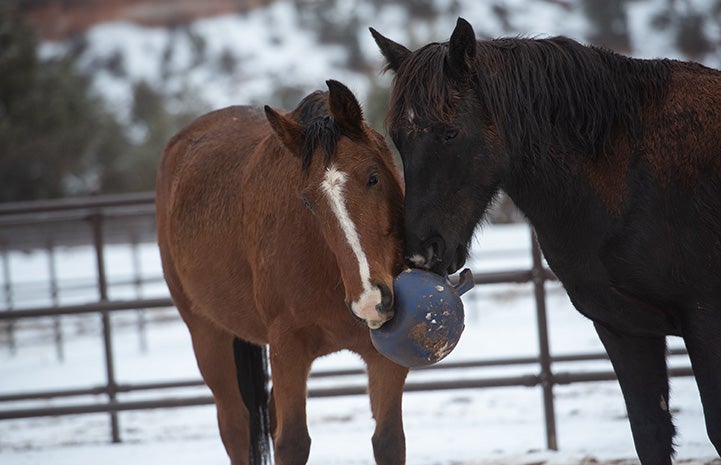 Jasper and Jet
Born in New Mexico, these two boys are having a ball here in Kanab. When they're not horsing around together, they love hanging out with people and soaking up all the attention they can get.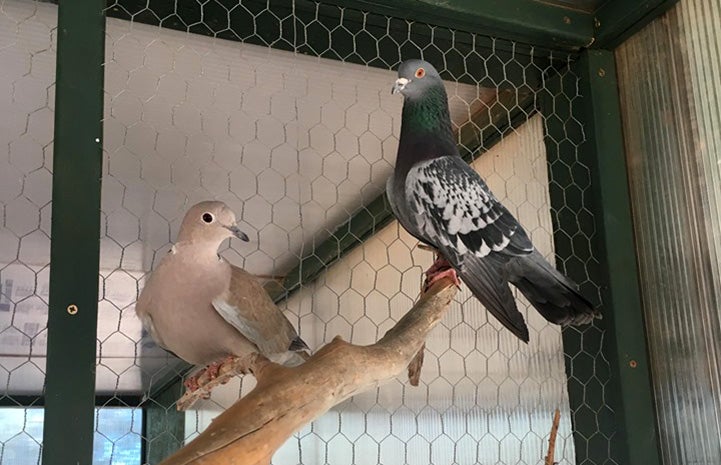 Lacy and Gabi
Species isn't an issue with these two lovebirds. Gabi the dove and Lacy the pigeon are known around Wild Friends for the hours they spend cooing sweet nothings to each other. And Lacy dotes on her girlfriend with "only the finest hay for their nest," says caregiver Brianna Vlach. Since doves and pigeons are both monogamous, these two beautiful ladies are in it for the long haul.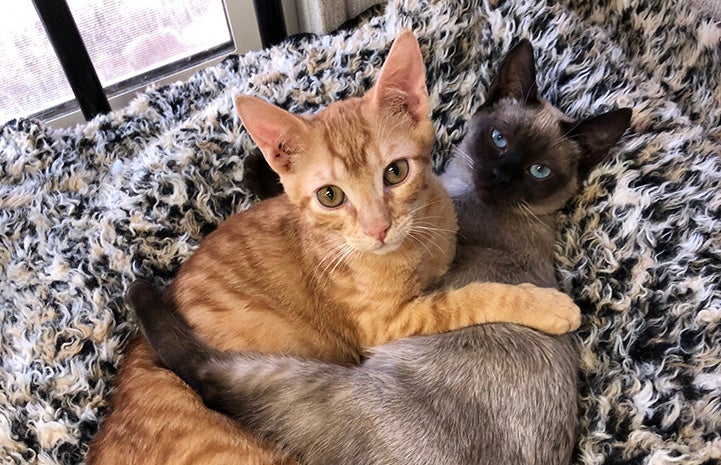 Fusilli and Sunriser
You'd never know that Fusilli and Sunriser didn't meet until they arrived at the Sanctuary. These two kittens immediately took to each other and spend their days together, playing until they sleep and sleeping until they play.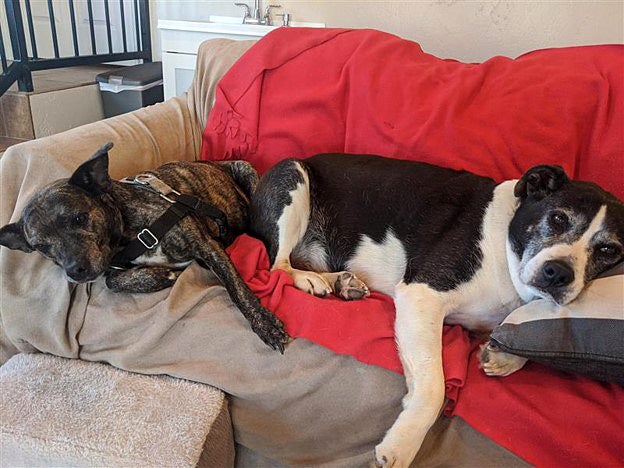 Aggie and Caramello
A couple of mellow, senior ladies, Aggie and Caramello love going on sleepovers together, where they can curl up on the couch with a good movie and nap, like there's no tomorrow.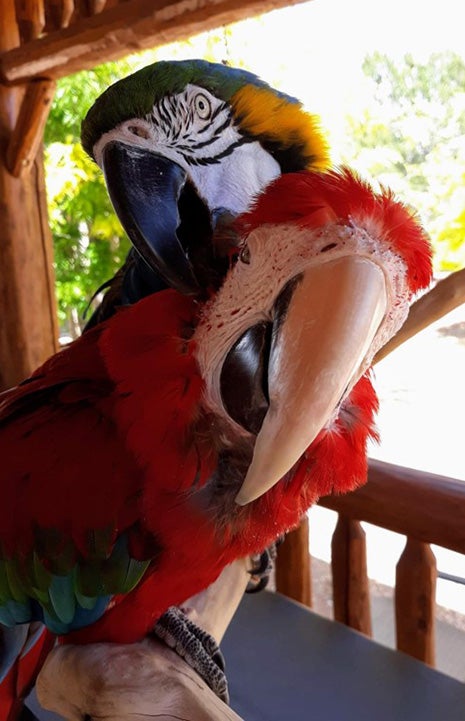 Kaimi and Laquita
Hailing from Hawaii, this loving pair of macaws will greet you with "Aloha," before going right back to grooming each other. Kaimi is the light of Laquita's life, and he cannot stand being away from his one true love. Kaimi, for her part, loves being in the spotlight.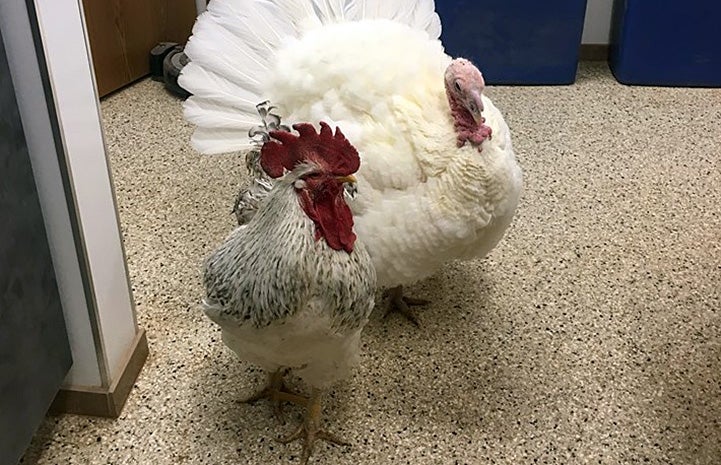 Buddy and Blanca
Buddy the rooster and Blanca the turkey are a popular couple from Wild Friends. Buddy doesn't mind that she's bigger than him or that she flirts like a male turkey. He only has eyes for his beautiful tomboy.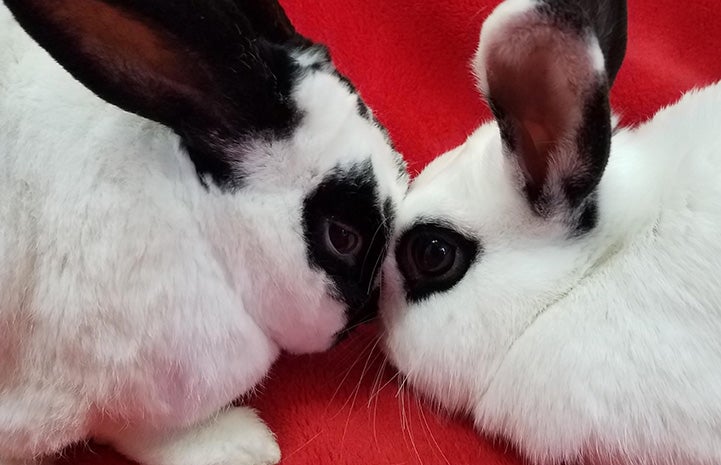 Rosie and Cabot
What's better than one soft, fluffy bunny? How about two? Rosie and Cabot go together like peanut butter and jelly. These black-and-white cuties love spending time together and getting lots of love from everyone they meet.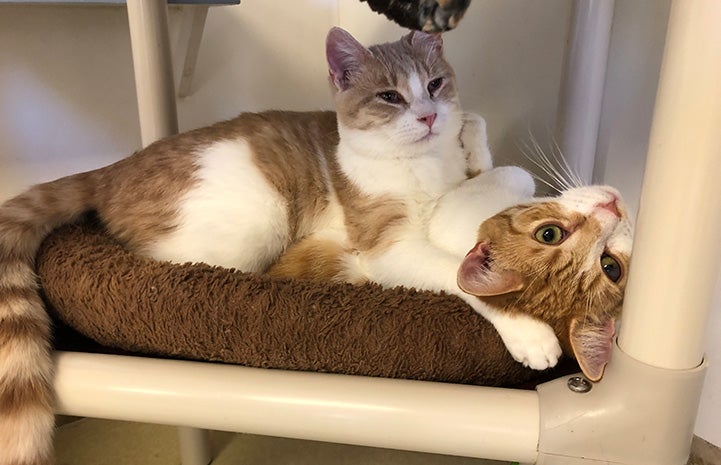 Bart and Barney
Brothers and best friends, Bart and Barney often turn their nap times into friendly wrestling matches and games of chase around the room. They're a popular pair who take the lead during playtime with the other cats, both young and old.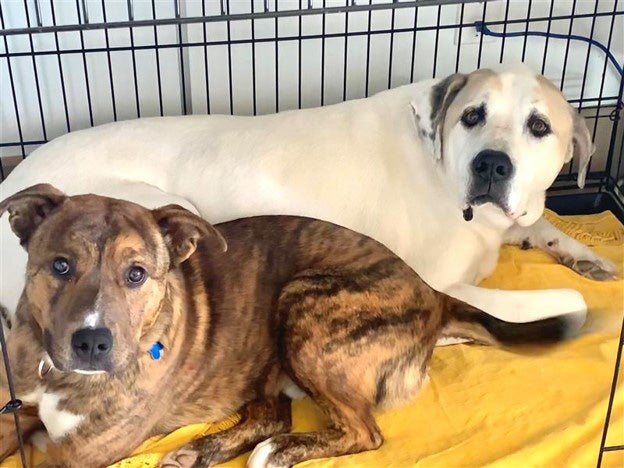 Pecos and Carlo
Pecos is a shy boy who stays in a Dogtown office most of the time to help him feel comfortable with people. While he's unsure about new people, he takes great comfort in having a canine friend, and right now that friend is newcomer Carlo. After just a week, the two are already snuggling together for naps.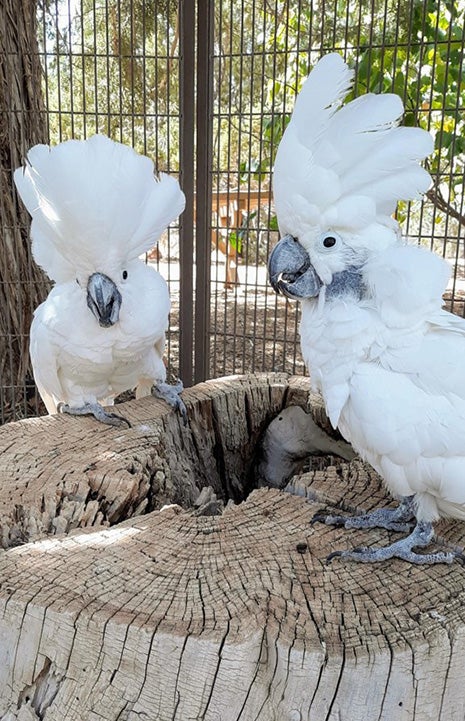 Sugar and Clancy
"Sugar" is Clancy's favorite word in the entire world. In fact, it might be Sugar's favorite word, too. These two guys have tons of fun taking apart wooden toys and goofing off together.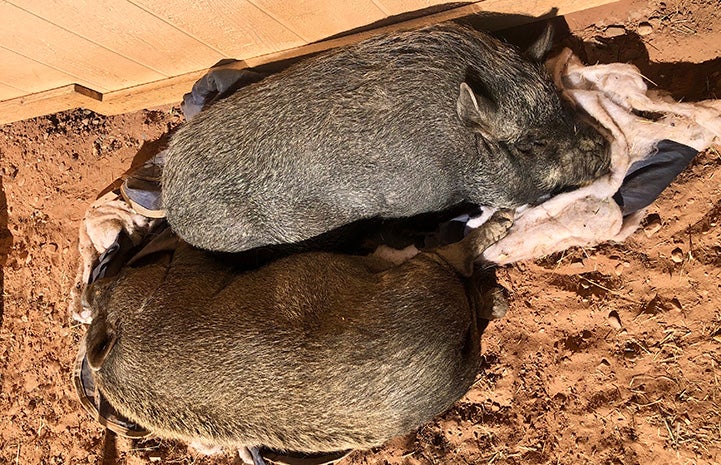 Daisy and Willow
A couple of girlfriends soaking up the sun, Daisy and Willow embrace their life of leisure together in Piggy Paradise. When Willow came to Best Friends, she had never met another pig, and it was a rude awakening to understand that she's not, in fact, a dog. Today she's much happier, thanks in part to Daisy, who's showing her that being a pig is, in fact, great.
Photos by Molly Wald and courtesy of Chris Kruse Wright, Madeline Habel, Brianna Vlach, Jodi Forsyth, Hannah Zerkle, Sierra Medlin, Brianna Vlach, Chris Ratches, Christa Bruno, Julie Tasch and Rosalie Wind