Dedicated couple has made 33 (and counting) trips to the Sanctuary
Image
Committed volunteer couple Andrea Kraus and Mike Lorrig have made numerous trips to Best Friends Animal Sanctuary and helped with events and programs.
By Christelle L. Del Prete
Andrea Kraus and Mike Lorrig look perfect at home sitting on the floor of an outdoor cattery room at Cat World. Maybe that's because Best Friends Animal Sanctuary is like a second home to them. They have visited the Sanctuary more than 30 times and have spent many of those visits volunteering — particularly with cats.
It wasn't until 2005 that Andrea and Mike started coming to the Sanctuary, but they've known about Best Friends since the early 1990s, when Andrea came across a Best Friends fundraising table at their local shopping mall. She and Mike started donating $5 a month and began receiving a Best Friends flyer in the mail.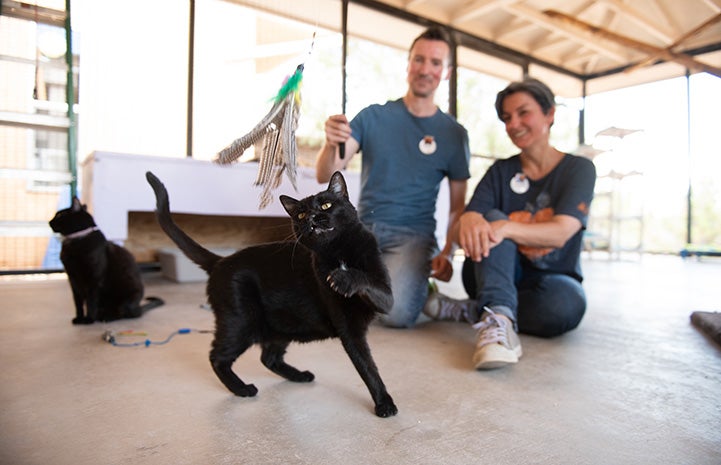 Transports mean trips to the Sanctuary
After they started visiting the Sanctuary, they became volunteers for "Pup My Ride," a Best Friends shelter transport program which ran from 2007-2015. Transport runs often took them from their home in Los Angeles to St. George, Utah. Since St. George is slightly more than an hour away from Kanab, Utah, those transports gave them plenty of chances to take quick side trips to the Sanctuary.
The couple also volunteered alongside Best Friends during "the great kitty rescue" in Pahrump, Nevada, that occurred between July of 2007 and January of 2008. Back at home, they also love volunteering for Strut Your Mutt and helping with setup and tear-down at Best Friends Super Adoption events.
Mike and Andrea have also helped find homes for dogs through Angel City Pit Bulls, a Best Friends Network partner organization. Of course, they also have pets of their own, including a new kitten named Vinny.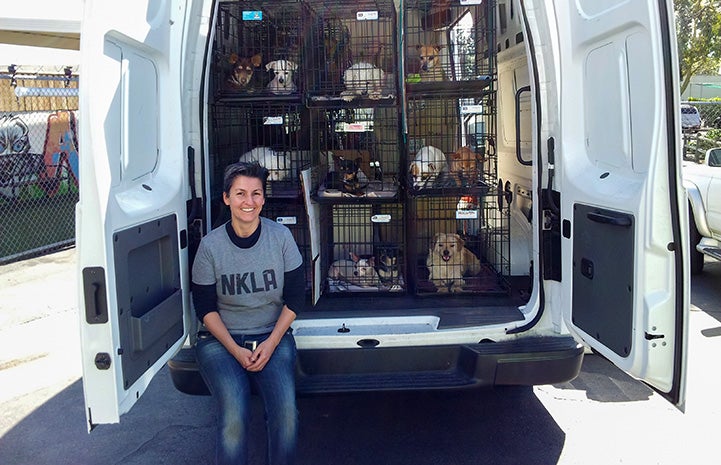 Sanctuary offers active volunteers so many things to do
Even with all they do in their hometown, these committed volunteers always find their way back to the Sanctuary. "We've helped other animal rescue organizations and a farm sanctuary, but we enjoy Best Friends the most because it is so organized and there are so many things to do here," Andrea says.
Mike agrees: "It makes us happy to help out at the Sanctuary because we can see how well all the animals are being cared for and how much all the wonderful caregivers do to prepare them to find their future forever home. It's nice to be a part of all that." Plus, Mike says that they never get bored. "Every time we come here, there is something new." This time, the something was the newly planted Gratitude Garden, a quiet oasis honoring donors who have made gifts to the animals.
Mike and Andrea also took advantage of a fairly new volunteer opportunity at Angels Rest, where they did some pruning, weeding and tidying up. "We enjoyed it because it was a nice change and it gave us an opportunity to work outside. It's a relaxing spot and you can hear the chimes ring," Andrea says.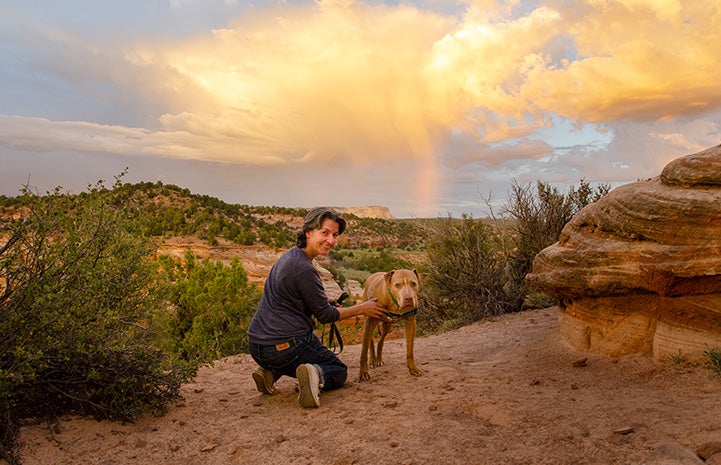 Cat World keeps volunteers coming back
Although they love volunteering all around the Sanctuary, they keep coming back to Cat World. Of course, they love socializing the cats and taking them for walks and on stroller rides and sleepovers. And they don't mind helping with deep cleaning in the cat rooms. But Cat World also feels like home because they know some of the caregivers who work there.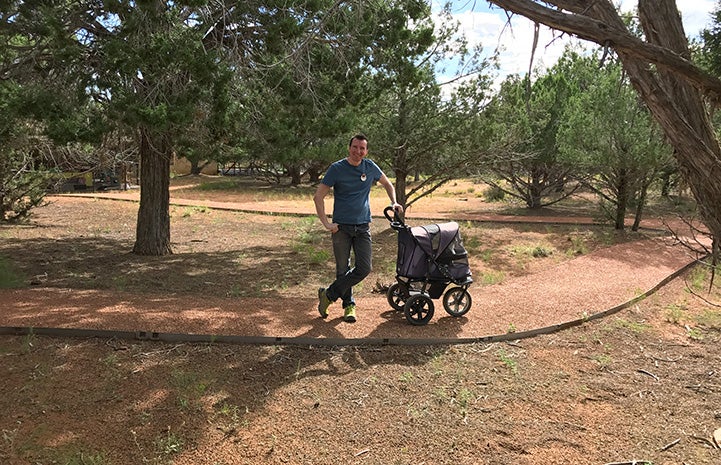 It's nice for Mike and Andrea to see familiar faces every time they return. And it's nice for us to see their friendly faces again, too.
Plan your trip to the Sanctuary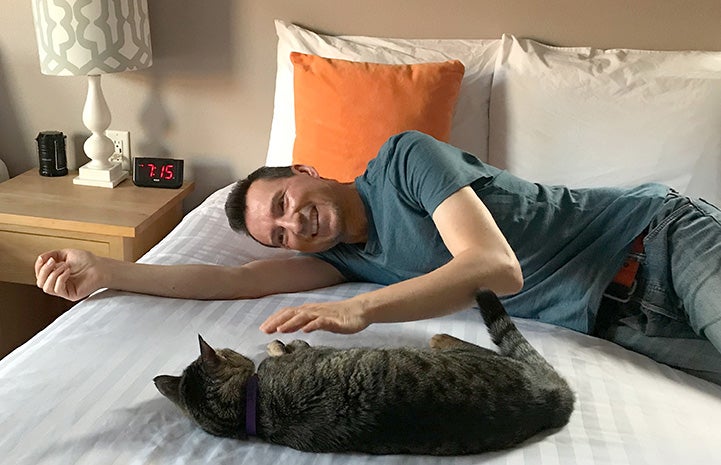 Photos by Molly Wald, Mike Lorrig and Andrea Kraus