Delivering pet food in the New Orleans area to those in need
With trap-neuter-return efforts for community cats temporarily on hold, a van normally used to transport dozens of cats becomes a mobile pet food bank.
By Sarah Thornton
As veterinary facilities across the country limit nonemergency surgeries to conserve supplies for human hospitals dealing with the COVID-19 pandemic, most trap-neuter-return efforts for community cats are temporarily on hold. Vans normally used to bring dozens of cats from trap sites to surgery and back again are sitting unused, waiting for spay/neuter operations to resume.
Meanwhile In Jefferson Parish, Louisiana, one of those vans is being used by the Best Friends community cat program team for a new community service purpose: delivering pet food to families affected by the COVID-19 virus.
Learn more about Best Friends community cat programs
Bringing pet food to families in need
While Jefferson Parish Animal Shelter continues (by appointment) to take in sick or injured animals and adopt out as many as possible, other general operations have been curtailed. Essential staff members are still coming in to take care of pets and handle most other services offered by Best Friends and the shelter, including the trap-neuter-return program.
As the pandemic continued and stay-at-home orders were extended, community cat program staff members started getting emails from families and cat caregivers, some of whom had tested positive for COVID-19 and were unable to obtain food for their pets and their community cat caregiving.
"I knew there was something that we could do about it," said Leah Long, Best Friends community cat program outreach specialist. "And thus the idea to do a mobile food bank began."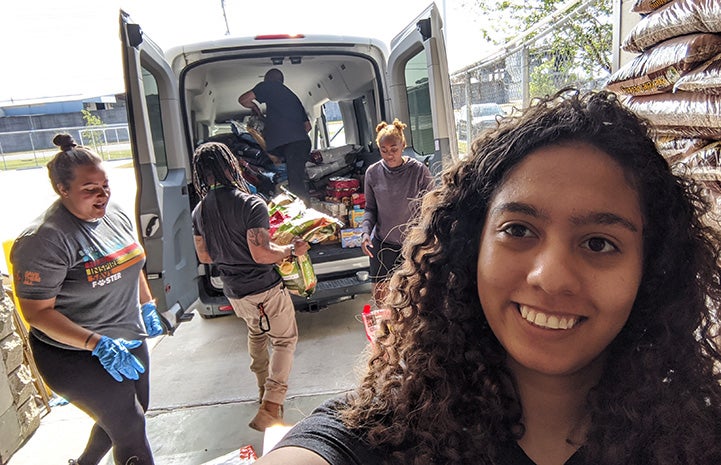 Dinah Sepulveda, community cat program coordinator, along with Leah, started working with Jefferson Parish Animal Shelter and Zeus' Rescues, the latter of which already had a pickup food bank in operation.
Jefferson Parish Animal Shelter had received a large donation of pet food and, after distributing much of it to other rescue organizations in need, the remaining pallets were loaded onto an empty van for community distribution. Over the course of two days, Leah and Dinah drove around and delivered bags of pet food to about 70 households in need.
Even though they were wearing masks and keeping their distance, the strong feeling of community had them smiling and laughing during their deliveries.
Ms. Ermine, a local resident, has been a huge proponent for community cats. "She's like the neighborhood grandmother," says Leah. "Still seeing her on her porch through all this and being able to bring food to her was my highlight."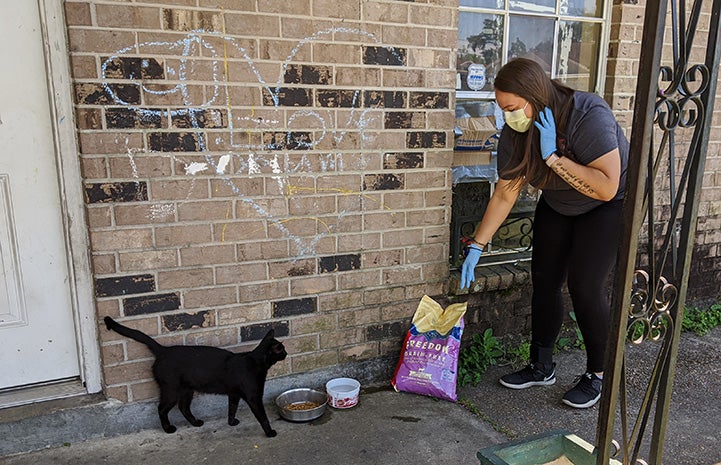 More food, more families
Word of mouth brought more calls for help, and within just a few days they set up another trip. This time the food was provided by the Jefferson SPCA through a donation from one of its supporters. Leah and Dinah then went back out and delivered it to another 25 homes in one day.
With so many families in need, Leah and Dinah set up an online form to better determine what was needed and where. So far, about 100 forms have been submitted and they are getting ready for another trip.
"Working with the community cat program means building up a certain level of trust with the community," Leah says, "and this is what the community needs right now — to be able to help care for the animals."
The community is using the food to help neighbors who might have missed out. One recipient sent a thank-you email saying that its large bag of food would be shared with others who need it.
The long hours aren't yet over, and more food will be delivered to more families. But the effect on the community and the sense of accomplishment and togetherness makes the exhaustion of a long day feel good. "It's intense, but it is incredibly rewarding," Leah says. "Everyone really cares about their animals, and that makes it more than worth it."
Find out how you can help pets during COVID-19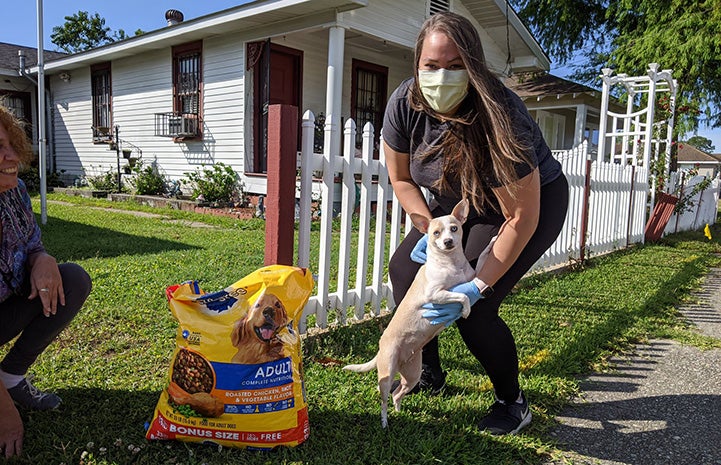 Photos courtesy of Leah Long