Diabetic poodle gets the spring back in her step
Senior dog Angelina was in rough shape when she arrived at the Sanctuary, but these days she's living her best life with her new family.
By Sarah Thornton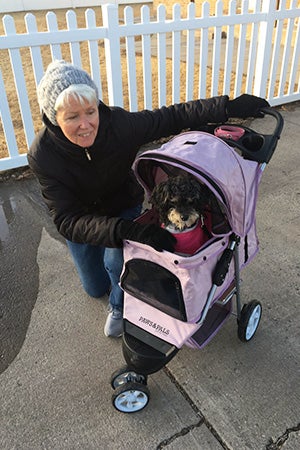 Life was rough on Angelina before she landed at Best Friends Animal Sanctuary. At eight years old, the mini poodle was mostly blind, severely underweight and had several broken teeth. Though her initial prognosis was guarded, she never lost her feisty side.
This little dog may have been in bad shape, but she was stronger than she looked. She just needed a little extra TLC. And now, after being adopted, Angelina is finding a new lease on life and making the most of every single day ― even if a lot of that is naptime.
Senior dog's diagnosis
Angelina lost her home and ended up at Page Animal Adoption Agency, a Best Friends network partner organization located not far from the Sanctuary. Because of her pressing medical needs, the group asked for Best Friends' help, and soon Angelina was on her way.
While the veterinary staff worked to get a complete understanding of Angelina's condition, bloodwork revealed the likely cause of some of her issues. She had undiagnosed diabetes. Left untreated, diabetes can cause cataracts as well as malnutrition, since the body is unable to process and store glucose for energy, and instead begins burning existing fat and muscle. Given the state she was in, it was clear that her illness had clearly gone untreated for a while.
With a diagnosis, Angelina's treatment could begin. She would need regular blood glucose checks and ever-adjusting doses of insulin to get back on the right track and start feeling better. And when she became stable, her future family would need to be in close contact with a vet and prepared to monitor her diet and daily insulin to keep her healthy and happy.
[Dachshund trades traumatic past for the good life]
Angelina's age and special medical needs may have been a daunting responsibility for some, but for Patti and Bruce Heywood, who were looking for a special senior dog in need of help, she was perfect.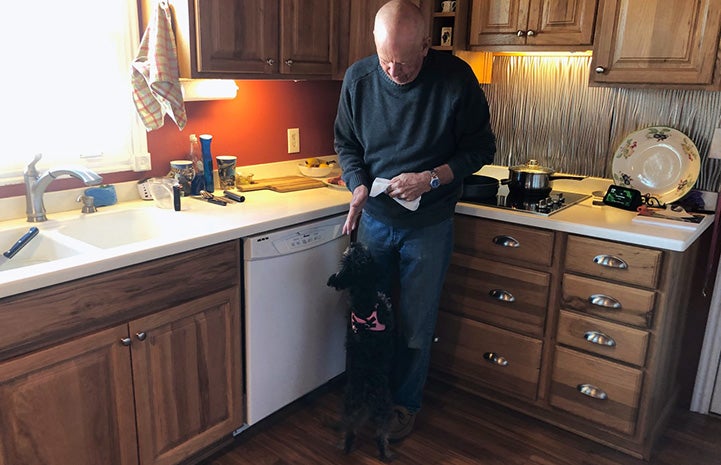 A new family, here to help
Patti says they had been thinking about adopting a dog for some time and decided that, rather than looking for a young pup, they wanted to find a dog who needed the most help.
"Since we're seniors, (we thought) it would be really nice to be able to have a dog who was also a senior and perhaps had some issues that we could help her deal with," says Patti. "So that's when I started looking online at the Sanctuary."
They contacted Best Friends and made arrangements to adopt Angelina. The medical team was still getting her insulin worked out, and so Patti and Bruce stayed in touch with Angelina's foster person until she could come home with them.
They found a local vet who could help them continue Angelina's treatment, and then waited eagerly for their new family member. On the day Patti picked up Angelina, she had a full list from her foster home of all the important things they needed to know. But their first order of business was just getting to know their new dog, and vice versa.
Patti says that when Angelina first came to them she was still very scrawny and scared of her own shadow. They thought that if they just got her in a routine she would be happy in their home because she'd feel comfortable. And that's exactly what happened.
[Adopted dog's health problems no match for his family's love]
Angelina quickly attached herself to Patti and followed her around the house throughout the day. But whenever Patti had to leave, Angelina searched everywhere for her, whining at doors until she'd run out of places to sniff. Having a regular schedule helped Angelina get into the groove of her new home and feel secure, allowing her to overcome that separation anxiety.
She still tries to find Patti whenever she leaves, but now she eventually settles down contentedly next to Bruce to wait for their absent family member to return.
Set mealtimes were also necessary for giving her insulin. And once Angelina knew when it was time for breakfast, lunch and dinner, she made sure not a single meal was missed. "Between 6 and 6:30, she knows it's time to get up and have breakfast, and she definitely lets us know," Bruce says. "At 11:45 she barks, saying, 'Hey it's time to eat.' Same at about 4:45 and 5 o'clock … She's got us trained and it helps keep me on schedule, too."
In the mornings when they wake up, Angelina rolls on the carpet snorting, sniffing and sneezing in excitement as her family gets ready for the day. And when she comes back in from her morning bathroom trip, it's time for some belly rubs and back scratches on the couch.
"I'll just give her a big rubdown and scratch her all over," Patti says. "Now, she runs and flying-leaps up into the couch and starts to wrestle with me, like she can't stand it if I'm not rubbing her all over. She's so funny."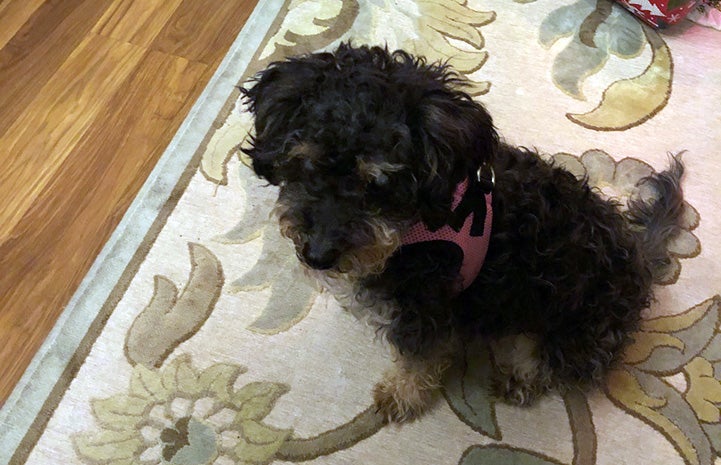 The spring in a senior dog's step
These days, Angelina is looking better than ever. She's gained weight, she's confident in her home and she's comfortable spending time downstairs by herself before heading up to join her beloved humans for bed. With her newfound energy, she's greeting every new day with enthusiasm.
"She can be very active," says Bruce. "She's gotten stronger. She likes her tummy rubbed, and she'll just lie down with her four legs out … She also walks on her hind legs."
Patti says, "She'll walk up to you on her hind legs and hug your leg. It's so endearing and sweet."
When she meets other members of the family (Patti and Bruce's children and grandchildren), Angelina is happy to accept hugs and pats from all of them. She's part of the family now and she knows it.
[Dog goes from diamond in the rough to lighting up an adopter's life]
If they go on a car trip, Angelina will doze off next to her people, enjoying the motion of the vehicle and the lights passing by through the windows. Patti says car rides are one of the little dog's favorite things. And hitching a ride in a backpack during a family hike is also pretty great.
"It's pretty rewarding to see her improvement," Bruce says. "It's a learning process for her, and for us … She's a good little dog."
"My life is not my own anymore," Patti says with a laugh. "It's like having kids again. It's kinda nice."
Soon, when the weather warms up, the new family of three will be heading down to their home in Florida. Patti and Bruce are looking forward to seeing what Angelina thinks of the ocean. And we're pretty sure, as long as she has her people beside her, she'll have the time of her life.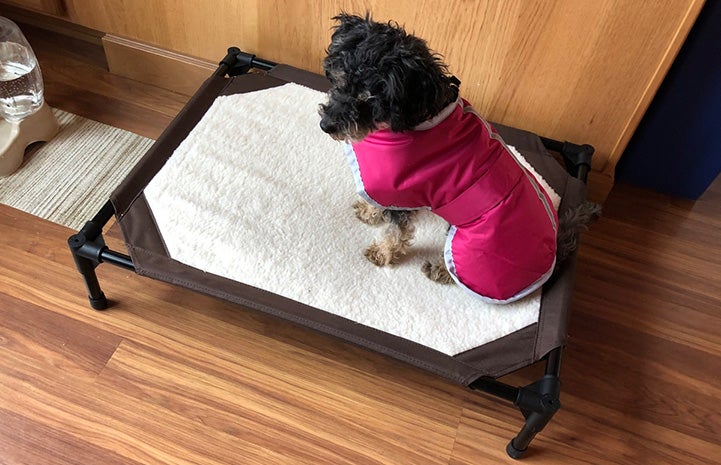 Give a pet a new lease on life
Pets of all shapes, sizes and ages are waiting for their happily-ever-afters ― and yours.
Read more:
The Grey Muzzle Organization steps up for senior pets
Senior dog coasts into his golden years with a smile
At 13 years young, senior pittie finds his perfect person
Photos courtesy of Patricia Heywood