Diary of a foster dog
Learn all about Mustard and her journey from living on the streets to life in a home and as a foster dog as told by the dog herself.
By Mustard, as told by Amanda Uber Trentham
Editor's note: The diary entries below are from Mustard, with a little help from her foster mom, Amanda Uber Trentham. Mustard stayed with Amanda after the stray pup came to Best Friends in Salt Lake City. At first, everything was scary, but as Mustard details in her diary: She learned all about life in a home.
Mustard's diary
Dear diary:
Today the human pet my head. I didn't hate it. The human's giant paw has no fur at all. That was weird. Tomorrow I will be extra scrappy to remind humans I am ninja street #dog.
– Mustard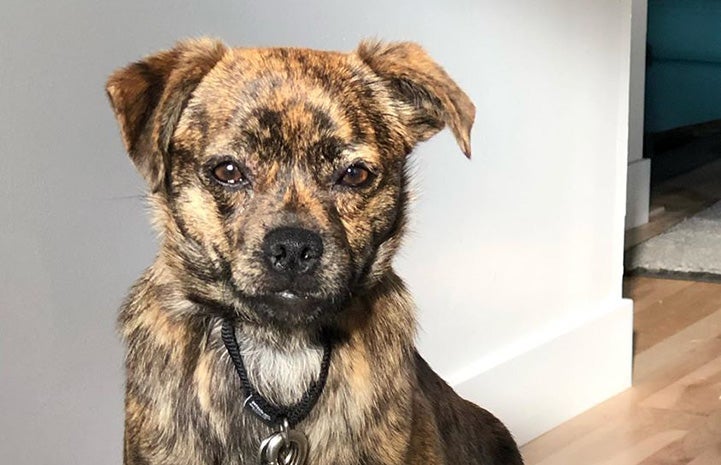 Dear diary:
Grrr. Today I got a bath! Gross!! All my best smells are … gone. I hated it. Well, the massage was OK. I do feel lighter. And oh, the breeze cools me off just right. I want to run around everywhere and feel the cool air.
I nibbled on the human's hand at the beginning, but you wouldn't believe ― I was sooo good the rest of the time. Then I got a whole greenie to chew myself. More later.
– Mustard
P.S. There was a red dot on the floor. I couldn't catch it but I'm intrigued. I must know more.
P.P.S. Don't tell humans I think I figured how to open shower door. Keeping that handy.
Dear diary:
Oh diary, how to explain this? When the human hand ruffles my fur I get all the feels inside. I must resist but I can't. Diary I'm so conflicted. Run away or get the fuzzies with a massage? I must resist, I must, I must … I want petting!
– Mustard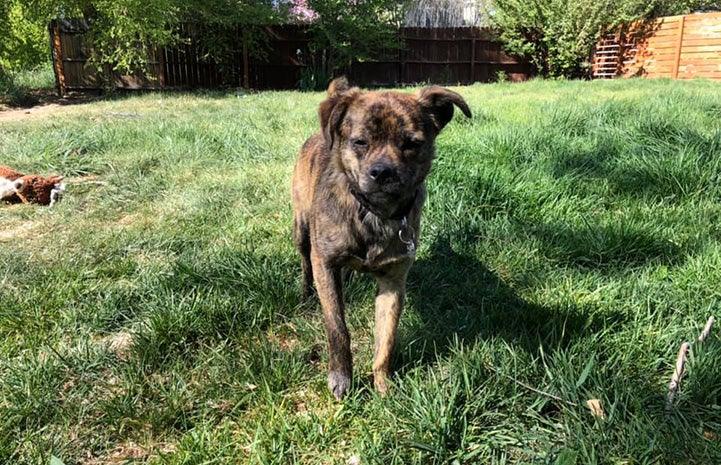 Dear diary:
I got my very own stuffed animal today. It's awesome!
Diary I have a confession. I love petting!! It feels strange and sweet, and gives me weird warmth. How did I go without petting before?
Last night I stood by the door. The humans have a crazy mind-meld machine cuz they opened the door so I could pee on the grass. Where is this machine? Is it invisible? Crazy stuff.
The humans told me I will meet my new parents on the inter webs today. I hope they aren't invisible and petting is involved.
– Mustard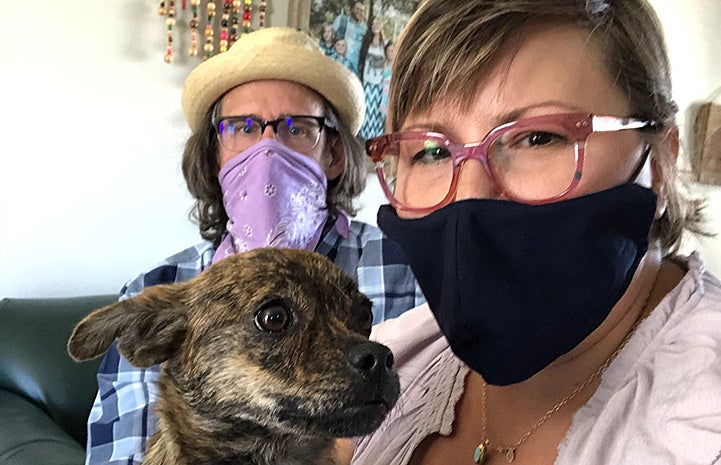 Mustard with her foster parents, Amanda and Gary
Dear diary:
Am Queen Sheba today. Lying high where I can direct subjects to my bidding. Feels a million years ago I was found on the streets. Diary, I was secretly princess posing as ninja.
Another good day.
– Mustard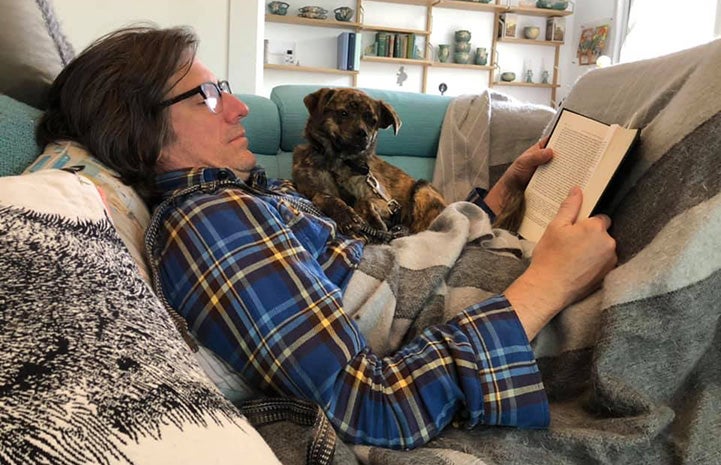 Dear diary:
The humans said I am to start "home schooling" … ??
I am supposed to learn "sit," "here" and "stay." Meh, sooo boring. I only listen to humans every 10th time. Diary, I hear them every time. Foster mom calls me ornery. I'm sure that means bestest.
I like recess when I can play. The best part of recess is barking at the dogs walking by the fence!
– Mustard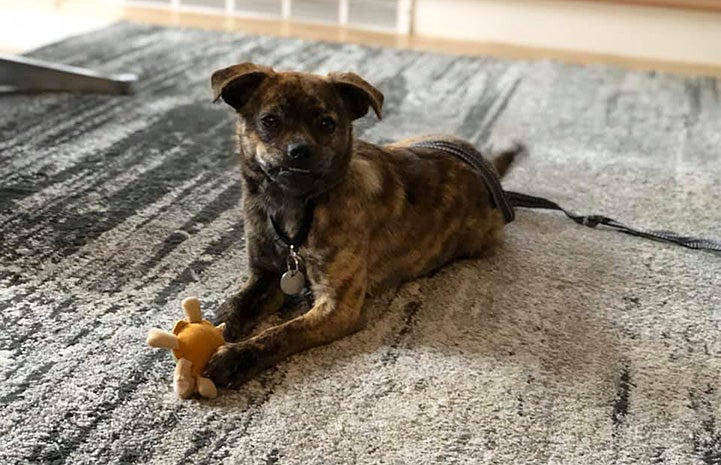 Dear diary:
My favorite times of day in order:
Playtime is the best time. Second best time is dinner time. Third … wait second best is tied with nap time. Third is 6:14 a.m.
That is all.
– Mustard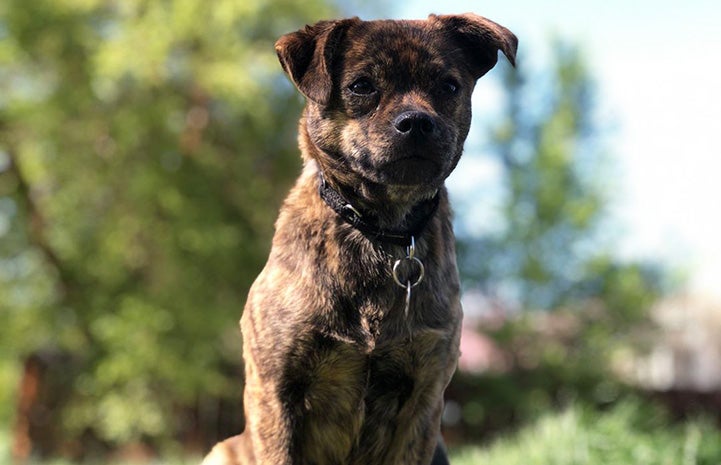 Dear diary:
Am experimenting with blanket positions to find most best of perfection. It is long and arduous days in the lab, but I must find the answer for all dogkind.
Oh diary, I shall write a book ― no, a manifesto called "Blanket Couch Perfection Nap Sleep in Comfort.
– Mustard
Dear diary:
This will be my last entry. Becuz yesterday: I. Was. Adopted!
My new forever family (weird to say that word) seems pretty cool. Initial opinions as follows.
Lots of humans came over to foster house and everybody was nervous so I knew something was up.
The mom person and my foster mom talked a really long time. I assume because there are so many awesome things about me and exactly how I like my blanket just right for movies.
I snuck peeks at the mom person. She was listening and smiling. I got a real good vibe from her.
The dad person is very tall. Like taller than a tree. I'll deal with him later.
There are three kids, which is cool because that could maybe mean sleepovers?? Or slumber parties?? Sweet.
The kids were being weird. Diary, how can I explain this? Oh, OK. Get this:
When they wanted to pet me they walked funny slow motion somewhere between a walk and a crawl. Do they think they can throw down ninja on me? I got ready to karate chop but they sat and put their hands out sooo slowly, it was mesmerizing.
The youngest kid put his hand out slowest. It was scary but also super funny that I blinked. OMG diary, the kid jerked his hand back. Then forward. Back. Then it looked like he was a DJ at a Sir Mix-a-Lot party. Hahahaha.
So like I said pretty cool.
Today on my last diary entry I wanted to give a shoutout to both my forever mom for taking a scrappy dog like me and learning how to love me. It takes a real special lady. I already like her.
And to my foster mom who got me ready to meet my forever family. And to her mom who I never met but heard she was wicked cool.
So I'm saying goodbye to you diary and hello to my family.
– Mustard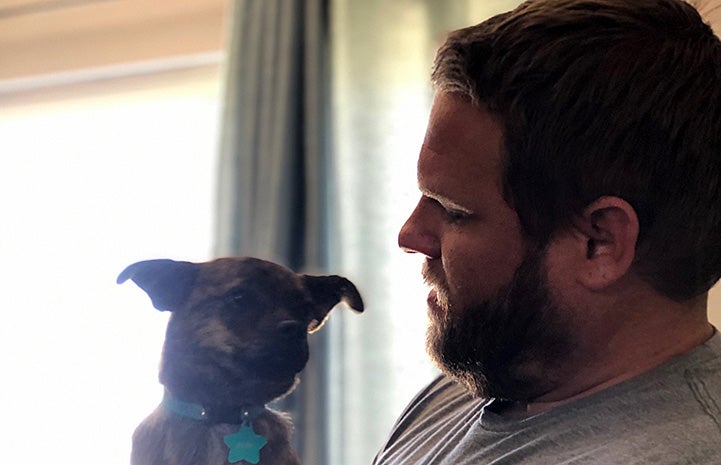 Mustard meets her really tall dad person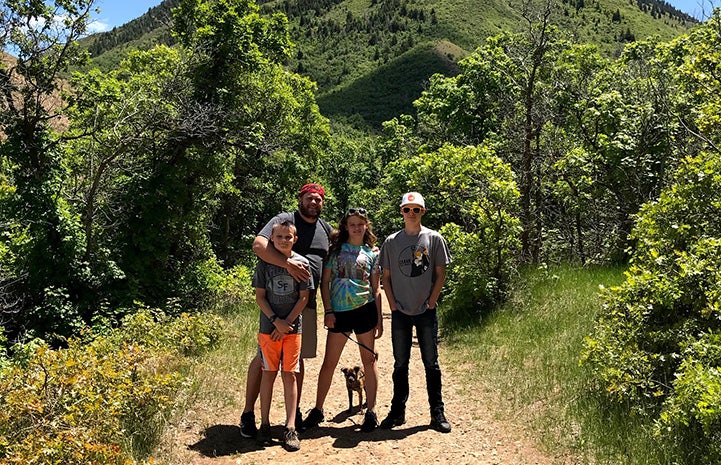 Mustard (now Moki) with her new family
Foster a barking Bard near you
Best Friends in Utah works collaboratively with animal rescue groups, city shelters and passionate individuals all dedicated to the mission of making Utah a no-kill state. As part of this mission, Best Friends hosts adoption and fundraising events, runs the Best Friends Lifesaving Center in Salt Lake City, operates a spay/neuter clinic and leads the No-Kill Utah (NKUT) initiative. Together, we will Save Them All.
Photos by Amanda Uber Trentham