Distemper survivor dog groovin' to the beat
Dog who likely survived distemper has a rhythmic bouncing probably caused by the disease, but that doesn't slow her down or dampen her love of life.
By David Dickson
Everybody marches to the beat of their own drummer, as the saying goes. When it comes to Poppy the dog, however, her particular drummer must be a musician the rest of us would love to hear.
Poppy, who came to Best Friends from a Los Angeles shelter, has some serious bounce to her rhythm. When she's standing, she bops up and down constantly. Considering she was a drop-off at the shelter in L.A., it's tough to know exactly what caused the bouncing — though a good guess is she's a distemper survivor.
Dog enjoying life to the fullest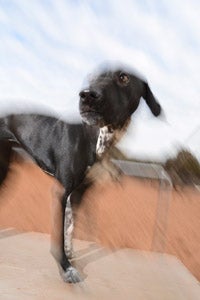 Enjoying life every hop of the way
What's plain to see, though, is that her unique rhythm doesn't get in her way. Poppy enjoys life every hop of the way. When she saunters up with a big Poppy grin, her tail wagging and body bobbing around, you'd swear she has some sort of doggie MP3 player tucked under those adorable ears of hers. More than anything, Poppy looks like she's dancing happily to music. Her name, incidentally, is a mash-up of the words "Pretty" and "Hoppy."
This youngster is as charming as she is beautiful. She's one of those dogs who seems to find happiness at every turn. "She loves going on walks, loves car rides," explains dog staffer Kersten Muthreich. "She's extremely sweet."
And rather popular with volunteers, as it turns out. "She's a constantly happy people dog," wrote a volunteer in Poppy's sleepover journal. "She will be a phenomenal pet." On one of her sleepovers, Poppy went on an outing and had a chance to mingle with a group of 10 different people at once. She loved them all.
Easy-to-love, well-behaved dog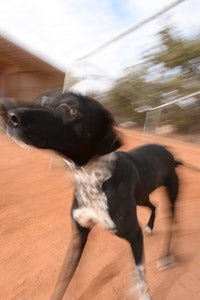 Poppy hopping
Her Poppy dance doesn't slow her down, either. In fact, when she's walking, the bounce pretty well disappears altogether. She has no special needs or limitations. Lest anybody have any doubts about her abilities, one sleepover report said Poppy got so excited at one point that she actually jumped clear up on the counter. (Sound like a dog who is going to have to take it easy in life?) No worries, though, a little verbal correction was all Poppy needed to get back down from the counter.
Which brings up another of her many virtues. Poppy is very well-behaved. She sits on cue, takes treats gently, and listens to instructions. She's terrific with other dogs, and even did great hanging out with a pig she met in the L.A. shelter. This is one easy-to-love dog.
At a little over a year old, Poppy has plenty of life ahead of her. All the more time to march along to the beat of that fantastic mystery drummer. What a tune she must hear.
Adopt a dog to be your best buddy
Interested in adopting Poppy or another canine love bug from the Sanctuary? Check out the unique and spirited dogs looking for their forever home.