Dog adoption in the time of coronavirus
Couple planned to adopt Gus after he'd completed dog behavior training, but when NYC started shutting down that plan kicked into high gear.
By Nicole Hamilton
When the news came out that "New York State on PAUSE" (the governor's executive order to slow the spread of coronavirus) would greatly reduce movement around New York City, Melissa Ruiz and David Hanson were in the midst of adopting a very special dog.
Most adoptions from the Best Friends Lifesaving Center in New York City take less than an hour to complete. But Gus, who startles easily and can be reactive when he goes for a walk, was a special case. And because Melissa and David had fallen for him, they scheduled several training sessions to help ensure a successful transition into their home. COVID-19 changed just about everything except Melissa and David's plans to bring Gus home. And they're so glad they did.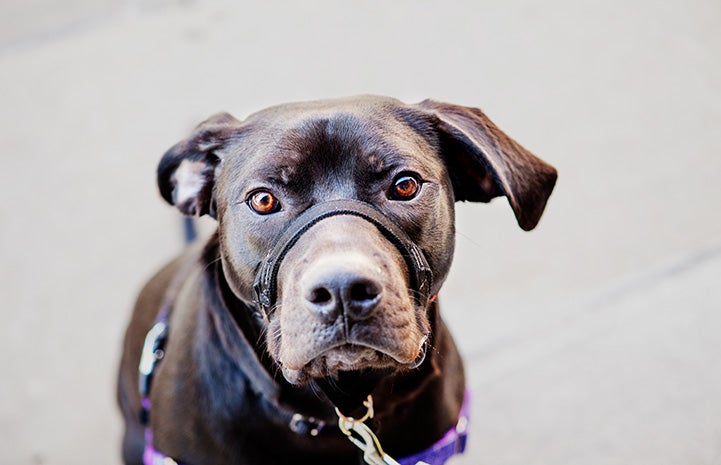 From fearful puppy to a complete love
Gus wasn't even a year old when he first arrived at the center and, like most puppies, he was more than pleased to meet everyone. But he was often jumpy and scared, and on walks he barked and lunged at other dogs. So, staff and volunteers worked to help Gus shed his fear.
"As time passed and he began to have a more structured routine of feeding, walks and enrichment time, he started to improve," says Remson Omotayo, an adoption specialist for Best Friends in New York. Gus learned how to "check in" with his person by making eye contact for reassurance, ahead of any fear reaction. "He became a complete love," says Remson. "He wanted to sit in everyone's lap, loved meeting new people, responded to cues and loved his walks."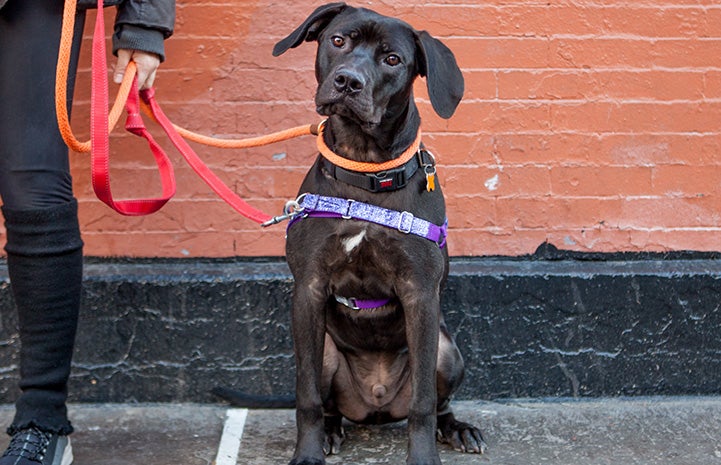 A home for Gus
While Gus was developing the confidence to help him land a home, Melissa and David were warming to the idea of living with a dog again. It had been about two months since they'd lost their dog, Bowie, and life in their Harlem home felt lonely without him. While looking at adoptable dogs online, they saw Gus' smiling face and floppy ears. Melissa couldn't get his adorable mug out of her mind. Still, she was tentative — that is, until they visited the center one Saturday.
There was Gus, standing at the kennel door with his tail wagging. Seeing his sweet face in person was all it took to decide they were ready for another dog. The fact that Gus was still working through leash training didn't worry them one bit, because Bowie, their previous dog, had similar challenges.
Melissa and David followed along as a staff person took Gus for a walk. At first, Gus seemed completely disinterested in them, but then, in a pivotal moment, he walked over to Melissa and leaned against her leg. When she knelt to pet him, he licked her face. The rest, as they say, is history. "After that, we talked to the staff about adopting him," says Melissa. "And we were willing to put in the work to make it happen."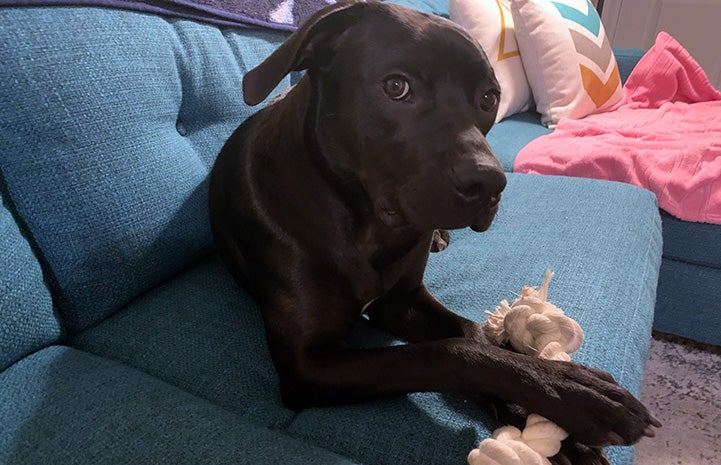 A pandemic, but first an adoption
To help make sure Gus' adoption was a success, staff asked Melissa and David to come back for three relationship-building sessions for Gus, led by caregivers who already had a good rapport with him. The team also arranged for five training sessions with Melissa Schiraldi, one of the center's trainers.
Gus showed huge progress after the first two relationship-building sessions and Melissa and David were eagerly waiting to bring him home. But the coronavirus pandemic changed everything. With the center's temporary closing inevitable, the countdown for Gus' adoption had to change. So, the staff quickly got the adoption ball rolling, while Melissa and David got their place ready. If Melissa and David were going to have a mandatory staycation, they wanted Gus there with them.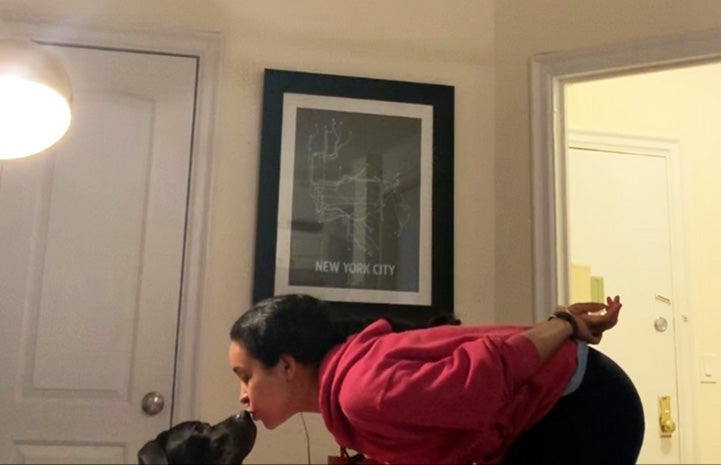 A new dog, a new type of joy
Things didn't happen according to plan, but Gus has beautifully transitioned into his new home. The pandemic has even given them some unique advantages, says David. "It works out because we aren't that busy and we've had time to help him acclimate. We've stuck with the regimen he had at Best Friends, and that's been good for our physical and mental health, too."
Melissa and David now spend a good part of each day walking around the neighborhood with Gus. Melissa says the quieter-than-usual streets and social distancing have made it easier for Gus to settle into his new life. Plus, they're also getting valuable help from Melissa (the trainer), who has sent videos and a training plan for them to follow.
In fact, although the coronavirus has turned every corner of the world upside down, Melissa and David say life in some ways feels more normal since they adopted Gus — more like before Bowie passed away. "We're dog people and our space felt empty without Bowie," says David. "Since we've adopted Gus, he's brought a new type of joy to our home."
How you can help pets and their people during COVID-19 pandemic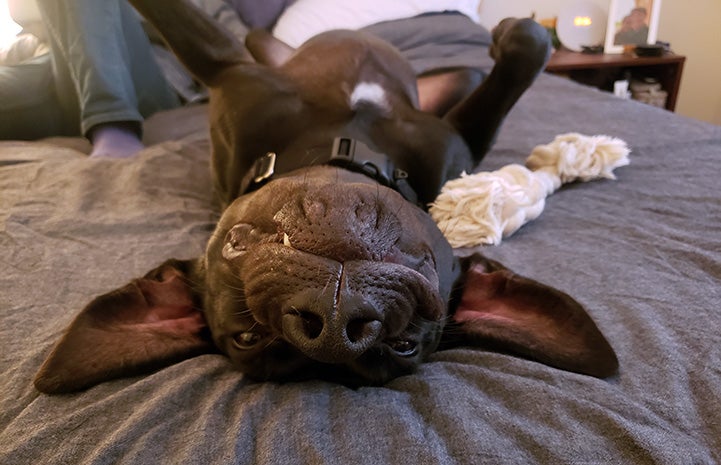 Best Friends in New York works collaboratively with city shelters, local animal welfare organizations and individuals to save the lives of pets in shelters in New York City and the surrounding tri-state area. As part of this work, Best Friends has a national lifesaving concept space and pet adoption center in SoHo, hosts adoption and fundraising events, and runs a foster program in partnership with Animal Care Centers of New York City. Together, we will Save Them All.
Photos by Melissa Ruiz and Robert Stoetzel