Dog adventures on two continents after recovering from car accident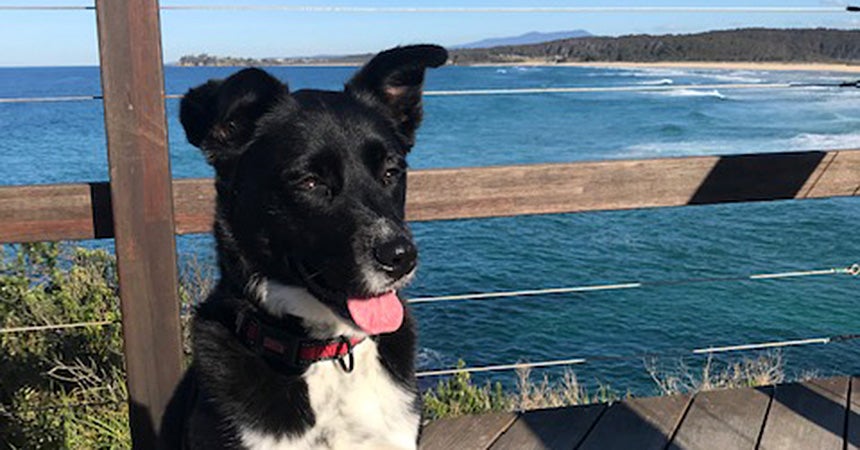 A dog who was hit by a car, sustaining a broken pelvis, recovers with lots of rest and rehab, including hydrotherapy, at Best Friends Animal Clinic.
By Christelle L. Del Prete
When Empire first arrived at Best Friends Animal Sanctuary she could barely walk, but after some rehabilitation she was adopted by a loving family. Everyone knew she would go on to live a full and happy life, but no one knew just how active and adventurous that life would be. Throughout her journey, the sweet black-and-white dog has completely transformed: from a sad dog injured by a car to a snow-bounding, beach-running, water-loving dog enjoying adventures on two continents.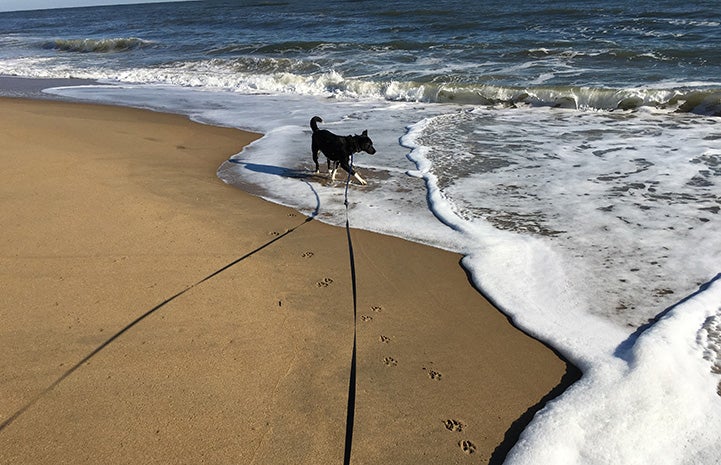 Help and healing for a dog hit by car
It was 2015 when Empire was brought into Best Friends with a broken pelvis and a broken heart. On top of having been run over by a car, the poor dog also had been treated unkindly. Although only about a year old, she moved slowly and cautiously, head down while holding her painful left back leg up and hopping around.
Three months later, after lots of rest and rehabilitation at the clinic, which included weekly hydrotherapy, she could move around without pain. Soon, she was running on all four legs. And with all the TLC received during her recovery, her spirits had healed, too. She could hold her head up high and show her sweet and affectionate side.
New home and a new name
It wasn't long before her gentle, happy nature won the hearts of Dave and Kerry Ghysen, who adopted her, named her Kassidy and brought her home to Virginia. Kassidy spent four years going on road trips, hiking in the woods, playing in the snow, going to the beach and generally having a good time.
"She also loved running around in the backyard, playing with her squeaky toys, going on long walks or just lazing around watching the world go by," says Dave. "She is a very well-behaved dog and has learned many new tricks. She is such a fantastic dog, and we can't imagine life without her."
Adventures in Australia
That's why — when Dave and Kerry moved to Australia this past summer — they wouldn't have dreamed of leaving Kassidy behind. They took her along and later waited anxiously through the 10-day quarantine period required for all dogs entering the country.
After being reunited for a couple of months now, Kassidy is settling in well. The family lives just three blocks from one of Kassidy's favorite places — the beach. "She has become quite the water baby," Kerry says.
Gone is the sad, wounded dog who limped into the Best Friends Animal Clinic four and a half years ago. Today, Kassidy is running on the beach, fetching her tennis ball from the surf and looking completely carefree. Although she's already had a lifetime's worth of happy adventures, she's ready for many more.
Adopt your own adventure buddy
Photos by Dave and Kerry Ghysen