Dog and cat help each other heal after major surgery
Petaluma and Jade may be different species, but when each needed a friend, they found each other.
By Sarah Thornton
Petaluma the dog and Jade the cat may be two different species, but their similarities brought them together and gave them the chance to start one extra-adorable friendship, right when they needed it.
After being injured in separate accidents involving cars, they arrived at the Sanctuary within a week of one another. First came Jade, a young cat from Texas with injured back legs, one of them without any feeling left. Veterinarians at a shelter did everything they could, but the more damaged leg required amputation. And since the facility wouldn't be able to deal with both the surgery and the recovery time Jade would need, she was brought to Best Friends for that extra care. The staff got her settled in the clinic and, while she awaited surgery, made her as comfortable as possible with pain meds, soft blankets and plenty of yummy food.
[Kindergarten students help a three-legged kitten get adopted]
Then Petaluma arrived. Found under a shed almost 20 miles north of the Sanctuary, it appeared that she fell from a vehicle, injuring the joint in her left hind leg. Clinic veterinary staff tried to save the limb, but the joint would not re-fuse and had started developing bone growths, so the decision was made to amputate.
That's how Jade the cat and Petaluma the dog both found themselves at the clinic at the same time, both waiting for the same surgery and both very much in need of a little comfort from a friend.
Cross-species comfort
It was Jade who made the first move, as it were. After initial surgery to put pins in her broken but savable left leg, she needed to walk around in order to keep it strong and healthy. Each day under close supervision and with a bit of support so she could stand up straight, Jade went on little wanders around the clinic. And it was during one of these walks that she spotted Petaluma on the other side of a window.
"It was kind of random," recalls Rani Piece, a clinic veterinary technician who cared for the pair. "She was sort of drawn over to Petaluma's run, and we just thought they seemed like they'd be OK. We opened Petaluma's door and Jade went right in there like she owned the place. And Petaluma just went, 'Oh, hey, there's a cat.'"
In no time at all, Jade decided Petaluma was the perfect playmate, and Petaluma went right along with it. It was like they'd always been friends, even without any warmup time. Jade went straight to rolling around on her back and grabbing Petaluma's face between her paws. And Petaluma had no problem handling the playful little swats and nips from her new feline friend.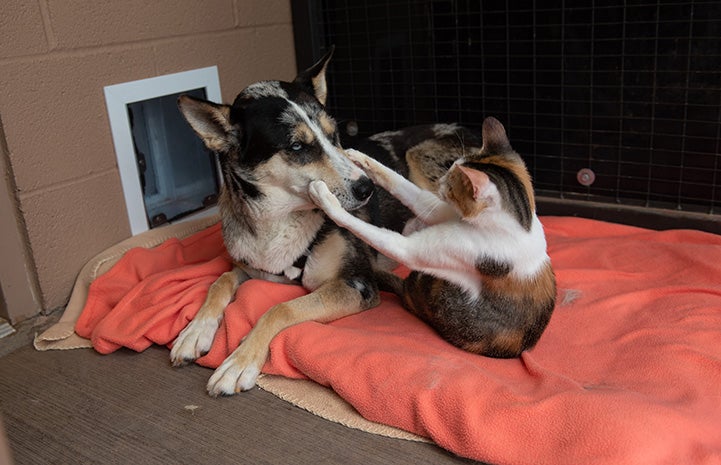 [Chocolate Lab is doting foster mom to tiny kittens]
After the first meeting went so well, it became a daily thing and as time went on, they spent more and more time together. When Jade wasn't trying to wrestle with her big friend, they were sprawled out in the sunshine on the patio in Petaluma's room. Sometimes, Petaluma would venture over to Jade's kennel and check for leftovers, with the young cat at her heels.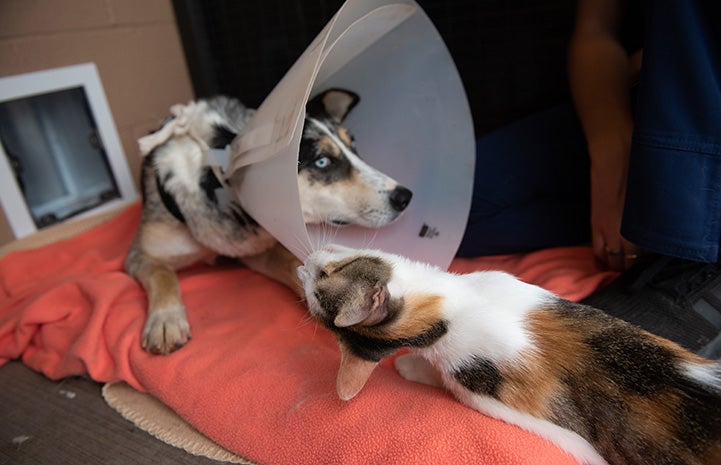 Surgery and next steps
"Jade got more and more confident," Rani says. "She was really going after Petaluma and wanting to play. And Petaluma was just really patient and really gentle, while Jade was being a little firecracker."
The time spent in one another's company leading up to their surgeries flew by. There wasn't any chance for either of them to be even the least bit bored or lonely at the clinic. Anyone who saw them couldn't help but fawn over their perfectly matched cuteness.
After the surgeries, the two tri-colored and freshly "tri-pawed" pals spent a few more quiet moments together, comforting one other with sleepy blinks and gentle biscuit-making. They'd been through a lot, and both loved having a playmate — even an unlikely one.
Now Petaluma and Jade have both moved on from the clinic, but befriending each other helped them through what could have been a tough time. After all, sometimes the best kind of friend is someone who happens to be in the right place at the right time and understands what you're going through.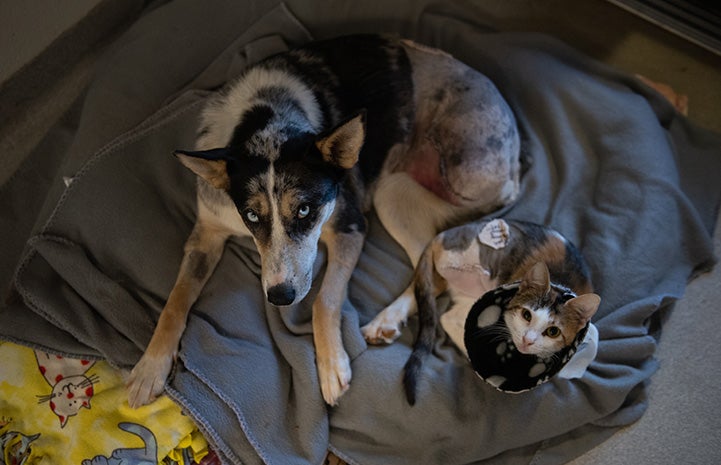 Find a friend
Friends come in all shapes and sizes. You can meet your next best friend at a shelter.
Read more:
Playful cat with special needs falls in love with his foster sibling
Photos by Molly Wald