Dog from hoarding situation blossoms
Shepherd and whippet or greyhound mix who was rescued from a hoarding situation makes great progress at Best Friends.
By  Christelle L. Del Prete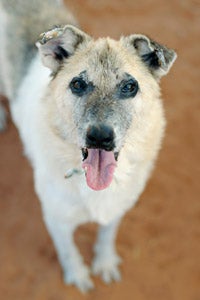 "You mean that dog with the name no one can pronounce," jokes caregiver Meagan Thomas. She's talking about Yzma (pronounced "Ease-ma"), whose name (which came from the Disney movie "The Emperor's New Groove"), isn't the only unusual thing about her. She is also a unique-looking dog – some kind of shepherd mixed with whippet or greyhound is what most people guess. But what's really incredible about Yzma is how friendly and well-adjusted she is, considering all she's been through.
Ymza had been living with 130 other dogs in a hoarding situation in California. A local animal shelter impounded the dogs and then worked to find rescue groups for them all. Yzma was one of six of those dogs that Best Friends took in this past July. She arrived at the Sanctuary looking and feeling pretty miserable. She had missing fur, sagging skin over her legs, a mouthful of infected teeth, and watery eyes.
Dog with youthful spirit
The first order of business was to begin treating Yzma's medical conditions so she would feel better. She started getting regular medical baths for a skin condition called seborrhea. She also underwent a major dental procedure that resulted in 27 extractions, leaving her with just three teeth: the two bottom canines and the top canine. She's eating a hypoallergenic diet for suspected food allergies, and she's getting her eyes cleaned several times a day. She's beginning to feel much, much better.
Now that her medical conditions are beginning to clear up, Yzma is showing youthful spirit. Though she is 10 years old and resides at Old Friends, Meagan says, "She sure doesn't act like she's 10." She also doesn't act like a dog who recently came from a hoarding situation. Best Friends caregivers are familiar with, and expert at caring for, dogs from such situations. They know the fearful, withdrawn behavior, and how much love and patience it can take to draw those dogs out of their shells.
No wallflower dog
But Yzma took to her caregivers almost immediately. She's no wallflower with strangers, either; she loves people and will even go outside of her octagon to greet visitors on Sanctuary tours. Meagan says Yzma enjoys outings with volunteers and that many of those volunteers fall in love with her – especially after hearing her story. Yzma seems to fall in love with them just as quickly; there's no doubt she'll bond wonderfully with whoever adopts her.
People aren't Yzma's only friends, though; she gets along great with her run mate, Catalina, who also came from a hoarding situation. The two enjoy playing and going on walks together. And Yzma can easily befriend other canines too, as she's got excellent dog skills.
Veterinary care, training and love
In addition to her continued veterinary care, Yzma's caregivers are helping her with certain aspects of her behavior to make sure she will be an excellent pet. It helps that Yzma is a great student: She is super attentive to people, and already well-mannered. She's smart, too. Meagan says she learned to sit almost instantly, and while she can be quite vocal at dinnertime, she's already figured out that being quiet means that she'll get her dinner much quicker. She's also working on greeting people appropriately, which means not jumping up or being mouthy.
The right combination of love and affection, great vet care, and good training have all helped Yzma hit a whole new groove.
Learn more about Yzma and other adoptable dogs at the Sanctuary.
Looking for ways to give this holiday season? Volunteer or donate.
Photos by Molly Wald and Ann Hepworth