Dog lands a charmed new life for his golden years
Tate's person died when he was 13 years old, but it didn't take long for a new family to fall for him and adopt him.
By Kim Staiti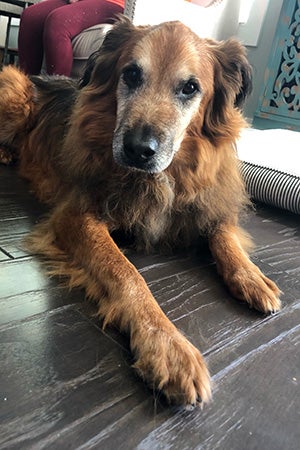 Who among us doesn't slip into a state of sadness when we lose someone we love? That's what happened to Tate. When his person died, he became increasingly depressed and to make matters even tougher, the family member entrusted with his care was unable to keep him.
Tate is 13 years old, and at a time when he should've been basking in his golden years, his life turned upside down. But his situation started to change for the better when he came to Best Friends in Atlanta.
While the sweet but forlorn, fluffy brown dog settled in, the first order of business was to have him checked by a veterinarian. Jessica Kreuger, manager of lifesaving programs for Best Friends in Atlanta says, "He had some allergy and skin issues, some dental issues and a few other things we had to address."
Once he was on the path to feeling more comfortable physically, the Atlanta team placed him in a foster home. He was still a bit shellshocked at first, but after a few days, he began to relax. He even befriended his foster family's other dogs and their two kids.
Tate was going to be OK. All he needed was a permanent home, and though not everyone is in the market for a 13-year-old dog, all it takes is one person or family to change a senior's life. For Tate, that family was the Yozzos.
[Long lost dog reunited with family after six years]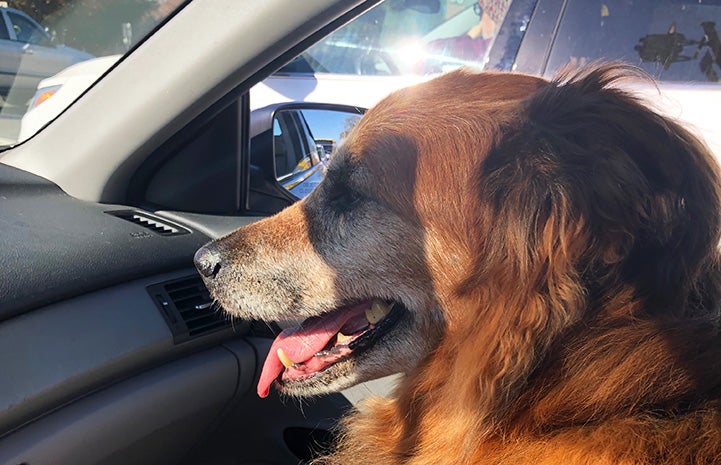 Seeking a chill dog
 "We wanted a chill dog," says Natalie Yozzo, who along with her husband, Chris, have two daughters. Lucy had her heart set on an "underdog," and Gigi, who is on the autism spectrum, was eager for a pet to care for. As long as the family wasn't put off by Tate's age, he could be just the right fit for them and vice versa.
"We met Tate over Zoom initially," says Natalie. "And I thought, no one would have picked him based on that call." Tate stayed in one place during the call. But low energy is just what they were looking for and they chose him based on that virtual visit. With that, Tate had a new home.
[Lessons from fostering senior dogs]
By the second day in his new home, Tate was beginning to realize he landed in the perfect spot. Natalie says in no time at all he was "jumping up on the couch with us, giving us kisses and letting us love on him." Tate also bonded with the family's 11-year-old cat, Pumpkin. They eat together and lie near each other, Natalie says.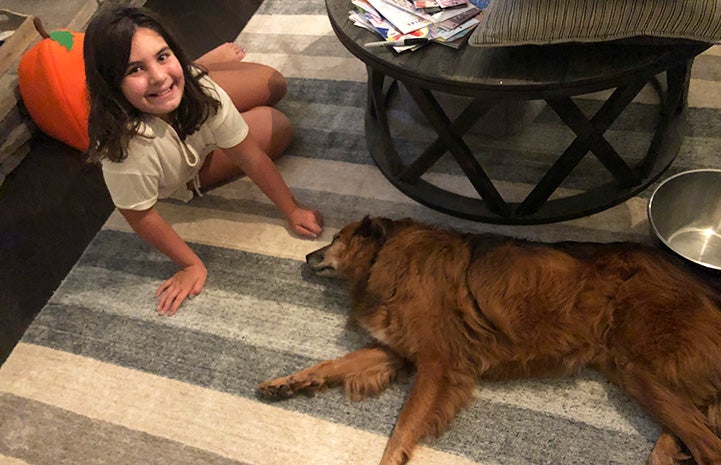 Charmed golden years for Tate
Since going home, Tate has developed a special bond with each person in the family. Chris goes out to Starbucks every afternoon, and Tate, who loves to ride in the car with his nose out the cracked window (no matter how cold it is), goes along every time. Sometimes he's treated to a Puppaccino, which he seems to think is pretty great.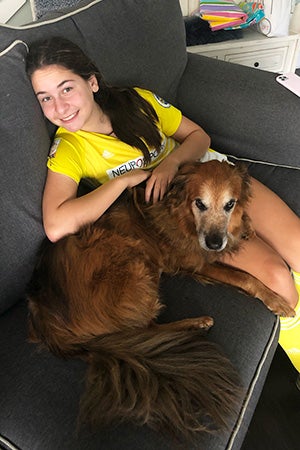 Lucy wasn't much of a dog person until Tate came home, but now she takes Tate for walks. He helps her get up for school in the morning, goes upstairs and climbs into bed with her.
Meanwhile, Gigi has taken on the role of Tate's protector. "Gigi is very calm around Tate," Natalie says. "She knows that he is old. She covers him with a blanket, and just really wants to take care of him (as well as give him lots of treats). Tate gives her a place to put her heart, and that sweet energy that she has."
Natalie says Gigi doesn't have a ton of friends and is not really into sports, and so it's been nice to see her form a relationship with Tate. "Her personality is complicated, but with him it isn't. He's just this sweet old guy that will love her no matter what she does."
[Senior dog gets a little help from friends and finds a home]
As for Natalie's relationship with Tate: "I just love him so much," she says. "The love you give and get is incredible."
Tate turns 14 in March and the family plans to throw him a birthday party. "He still has a lot of pep in his step," Natalie says.
The family is glad they chose an older dog and Natalie says they would adopt a senior dog again. Tate may be older, but his personality outshines his age. Some of Natalie's favorite things about him are how funny and docile he is, and that he "talks" to them with little howls. "He loves to go for walks. He probably goes for five walks a day," she says. "When Gigi goes with us, she likes to ride her electric scooter, and he tries to keep up."
Indeed, despite his age and challenges, Tate is keeping up with a loving family that has given him the home of his dreams.
Change a pet's life (and yours) for the better
Whether you adopt a pet, foster or volunteer, you not only save the lives of pets, but you get the added benefit of unconditional love and countless feel-good moments. What's not to love?
Read more
Adopter speaks deaf dog's language
Fostering dogs is a family affair
10 ways you can help save cats and dogs in 2021
Photos courtesy of Natalie Yozzo