Dog with mange goes from stray to snuggle buddy
Image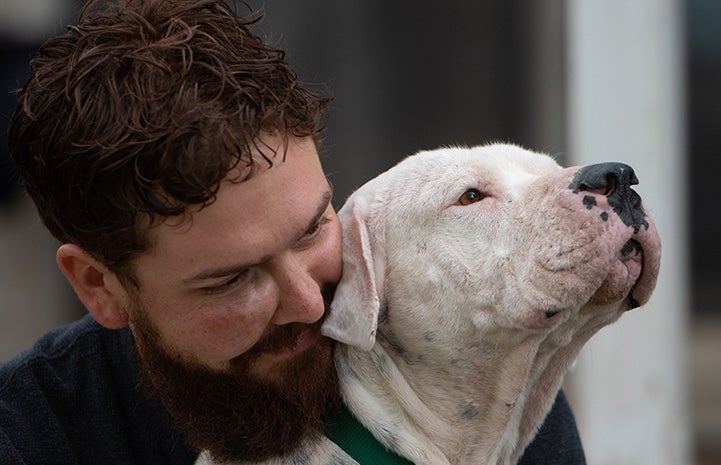 From a stray with patchy fur and scabs in Texas to an oversized lapdog in Utah, gentle giant Scamper is winning over hearts as he recovers.
By Sarah Thornton
A big, white dog with patchy fur, covered in scratches, scabs and scars: It was clear that Scamper had a rough life. No one knew what had happened to him before an animal control officer found him wandering the streets in and around Edinburg, Texas. Had he always been a stray or was his history more complicated?
One thing for sure: The rough-looking dog was gentle and desperate for affection. No matter how hard life had been, Scamper was all smiles and tail wags. When Megan Boemeke, a lifesaving specialist at Best Friends Animal Sanctuary, first met him, she knew she wanted to help him.
Meeting the gentle giant
Megan and Kate Litaker, another Best Friends staffer, were in Texas as part of the Maddie's Fund® shelter embed program in the Rio Grande valley. They were visiting Palm Valley Animal Society to share information with shelter staff on canine body language, dog-to-dog introductions and setting up play groups. It was here on their first day that they met Scamper.
"The second I walked into his kennel and knelt down," Megan said, "he put his paw in my hand and leaned his head into my chest."
It was hard not to fall for the gentle giant, who was diagnosed with mange after being brought in by animal control. He improved with antibiotics and pain medication, but his skin still needed more time to heal. He smelled bad and there were scabs and sores all over his body.
Determined to clean him up, Megan and Kate brought Scamper back to where they were staying for a sleepover. They covered the furniture with blankets, got Scamper in the tub and gently scrubbed him down. After the bath, Scamper's entire body relaxed and he spent the rest of the night stretched out on the couch, deep asleep.
The next day, the three returned to the shelter. But Megan couldn't stop thinking about the possibility of bringing Scamper back to Kanab. He was certainly doing better than when he first landed at the shelter, but she kept thinking about how he'd put his paw in her hand when she went into his kennel.
Foster home in Kanab
Originally, Megan and Kate had plans to fly back home and not take any animals back with them to Best Friends; however, with growing concerns about COVID-19 and being in a tightly packed space, their plans changed. They would drive back to Utah. And since they would be driving, it was the perfect opportunity to help more animals by transporting some to the Sanctuary; so, they loaded up the minivan with 16 dogs (including Scamper) and headed back to Kanab.
When he arrived at the Sanctuary, Scamper was checked out by the clinic medical staff and prescribed medicated baths, more antibiotics and heartworm medication (to start after he had settled down in the new environment). He'd come a long way since arriving at Palm Valley Animal Society, but there was still more recovery ahead. Meg agreed to foster Scamper at her house.
"It took him no time at all to adjust to home life," Megan said, "He loves to nap on the couch, and he has made best friends with my dog." Scamper just can't get enough attention whenever he can, which includes cuddling and leaning against Megan and her husband, Dan.
After going on long hikes followed by long hours watching Netflix, Scamper is happy just to be with people. Unaware of his own size, he likes to turn himself into a lapdog when he gets the chance by flopping over legs and settling down for a snuggle, which brings a smile to Megan's face. "Scamper is literally happy with whatever as long as he's with you," she says.
Whatever led to Scamper being riddled with scabs and scars while wandering the streets is a thing of the distant past. He's still got a little way to go before he's fully recovered from his ailments, but as long as he's got someone to snuggle, this gentle giant will keep smiling and wagging his tail.
Change a life, foster a pet near you today
Photos by Molly Wald and Megan Boemeke