Dog named Bear is just right for his new home
Bear spend much of his life in and out of shelters, but he fit right into his new life with Brandon and a dog brother who looks just like him.
By Tara McKenney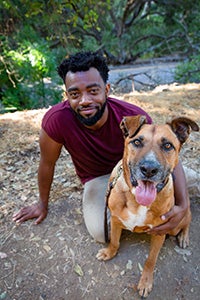 Before Brandon Alexander adopted him, Bear spent the better part of his life in and out of shelters. Potential adopters didn't choose him, but when Brandon met the dog with a soulful face and reddish brown coat, he saw a gem. It took a combination of training, patience, perseverance and understanding to lead Bear to his dream life, but that's exactly what he has now with Brandon.
Dog with C.L.A.S.S.
Bear landed at a Los Angeles Animal Services shelter as a six-year-old, friendly but somewhat troubled dog. He was big and had a lot of energy, which can be a difficult combination for a dog living in a kennel. Then Bear came to Best Friends in Los Angeles, where the staff got to know him as somewhat of a tricky case.
Though he seemed to like some dogs, Bear was uncomfortable around others. Eventually the staff had to face the fact that he might have to go to a home where he would be the only pet, which would reduce the number of potential homes for him. But they kept working with him and started him in the Association of Professional Dog Trainers (APDT) canine life and social skills (CLASS) program. Staff members and volunteers taught Bear many new cues: down, settle, leave it, how to walk on a leash, meet new people, wait for the food bowl, wait at the door and a few fun tricks.
Though he was an excellent student and eventually was adopted, it didn't work out and Bear returned to the shelter, still without a home. Some time had passed and Bear was getting older.
[There's something about Gary: Senior pittie mix gains a fan club and a home.]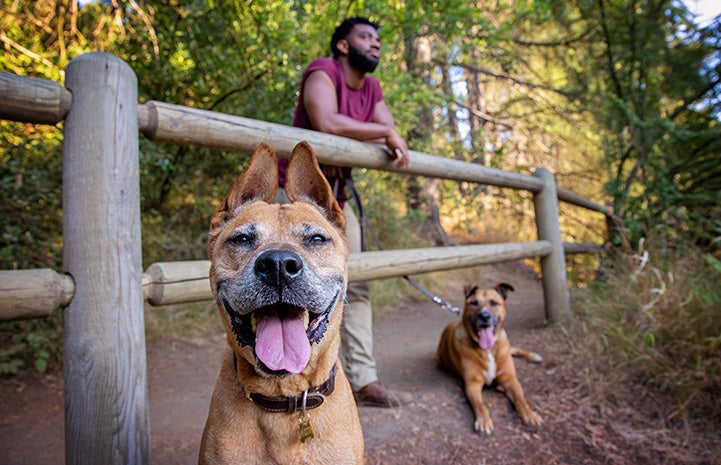 A home for Bear
It was indeed a special day when Brandon Alexander walked through the doors of the center, specifically looking for Bear. He'd spotted him on the Best Friends Instagram page and was intrigued right away because he was nearly identical to his dog, Austin. When Brandon saw pictures of Bear playing with his toys and Best Friends volunteers, he was hooked.
Brandon could see in Bear's face that he just needed someone to love him within a family of his own during his final years. In fact, Brandon had always wanted Austin to have a brother or sister. The big question was whether Bear and Austin would get along. Well, Bear must have been ready to go home, because he and Austin hit it off and have been friends ever since.
"Bear was waiting for us," says Brandon, who can't believe his luck. "To think no one wanted this amazing dog blows my mind."
[Dog with mange goes from stray to snuggle buddy.]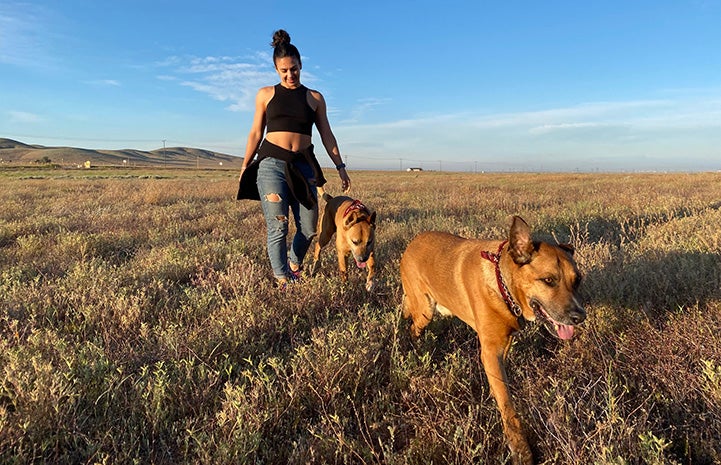 From shelter life to one filled with love
Bear didn't miss a beat with Austin, transitioning with ease into brotherhood and a new routine. Now he enjoys car rides with the windows down and hikes with Brandon and Austin.
While Bear is happy to explore the outdoors and new places, these days his arthritis is catching up with him and he tires easily, so he also welcomes lounging in bed. "About a month ago, Bear's age started to show and I immediately got emotional," says Brandon, who went outside with him and cried. "Thinking about him not lying on his bed one day or Austin not having a partner to chase squirrels with, or him not being there for my kids to cuddle on broke me. I think anyone who loves something wants that to last forever."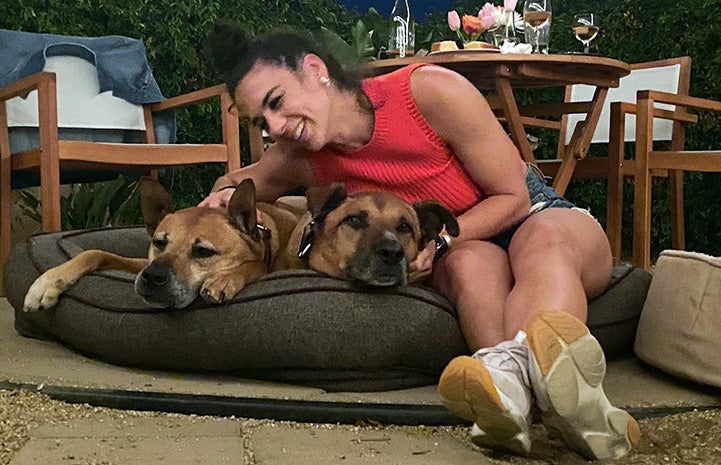 Beside the achy joints that come with age, Bear is in good health, he's surrounded by love and he's living his dream life.
Brandon offers some sage advice to people considering adopting a senior dog. "They need love, time and attention," he says. "If you have it to give, by all means adopt."
Adopters of senior dogs are likely to reap the same benefits as Brandon. "Bear has given me the greatest gift — love. I'll make the rest of his days the best of his days, even if it's just a car ride around the block as the sun goes down."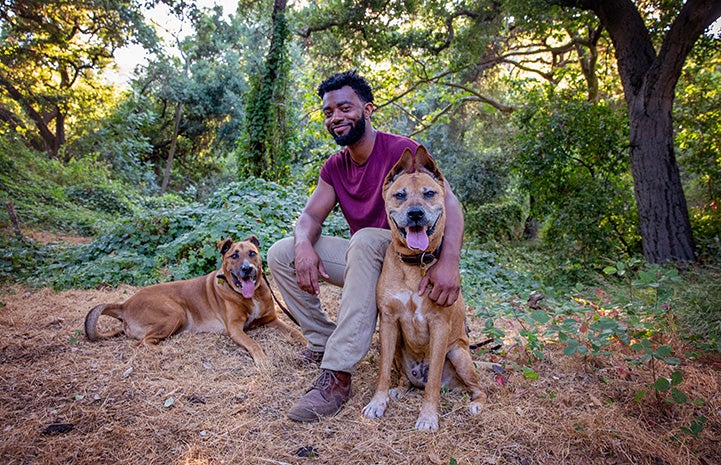 Are you the one they're waiting for?
When you adopt a pet in need, you change two lives forever ― theirs and yours.
Read more:
Pulling an all-nighter to welcome newborn puppies
Weekend away makes a world of difference for energetic dog.
From tiny to mighty: Two by Two Rescue helps pets across Alabama
Photos by Lori Fusaro