Dog who needed just the right person is adopted
Image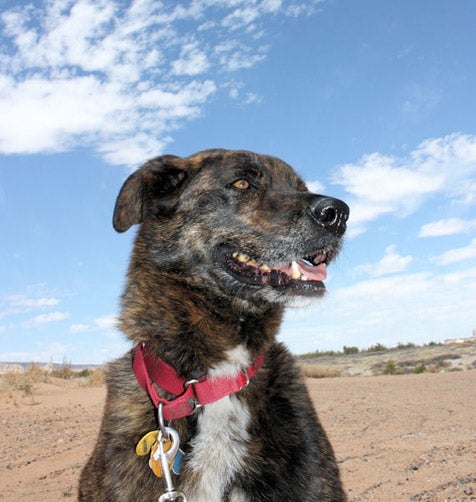 Dog who can be picky about people he accepts and has other behavioral challenges (lunging) is adopted into the perfect home.
By David Dickson
Over three years ago, Sarah Rascon of Buckeye, Arizona, fell in love with a dashingly handsome dog named Billy on the Best Friends website. Billy came to Best Friends as a 6-month-old puppy and had been waiting for a home ever since, which had been around four years at that point.
Dog with lunging challenges
Billy wasn't a dog for just anybody. He arrived from the San Francisco SPCA with a history of lunging. At Best Friends, Billy displayed some barrier aggression early on. He could also be selective with the people he chose to get along with. As such, he became a staff-only dog. To be clear, Billy had quite a few good marks on his record, too.
He gets along great with other animals, for one thing. That was something Sarah very much perked up at, considering her other rescue animals at home. Further, while he can be selective with people, he's extremely loyal after allowing you in his circle. "Once he formed a bond," explains Best Friends adoption manager Kristi Littrell, "he remembered you for life."
Billy
Sarah didn't mind that Billy had a few challenges. There was something about him that drew her in. She checked his adoption profile time and again, coming back to it month after month. Intrigued though she might have been, Sarah wasn't in a position to adopt Billy when she first learned about him.
Learn about relationship-based dog training
Not in a position to adopt a dog
At the time, she was living in Wisconsin and had plans to move to Arizona shortly. Once arriving in Arizona, her situation didn't improve much as far as adoption considerations go. She lived in an apartment and didn't feel Billy would do well cooped up in such a small space, particularly if he had issues meeting strangers. "I definitely didn't think it would actually happen," Sarah says. That didn't mean she forgot about him.
Over the years, she kept up to date on his status, chatting with Kristi Littrell several times about the possibility of adopting Billy. Sarah has already adopted two cats from Best Friends. Further, she's volunteered at Best Friends for over 12 years now. Because of her serious interest in Billy, Sarah was allowed to meet him face to face earlier this year. The meet and greet went extremely well. By all accounts, it looked like Billy was willing to let her into his circle. This happy ending started to seem as if it might have a chance after all.
Find out about Dogtown at Best Friends Animal Sanctuary
Perfect home for dog needing special accomodations
Then things took a big turn for the better. Sarah and her fiancé, Nathan, bought a house in Arizona, a house that happens to have a 6-foot-high solid brick wall in the backyard! No worries about barrier aggression. Sarah and Nathan decided they were finally in a position to adopt. They figured as well that they had an ideal setup to help Billy through some of his struggles. "We had the opportunity to have a quiet household, and slowly introduce him to more people," Sarah explains.
Billy hit the jackpot!
The adoption staffers, along with Billy's caregivers, were thrilled! Billy has been waiting for a home for over seven years, and he found one with somebody who has been hoping to adopt him for over three years. He hit the jackpot.
Billy has settled right into his new life without so much as a hiccup. He loves the cat and other four dogs in the home — even the hyper puppies who crawl all over him at every opportunity. "He is definitely great with everybody else," says Sarah. "He has wonderful manners."
Dog displaying great manners in his new home
Back at Best Friends, Billy had proven over and over how well he could get along with other animals, so that part wasn't a big surprise. Yet even with new people, Billy has behaved the model citizen each time.
He's met several new people, often meeting new dogs simultaneously, and did great each occasion. He views Sarah's mother as the "cookie dispenser," which is about as lofty a title as one can have in his eyes. "He will do anything for a cookie!" adds Sarah.
A traveling dog
One other small way Billy fits in so well with Nathan, Sarah and the gang is that he does great with travel, and they're a big traveling family. This means that, among all his other daily adventures, Billy gets to experience the joy of the open road with a family all his own. He's living the life he's always deserved!
"It was quite a wait, but he's definitely worth it," says Sarah.