Dog who survived Hurricane Katrina gets adopted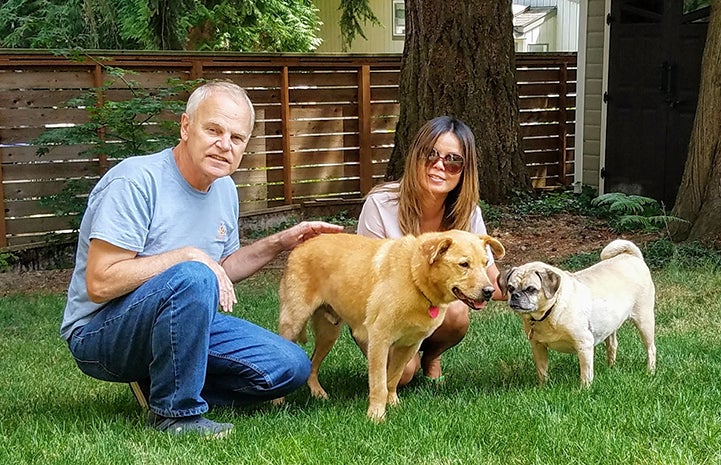 Hurricane Katrina survivor dog, who overcame the trauma he experienced and became a role model for shy dogs, is adopted into a forever home.
By Christelle L. Del Prete
It might not seem so remarkable that Houdini just celebrated his 15th birthday in a home of his own — unless you know how long Houdini's journey home has been and how wonderful his new family is for him.
Rescued from the floodwaters of Hurricane Katrina in 2005, Houdini came to Best Friends Animal Society a year later. From that time until July 2018, the Sanctuary was home sweet home for Houdini. Now, he has a forever home with a new family so perfect for him that Dogtown team lead Mileen Keating says, "I couldn't have chosen better people for Houdini. They're fabulous."
A hurricane dog's life at the Sanctuary
While he lived at the Sanctuary, Houdini had close friends and family — a core group of staff members who knew and loved him from the very beginning and remained friends with him during his entire time there. More Dogtown caregivers and volunteers befriended him over the years, and, even though he could be a bit bristly with other canines, he successfully lived with and even befriended dogs at the Sanctuary, including other Hurricane Katrina survivors.
Houdini's life at Dogtown was happy and full of fun things, like outings to the creek and to quiet corners of the Sanctuary. He liked to walk on the Sanctuary trails with volunteers and to lie on his blankets in the sun or next to his doggie friends. As he mellowed with age, he began to smile more often, his face easing into a now familiar look of pure contentment.
If you meet Houdini now as he lives a fairytale life in his new home, you might wonder why he wasn't adopted years ago. Paul Lindley, one of Houdini's longtime caregivers at the Sanctuary, has a theory: "To me, Houdini is the perfect example of how it can sometimes take a lifetime for a dog to be rehabilitated, and how it's so worth it to give them that opportunity."​
From traumatized storm dog to confident role model
Houdini was most likely living outdoors when Hurricane Katrina hit, and he was understandably traumatized by the storm. He came to the Sanctuary after spending a year with another rescue group and earned his name (after late illusionist and stuntman Harry Houdini) because of his talent of escaping any enclosure.
Houdini was still fearful of people when he first arrived at Dogtown, and he didn't want anything to do with them. It took him a while to come around — to learn that people are good and that new friends often bring treats and other good things.
Learn more about helping fearful dogs
Even as he gained confidence around people and became more social, Houdini was a handful in the glory days of his youth. Mileen remembers: "His yard in Dogtown was like Fort Knox, with all the escape-proofing we had to do back then. He liked it here at the Sanctuary, so he wasn't trying to run away. He'd get out if he could, because he could."
Houdini had the same attitude toward other dogs as he did with people. He could take them or leave them, and mostly he'd leave them. But as he aged, he began to accept their friendship, too. Paul says that after some years had passed, Houdini began taking shy dogs under his wing and became a role model for them. "He had the ultimate confidence, so they looked up to him. He'd help them do things, like go for walks on the Dogtown trails. They began to enjoy what he enjoyed. Shy dogs blossomed with him, and many of those who lived with him got adopted in part because he helped them."
Adopting a senior dog
Though Houdini's confidence has only gotten better with age, his body hasn't fared quite so well. Old injuries from his storm days began to bother him as arthritis set in, so he received regular laser and chiropractic treatments at the Sanctuary. He also had digestive problems, which required him to eat a bland diet.
Houdini's friends and family at Best Friends never stopped hoping that he'd find the right forever home with people who could keep him safe and love him for who he is. But they knew it was a tall order for any potential adopters. As time went by and Houdini advanced into his golden years, it seemed possible that he might never leave the Sanctuary.
"For a dog like Houdini, it seemed like Dogtown would be his forever home," says Raven Chiong, a Best Friends planned giving assistant. She was a Dogtown caregiver in Houdini's early days at the Sanctuary and she's loved him ever since. In his younger days, Houdini accompanied Raven on dozens of outings, and she wanted with all her heart to give him his forever home. But Houdini needed an escape-proof home setting — one where his new family would be working from home or retired so he wouldn't have to spend much time alone. That meant that Houdini's pool of potential adopters was small.
A home for Houdini
Had Houdini stayed at the Sanctuary, that would have been OK, because he would have been surrounded by love and comfort for the rest of his days. "I thought of Houdini as my project dog in that my job was to make sure he lived the rest of his life doing whatever made him the happiest," says Dogtown caregiver Steven Lee, who cared for Houdini during his last few years at the Sanctuary. Still, Steve says, "I really wanted him to be able to live out his days in a home of his own."
That wish was granted when the Shepardson family entered the scene and became Houdini's angels. Dale and Widya are fans of the DogTown TV series, and they've been following Best Friends since Widya found the website a few years ago. She was specifically watching a few senior dogs. One of them was Houdini.
"We have a soft spot for senior dogs and those with special needs," says Dale. "We decided we would only have three dogs at one time and after our beloved Mushu passed away, we knew it was time to make a trip to Best Friends and visit Houdini. When we adopt, we try to choose a dog who has been waiting for a home for a long time. Houdini had been at Best Friends for 13 years, so we felt it would be good to let him spend his remaining time in a home."
The Shepardsons packed up their two dogs, Crash and Mulan, and drove to Best Friends from their home in Seattle, Washington, to introduce themselves to Houdini. The meet-and-greet went beautifully and the rest, as they say, is history.
Houdini now snoozes on his choice of big, cushy dog beds placed throughout the Shepardsons' house. He has a special limo (stroller) that he rides in on the way to some of the dog-friendly parks in his new neighborhood, or he'll enjoy a car ride with Crash and Mulan to a 40-acre off-leash dog park — a doggie Disneyland. He has a new vet and gets twice-weekly laser treatments. Best of all, he has people who adore him and have given him the only thing that was ever missing in his life — his very own forever home.
As for his family and friends at the Sanctuary, they all miss him but couldn't be happier for him. It's been a long journey, but Houdini is finally right where he belongs.
Photos by Molly Wald and courtesy of the Shepardsons