A dog's journey from leash reactivity to a lifetime of belly rubs
Zoey's leash reactivity was such a challenge for adopters that she kept getting returned, until one day she met a family committed to helping her master new skills.
By Kim Staiti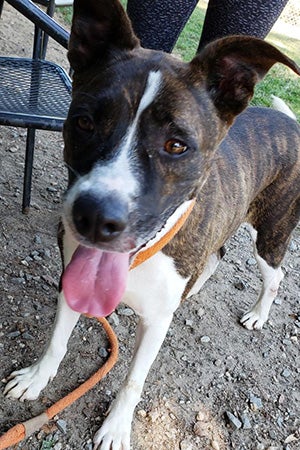 When Zoey came to Best Friends in Atlanta, the team could tell quickly that she had a tendency to be reactive around other dogs when she was on her leash. She was also extremely energetic in her kennel. What she needed, they determined, was a way to use channel some of her energy while learning how to feel comfortable around other dogs.
When Zoey began attending various play groups, it quickly became clear that she's a dog who loves people. "She showed very little interest in other dogs or was unsure about them," says Megan Matchett, one of the Best Friends staffers who worked with Zoey. But once she got outdoors with people, all she wanted to do was flop down for belly rubs.
Little by little, the reactivity on her leash started to improve. Then, she was ready to go to a foster home where she could hone her leash skills even more.
Eventually, Zoey was adopted ― only to be returned, adopted again and, you guessed it, returned again. Her energy, coupled with her habit of getting nervous around other dogs while out on a walk, was simply too much for the families to handle or help her overcome.
This caused the team to wonder whether there was a family patient and understanding enough to be willing ― for however long it took ― to go the distance with Zoey by helping her master the habits that kept getting her returned. Turns out, they didn't have to wonder for long.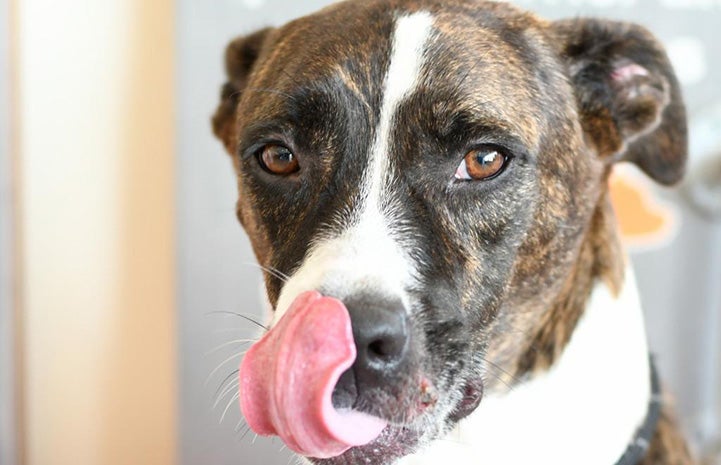 Patience and love help dog find confidence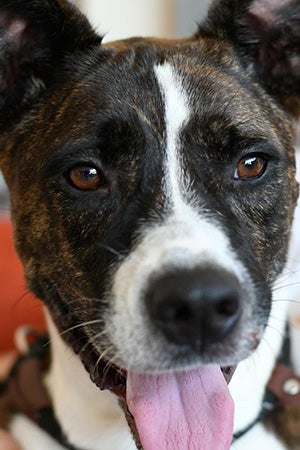 Members of the Fleming family learned about Zoey and her challenges and felt confident they could help her. Having plenty of experience with dogs, they could see themselves being a part of her journey.
[Best Friends volunteer turns fostering into art]
Not long after bringing Zoey to their home, they welcomed her into the family permanently. Today, they say her personality just keeps coming through and shining brighter and brighter. Even her penchant for pampering makes them smile. "She thinks she deserves to be driving around in a convertible," says Cindy. "She's lovely and sweet. She doesn't chew on anything and knows many commands. And she loves a good belly rub."
Zoey is also quite good at expressing her feelings. "She will vocalize, she howls, she makes it very clear what she wants," Cindy says with a laugh. She also notes that Zoey has taken over a certain chair in the living room. "We never used to let our dogs on the furniture. But now it's just my husband and I and we have plenty of places to sit, so we let her have the chair."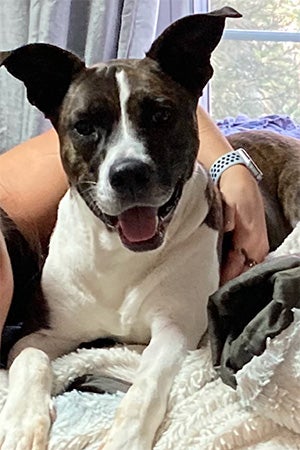 [Never giving up on a dog with a challenging past]
Zoey also needs breakfast first thing in the morning. "Like even before my husband can get coffee," says Cindy.
Zoey's leash reactivity can still be a challenge. Sometimes she's skittish on her leash when she sees another dog. But to the Fleming family, helping her work through these habits to form better ones is an honor. They're committed to helping her feel more confident around other dogs on walks.
So what's next on the agenda for Zoey? Well, that would be continuing to help her learn better leash skills so that one day walks are a breeze. In the meantime, belly rubs are in order ― but first, breakfast.
It's easy to make a difference
Whether you foster, volunteer or adopt, you can make a huge difference in the life of a pet from your local shelter.
Read more
Where animal welfare and social services meet
A boy, a broken heart, and a very good kitten
Dog becomes a foster win in the sweetest way
Photos courtesy of Best Friends staff