Dog's soul outshines her physical challenges
Miss Rogers had a long list of medical problems when she first came to Best Friends, but now she has a wonderful home with a vet tech.
By Tara McKenney
Just looking at Miss Rogers suggested she'd had a rough life. At five years old, it was obvious she'd already been a mother more than once and she suffered from a string of medical issues that needed to be addressed. She bore some of the scars of her history on the outside, but her soul remained bright and affectionate.
In the wake of a crippling snowstorm in Texas earlier this year, Miss Rogers went to Best Friends in Atlanta from the Wharton County Stray Pet Outreach Team. Vets determined that she was severely underweight and had a skin infection that resulted in significant hair loss. Her teeth were in poor shape due to periodontal disease and she was suffering from entropion in not one, but both eyes.
Entropion is a painful condition where the eyelids turn inward, causing the lashes to rub up against the eye. To top it all off, she was diagnosed with heartworm disease. Miss Rogers was, in every physical respect, a hot mess. But her personality was the opposite.
"She came to us in excellent spirits, and despite her physical condition, her sweet and gentle demeanor never stopped shining through," says Megan Matchett, lifesaving outcomes supervisor for Best Friends in Atlanta.
[Senior Chihuahua finds love and harmony with musician adopter]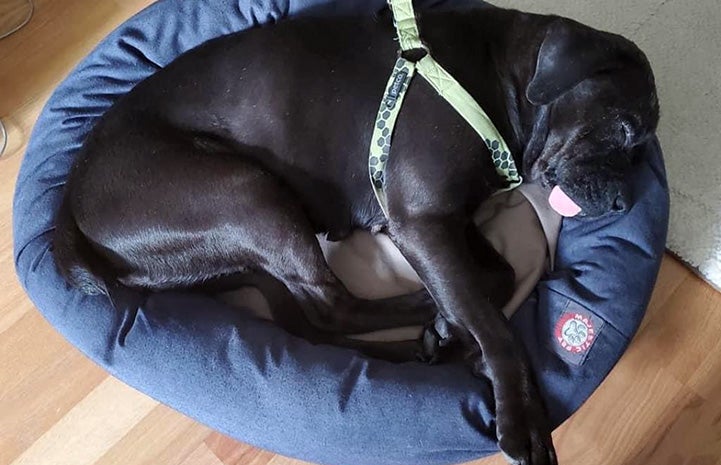 After corrective eye surgery and treatment for her other medical issues, Miss Rogers started to physically get back on track. She even put on 17 pounds for a healthier weight. Now she was ready to go into a foster home where she could really shine.
Her caregivers noted her calm and easygoing nature and how well she got along with people, other dogs and even cats. It turns out, Miss Rogers was low maintenance and didn't ask for much at all.
She was housebroken, slept through the night and didn't chew anything. She was equally content to take a leisurely walk or lounge about the house, as long as belly rubs and snacks were provided. In short, Miss Rogers was the perfect work from home buddy.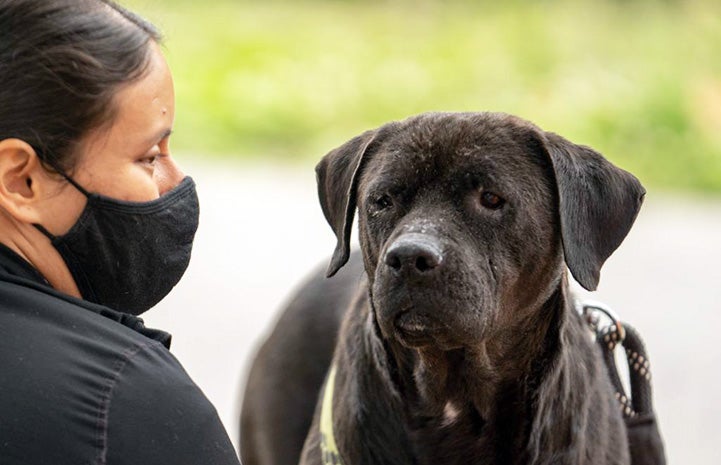 Television appearances for Miss Rogers
For weeks, Miss Rogers' medical conditions overshadowed her great qualities in the eyes of potential adopters. Finding the sweet dog a home was taking longer than anyone expected. "People were turned off by the list of medical issues she'd had, as well as her appearance," Megan says. "Even though we had treated her medically, people seemed overwhelmed and reluctant to adopt her. I imagine that they were afraid she would have more issues in the future."
[Injured, abandoned dog loses her leg but not her spirit]
The Best Friends team persevered and remained confident that the right adopter was out there. Miss Rogers just needed more exposure. The team secured an appearance on Good Day Atlanta to feature her to a regional viewing audience, with the hope that her charismatic personality would outshine her past issues. But there was no luck.
While a few inquiries came through and several meet-and-greets took place, she remained in a foster home until the right person came along to fall in love with her.
Vet tech sees beyond dog's medical challenges
Jessica Scott was on Instagram when she saw a post about Miss Rogers and shared it with a friend because she "couldn't handle her cuteness." A veterinary technician, Jessica had lost her dog last year and wasn't quite ready to bring another into her heart. But Miss Rogers had already made an impact and Jessica couldn't stop thinking about her picture. Because Miss Rogers' front teeth are worn down, her tongue tends to hang out, especially when she sleeps. It was so cute that it made Jessica giggle.
The Best Friends website described Miss Rogers as a couch potato, and that was just fine with Jessica because she's an admitted couch potato, too. In fact, she loves low-energy dogs. Weeks later when Jessica saw a second post promoting Miss Rogers for adoption, she decided it was time to meet her.
Jessica wasn't put off one bit by the many medical conditions that had scared other potential adopters. She loves getting animals back to health and her access to veterinarians at her job was ideal. Besides, Miss Rogers' major health problems had already been addressed.
[Foster sees beyond dog's heartworm status and adopts her]
Megan knew right away that Miss Rogers and Jessica were the perfect match. "Jessica was much more concerned about lifestyle and personality versus the obstacles that Miss Rogers had overcome," she says. "I know Miss Rogers wasn't the prettiest dog, but she sure was the sweetest. And that was what mattered most to Jessica."
So it was decided: Miss Rogers was going home with Jessica.
Miss Rogers' new home, new name
True to their kindred spirits, Jessica and Miss Rogers (now named Ada) can often be found together sleeping in on lazy mornings, watching TV or out for a walk around the neighborhood. "She makes me giggle like a kid," says Jessica. "She's also taught me to relax and trust her. It's wonderful to let her around kids and other dogs. She's so well behaved and happy."
Ada is coming out of her shell little by little in her new home, but she's already made some of her communications perfectly clear. "When she gets excited, she rolls around and rubs her face on me and asks for belly rubs," says Jessica. "She makes the funniest noises and corn-cobs (nibbles) me. It's hilarious!"
Jessica noticed that Ada preferred to lie with her head propped up on pillows, blankets or even an arm rest. So, she purchased a bolster bed, which Ada now prefers to sitting on the couch or sleeping in bed with Jessica.
Anytime Jessica opens a crinkly bag, Ada gets excited and assumes it's for her. "She loves food and jumps like Tigger when she's about to eat," Jessica says. Each week Ada is also growing more confident exploring her surroundings and is more willing to walk down a different road or go further on their neighborhood walks.
Jessica is grateful to the Best Friends vet team that helped to restore Ada's health. "I'm just so happy she's in my life," she says. And she has a message for anyone considering adopting a dog with medical issues: "You just need to be gentle and patient. It's a wonderful bonding experience. Definitely give them a chance. It's very rewarding to see them blossom and feel better."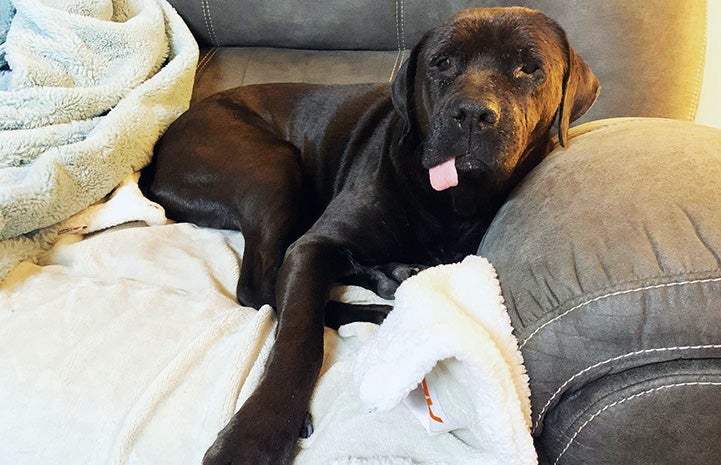 Adopt a pet and save a life
Shelters everywhere are full right now, so if you've been thinking about adopting or fostering a pet, now is the time to do it.
Read more
Pandemic pets: where are they now?
Prison program, foster home help a pit bull terrier put his fears aside and thrive
Dog goes from the big city to tranquil waters
Photos courtesy of Jessica Scott and Best Friends staff