Double the love for a poodle mix in NYC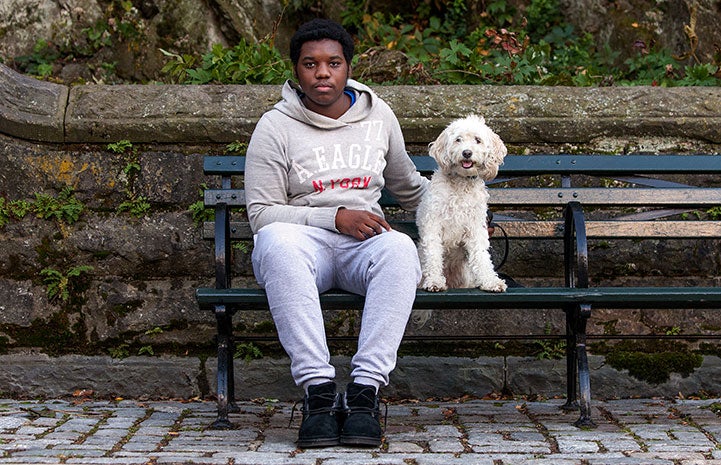 Happily-ever-after story of a poodle who was fostered by a couple in New York City and then adopted by a teen and his family.
By Nicole Hamilton
For homeless pets, perhaps the only thing better than finding one loving home is finding two. That's what Beanky, an eight-year-old poodle mix from New York City, recently discovered. Beanky has come a long way from the rough patch she found herself in when she ended up at a busy city shelter. In fact, her foster family loved her so much, they wrote up an "instruction manual" detailing all her likes and dislikes so her new family could get to know her better. And when it came time for Beanky to find her home, she inspired a teenage boy to work hard and save his money so she could join his family.
"Everyone came together to help Beanky," says Jeanette McManus, Best Friends–New York pet caregiver. "We love seeing everyone work together to reach that one shared goal — to save a life."
Learn more about Best Friends–New York

Foster family gives dog the space to be herself
Kristen Stuart and her boyfriend, Raffles Durbin, wanted to welcome a dog into their home, but they knew it would be better for them to foster rather than adopt. As professional dancers in New York City, the couple is often too busy to care for a pet, but when they found themselves between shows, they knew it was the perfect chance to foster a dog.
Kristen and Raffles volunteered to foster an animal from Best Friends, and soon they were matched with dogs in need who would likely do well living with them. As they looked at the list, one dog caught their eye — Beanky.
Beanky had been at Animal Care Centers of NYC, where she was brought as a stray after someone found her living on the streets, scared and hungry. The couple was admittedly a little nervous as they waited for Best Friends staff to drop Beanky off at their apartment. "We really didn't know Beanky's past or what to expect," says Kristen. "We read that Beanky was a shy and calm dog, but you never really know until you can spend time with them."
Turns out, there was no need for worry. Beanky settled right in at Kristen and Raffles's place. She was indeed calm and very sweet, but the couple soon discovered that Beanky also had a playful streak, when she'd be full of energy.
Help save a life. Foster a homeless pet.
Beanky finds an admirer, and possibly a forever home
After a couple weeks of fostering, Kristen and Raffles took Beanky to a Best Friends adoption event at a PetSmart in Brooklyn, and it didn't take long for Beanky to score the admiration of 15-year-old Aidon Lauriano. As soon as Aidon approached the poodle mix, she leapt onto his lap and showered him with kisses. And when Kristen and Raffles talked to Aidon about Beanky, they had a good feeling that she would finally get the home she deserved.
Aidon really wanted to adopt Beanky, but his father and sister, who came to PetSmart with Aidon that day, weren't so sure at first. They had their sights set on a young puppy, not an older poodle like Beanky.
Aidon's dad, Maurice, decided to make a deal with Aidon: If he could raise the money to adopt Beanky, he could return to PetSmart the following weekend and adopt her. Sure enough, that following Saturday, Aidon returned to PetSmart to bring Beanky home.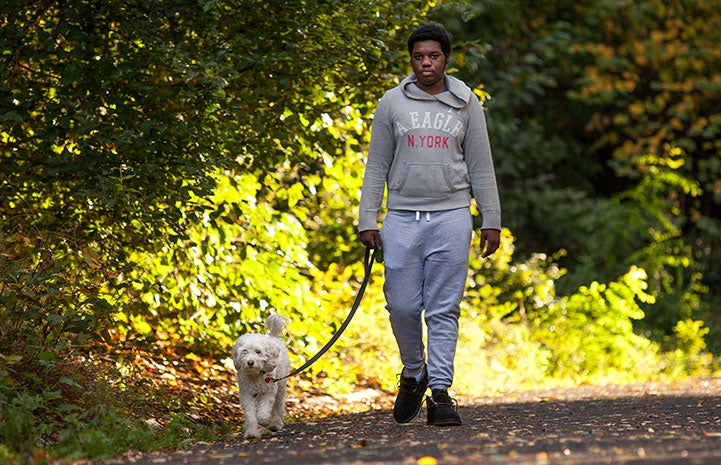 The foster dog guide to success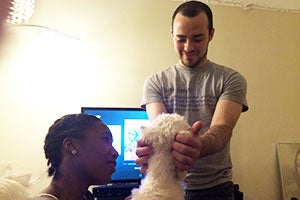 When Aidon arrived, Kristen and Raffles gave him a five-page manual with information they thought would help Beanky's transition to her new home. In the time that they had fostered her, they had gotten to know Beanky's likes and dislikes — everything that makes her unique and special — and wanted to share that with Aidon.
"The manual has been great," says Aidon. "For example, it explains how Beanky doesn't like to be crated because she used to spend a lot of time in a cage." Thanks to the manual, Aidon makes sure to give Beanky plenty of room to feel relaxed and confident.
As for Aidon's family, who at first wanted a puppy, Aidon says Beanky has managed to change their minds with her sweet, playful personality. And although life has gotten busy again for Kristen and Raffles, they look forward to fostering another dog in the future. Who knows? Maybe they'll end up writing another manual for another adopter someday. "We loved fostering Beanky," says Kristen, "but the best part of fostering her was seeing her get adopted into such a loving family."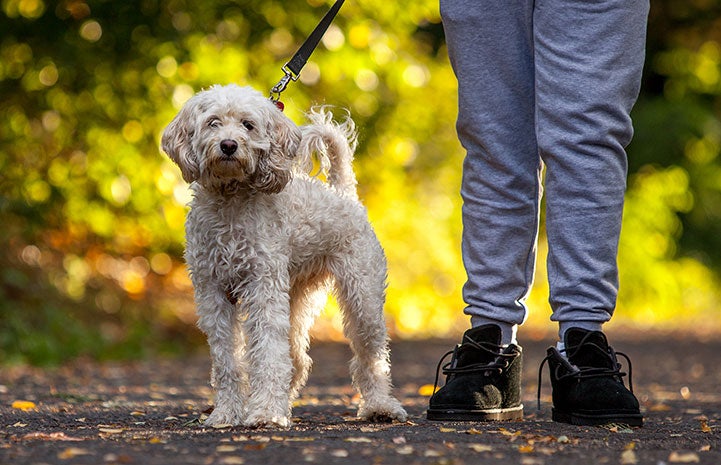 Photos by Robert Stoetzel and Kristen Stuart