Dream to help animals comes true
A child's wish inspires an animal rescue and a magical volunteer experience at Best Friends.
By  Jennifer Hayes
Dreams do come true. That's a truth Christy Stevens and her daughter Kendall realize every day. But their dream wasn't limited to helping animals locally. It also included a visit to Best Friends Animal Sanctuary together.
For years they volunteered for a Las Vegas-based animal rescue organization. However, it wasn't until Kendall finished fifth grade and brought home an essay titled "If I Had One Wish" that Christy learned that her daughter wanted to start an animal rescue group called Hearts Alive. When Christy asked Kendall if that was really her wish, her daughter replied yes, but she thought it would be too hard. Remembering her own unrealized childhood dream to start a rescue group, Christy would have none of that doubt. "Dream too hard? No."
Now, 18 months later, Kendall is 12 years old and helps run Hearts Alive Village, an organization that's already distributed more than 3,000 pounds of pet food through Kendall's Kupboard and helped rescue 13 cats and 47 dogs. When Best Friends heard Hearts Alive was inundated with cats, the Sanctuary offered spots for four lucky kitties.
Soon, Christy and Kendall, along with the four cats (Lola, Hemi, Popa Socks and Gracie), were on their way to Best Friends.
Challenge accepted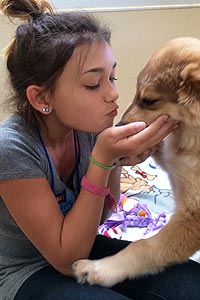 After transporting the cats, the pair was scheduled to volunteer at Dogtown the next day. Since Kendall was too young to volunteer in some areas, Christy asked where they could help the most. Their jaws dropped when they learned no volunteers had signed up to work at puppy preschool that day. Needless to say, they jumped at the chance. They cleaned kennels, folded laundry, sorted toys and helped walk puppies.
Sheldon the puppy was all business. He walked his two laps around the path like a pro. However, they were forewarned that walking Berlin wasn't so easy. His caregiver said she'd be amazed if he made two laps.
"We took that as a challenge," says Christy. "We're going to get this guy around twice."
Berlin was on his belly as they attempted to bribe him with treats. It took 20 minutes, but eventually they were able to complete both laps, though Kendall confesses they took a shortcut. Regardless, that was one pooped puppy when they were done.
"(Volunteering) was the perfect mixture of productivity, play and kisses," says Christy. "We mostly worked, but we got breaks where you're smiling so much you don't realize that your cheeks are going to cramp because the puppies are so sweet. The whole thing was magic."
Renewed purpose
Christy had dreamed for years of sharing Best Friends with Kendall, and they weren't going to let this experience go to waste. They took note of all the ways the puppy building is tailored to the health, safety and well-being of the puppies. "It felt like love — down to the smallest detail," says Christy, who plans to borrow ideas for their own rescue group.
Now they're home, but the spirit of Best Friends is still with them. They're more inspired than ever and have already completed the paperwork necessary for Hearts Alive Village to become a No More Homeless Pets Network partner.
"We came back with a renewed sense of purpose," says Christy. "Coming to Best Friends seems to renew that connection to the purpose of what we want to do. It keeps you in touch with your dreams and that you're not alone."
Learn more about volunteering at Best Friends.
Photos courtesy of Christy Stevens