This elderly dog might look geriatric, but he's actually the life of the party
Elderly dog, with a long list of health challenges and special needs, may be geriatric, but he brings joy to his adopter and is the life of the party.
By Christelle L. Del Prete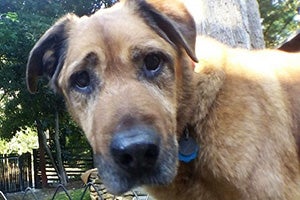 At 11 years old, some dogs might seem more mature than geriatric. But with Spartacus, who has a variety of health issues and a prescription medication list as long as his new mother's forearm, it's not hard to tell he's in his senior years.
Mostly deaf, he also has limited depth perception that sometimes causes him to have trouble seeing and getting to his food bowl. Spartacus also has severe allergies, arthritis and minor dementia. All these things might have understandably scared away potential adopters, but they didn't stop Tammy Hilbrich, who says, "I loved him from the moment I saw him."
Dreaming of adopting an older dog
That love-at-first-sight moment was more than two years ago when Tammy met Spartacus on a visit to volunteer at the Sanctuary. Ever since, she dreamed of bringing Spartacus home, kept his picture on her computer as wallpaper, and never stopped thinking about him. But like many pet lovers, she already had dogs at home.
On top of that, she fosters for Rocket Dog Rescue, a Best Friends Network partner organization, as well as another rescue group in the San Francisco Bay area. "Over the past 11 years, my husband and I have fostered over 500 dogs," Tammy says. "This is my life. I love dogs and want to take care of them. It's a passion to save dogs, and I'll keep doing it as long as I'm capable."
Helping elderly shelter dogs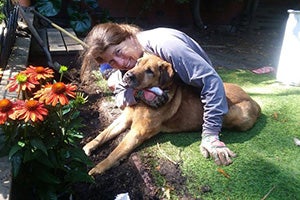 Even with all the dogs in her life, Tammy wanted to adopt Spartacus more than anything. She believed he'd be happy with her. She works from home and has a 15-acre ranch named the Red Dog Ranch because of her love of red dogs like Spartacus. While the ranch is perfect for younger, more active dogs and features a creek, an agility course, a pond and different hiking terrain, Tammy's home also has lots of cozy places for senior dogs to curl up.
No matter how much room Tammy had in her heart, the spaces in her home were always full of dogs needing help. But then, she and her husband lost one of their aged dogs. And though she needed some time to cope with that loss, all signs pointed toward Spartacus. Life suddenly seemed a little less hectic, and Tammy would have more time to devote to another dog who was along in years.
When she and her husband went to a county shelter to pick up some senior dogs for one of their local rescue groups, she thought of Spartacus, who had come to Best Friends Animal Sanctuary from a shelter in New Mexico. Helping dogs who were shelter veterans helped her make her decision. They would get the homes they deserved — and so would Spartacus.
Bringing home a senior dog
In May, Tammy and a friend drove from northern California to the Sanctuary in Kanab, Utah, to get Spartacus and bring him home. When she arrived and walked through the gate of Old Friends, the area of Dogtown were Spartacus lived, Tammy started crying tears of joy. Spartacus' much-anticipated adoption day was finally here. But she couldn't just whisk him away, because it took caregivers nearly an hour to go over all his medical needs, medications and supplements. They showed Tammy the best way to lift him when he needed a boost. They explained his prescription food and how his feeding times have become part of a routine that he'd love to follow in his new home.
It was a lot of information and a big responsibility, but Tammy wasn't fazed in the least. To her, Spartacus was her beautiful, beloved dog for whom she'd waited for years. The fact that he came with medical needs made him even more endearing and special in her eyes. She was prepared to do everything she could to give him the very best life in a home of his own.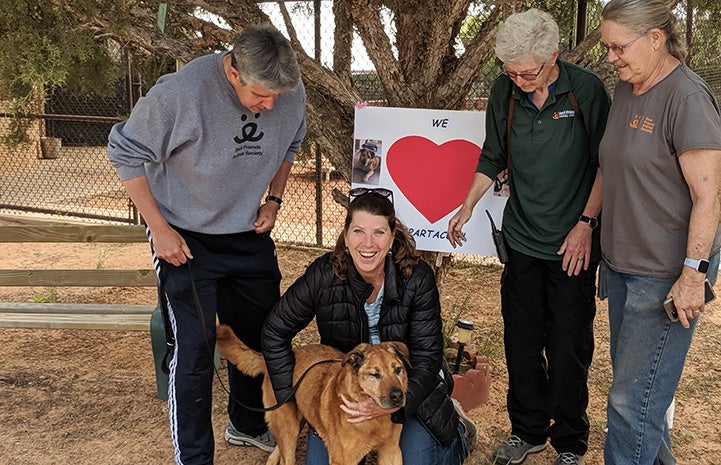 A very special senior pet adoption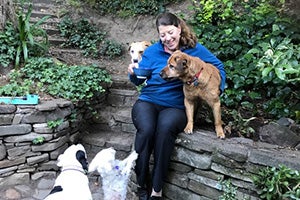 As Tammy and Spartacus settled into the car for the long drive home, Dogtown caregiver Jacquie Bushway Speer said what all of Spartacus' caregivers and friends were thinking: "I can't tell you what this adoption means to us," she said. "This is a very special one."
A few months have passed since Spartacus took the long ride to his new home, and things have been every bit as wonderful as Tammy thought they'd be. He even has a new nickname.
"Parti is fantastic and continues to thrive," Tammy says. "He brings so much joy to our life. We call him Parti because life is happy and fun with him in our life. The other day he actually jumped up on his back legs and put his front paws on my waist. I was so shocked but thrilled he could do it. When he is excited, there is no stopping that old guy."
Who says a senior dog can't be the life of the party?
Photos courtesy of Best Friends staff and Tammy Hilbrich