Father's Day animal pictures: Photos and testaments of paternal love
Enjoy some endearing pictures for Father's Day of men with animals and the undeniable bond that exists between them.
By Molly Wald
Need a cure for the Monday blues? Our photo feature is here to help provide a brief diversion from your workday routine with a small dose of squee, wow and awwww. Enjoy!
Happy Father's Day! Here at Best Friends, we'd like to take the opportunity to celebrate some of our animal "dads" at the Sanctuary — the male caregivers who love and care for the animals each and every day. Here are photographs of the dads talking about some of the animals who have touched their hearts and made their jobs all the more rewarding.
If you visit the Parrot Garden, you are likely to be greeted by caregiver Matt Ross (pictured above), who has a smile as bright as the birds' jewel-toned feathers. Matt's passion for conservation led him to start working in various zoos and aviaries, and in 2013 he started interacting with parrots. "The more time I spent with birds, the more I fell in love with them, and the more I realized I wanted to work with them," says Matt.
Matt has a special relationship with Mr. Big, a cockatoo who needed invasive medical care as soon as he arrived at Best Friends. After emergency surgery to remove a foreign object and 21 days of oral and injected medication, Mr. Big had more than enough reasons to be wary of people. But Matt kept trying to connect with him.
Matt says, "In moments when other birds would have given me a nip or two, Mr. Big didn't. And because I was able to get him to the point where he was trusting people again, it allowed him to immediately get adopted. He is going home tomorrow with a couple from Texas."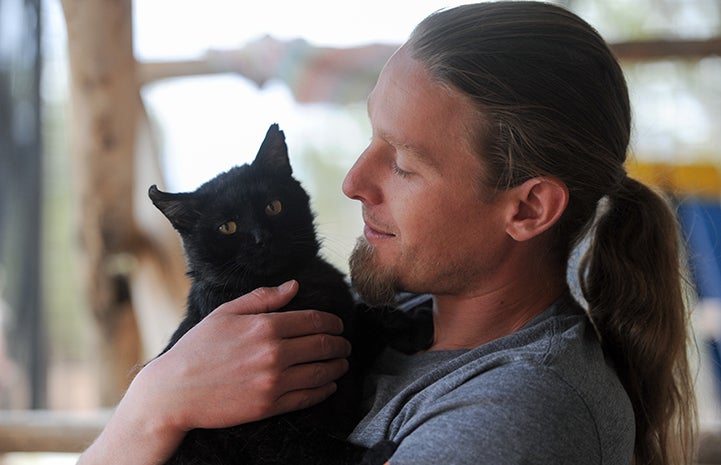 Much like the cats he cares for, Levi Myers has a quiet, contemplative presence. Ask him about any of the cats he cares for and you'll get a book, a poem, a tome of thoughts on these tiny creatures that is deeper than you'd expect.
"Basically I adore all the cats, but the ones who have been through something so difficult and come out the other side with a heart full of love are the ones I truly admire," says Levi. "Parker is one of those rare survivors who hasn't let his past darken his future."
Parker came to the Sanctuary dehydrated, emaciated and covered in open wounds. Levi knew almost immediately that he was looking at a diamond in the rough. It took a long time for Parker to heal both physically and mentally, but it was worth all the hard work.
"Parker is living proof that no matter the tragedy or pain that one endures, there is still the ability to love unconditionally," says Levi.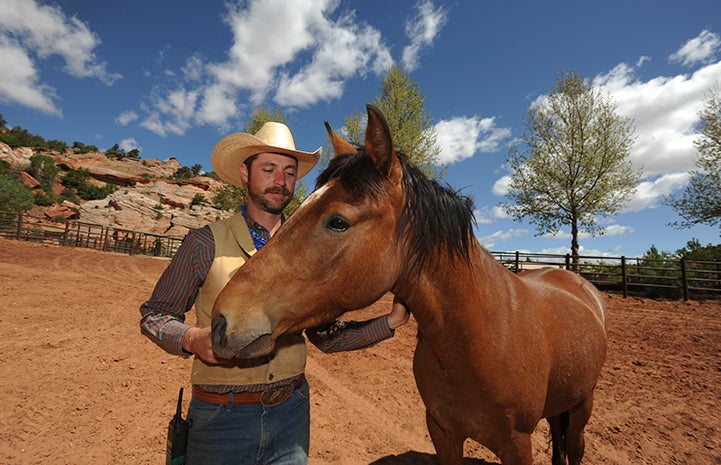 Jeremiah Webb grew up tending and riding Arabian horses in the North Carolina countryside. "It was pretty dreamy, actually," he says. "I skipped a lot of school."
He found Best Friends completely by accident when he and his buddies went on a road trip to visit the national parks and they ran out of gas and money in the unlikeliest of places — Kanab, Utah. Jeremiah started volunteering at Best Friends, and it wasn't long before he applied for a job that was open at Horse Haven.
One of Jeremiah's favorite mares is Scarlett the mustang.
"Scarlett's red roan coat makes her real easy to look at amongst the horses here," he says. "She's just real playful and sweet right now — just turning three years old. Feeding and interacting with her keeps you on your toes, and I like a horse like that."
Jeremiah says that it's hard for anybody to resist Scarlett's charms, and he often finds that visitors and volunteers can't walk by her pasture without stopping to pet her and talk to her. She's also incredibly athletic and responsive and will no doubt make an amazing partner under saddle one day for a savvy horseman. "She's just great," he says.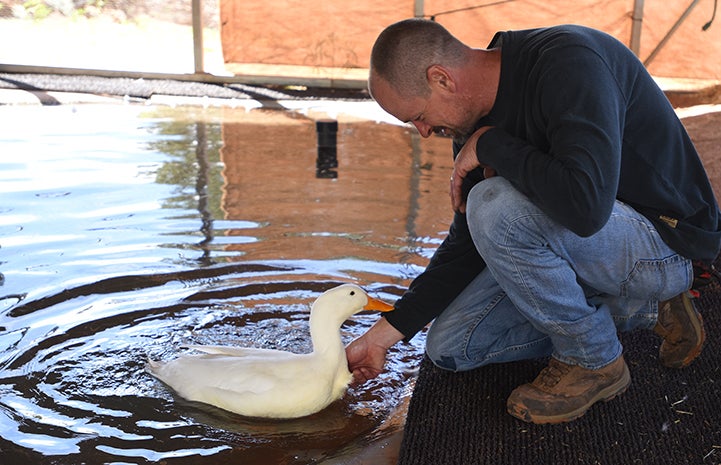 Darrell Bush laughs when asked what it's like being friends with Woodstock. "Gee, where do I begin?" he asks. "I never thought I would be friends with a duck."
Darrell moved to Kanab to help his mom run a yarn store — except that his mom didn't like Kanab and moved away six months later. Darrell liked it, though, and eventually found his way to a place called Wild Friends, the wildlife rehabilitation center at Best Friends Animal Sanctuary. It's mainly a place for animals that normally live in the wild, but it's also become home to a few domestic animals, such as chickens, pigeons and, of course, ducks.
"Woodstock is not like the other ducks," says Darrell. "He has a lot more personality — more than likely because he's been here since he was a duckling. I would classify him as mischievous and playful. Ducks can be a lot friendlier with people than you can imagine. He's entertaining."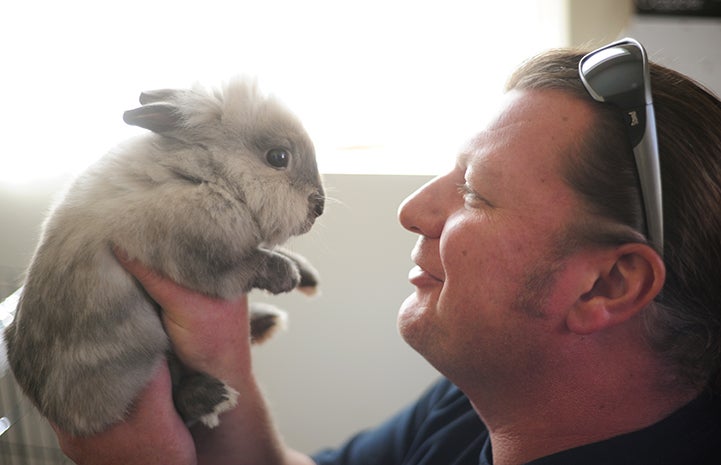 Jason Dickman can't wait to share his love of rabbits with everyone he meets. "Bunnies are really cool," he says, "because the more work that you invest in them, the more you're gonna get out of them. They make awesome pets."
Jason came to Best Friends when his girlfriend landed her dream job at the Sanctuary. "I tagged along for the ride," he says. "I knew I didn't want to work with dogs or cats, because we have them at home. I wanted something different." He worked a shift in Horse Haven and a shift in the Parrot Garden. But one of his lasts shifts was in the Bunny House. It was so quiet and peaceful. Bingo!
One of his favorite rabbits was Meriwether, a miniature Lionhead. Although his epic cuteness made him irresistible to everyone, not many homes were equipped to handle his bold personality. He had "a lot of spunk," as Jason puts it. Jason and the Bunny House caregivers channeled Meriwether's bright mind and extra energy into food puzzles, plenty of forage for chewing and even clicker training.
Meriwether learned a lot of targeting exercises in clicker training. One of his most endearing tricks was "kiss," where he touches his nose to a caregiver's lips. And it wasn't long before Meriwether was adopted by people who understand his unique personality and continue to clicker-train with him.
Jason is so glad he's found his niche with rabbits. He has been working with them for seven years. "I truly enjoy it," he says. "If you dedicate yourself to a bunny, you're gonna get rewarded in return."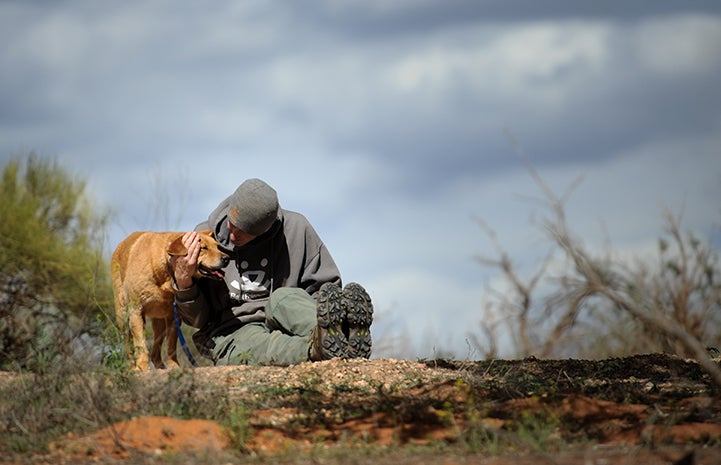 Paul Lindley started working at Dogtown around the time that Hurricane Katrina survivors began arriving at the Sanctuary in 2006. "I was just beginning to learn about rehabilitation and training. The rescued Katrina dogs all had formidable emotional and physical challenges, and Houdini was one of the most fearful."
Houdini was likely a stray before the hurricane, and when he arrived at Best Friends he was terrified of people. He avoided human touch, was afraid of walking on a leash and earned his name by escaping every enclosure he lived in. But with time, persistence, and Paul's gentle touch, Houdini has transformed into a loving companion — even becoming a role model for other shy dogs. For the first time in his life, Houdini is ready to be adopted into a forever home.
Paul, who is inspired every day by Houdini, says, "Seeing the journey he has traveled and helping him along the way has been one of the most rewarding experiences of my life."
Photo essay by Molly Wald
​Enjoy these Father's Day photos? What other photo feature topics would you like us to share? Please let us know below in the comments.