A feline southpaw (aka, a left-handed cat)
Left-handed, declawed cat who used to swat at people gets training to learn to use her paws for good.
By  Christelle L. Del Prete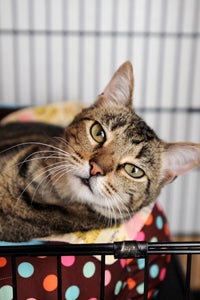 No one knows why Annie is so quick to use her paws on people. The feisty tan-and-black tabby was declawed at some point in her life, and whether or not that's one of the reasons why she uses her paws like boxing gloves, it's a behavior that doesn't do her any favors in terms of finding a home. And since she arrived at Best Friends, her caregivers' goal is not only to make sure she's happy and healthy, but to increase her chances of finding a forever home. That meant she needed to learn a new and better way of behaving around people.
Of course, Annie doesn't have claws, so she can't hurt anyone when she swats. But her caregivers wanted to teach the sassy cat, who lives in the lobby of one of the buildings in Cat World, a few more positive ways to use her paws. Living in the lobby allows Annie to meet lots of new people, including visitors, volunteers and potential adopters. And it makes sense that a cat who can do a cute trick or two will make a much better impression than one who smacks people first and asks questions later.
Strong foundation for left-handed cat
So Annie got a refresher course on some basic training skills she'd practiced with Dr. Frank McMillan, director of well-being studies at Best Friends, when she was a new arrival at the Sanctuary. It included clicker training and hand targeting (touching a trainer's hands with her paw or nose). Whenever Annie did what her caregivers asked (such as targeting), she heard a clicking sound that was immediately followed with cat treats to let her know that she'd done just the right thing.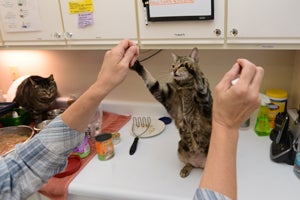 Those skills gave Annie a strong foundation for further training, and, after brushing up on them, she caught on quickly when her caregivers taught her to slap their palms with her paw either down low (low-five), or up high (high-five). In the process, her caregivers discovered that Annie was mainly a "left-pawed" (left-handed) cat — a southpaw, if you will.
A big cheer for a southpaw cat
Annie's been using her head quite a bit, too. She's also learned to "head butt" (touch the top of her head to a caregiver's hand) on cue. She's even accepted the challenge of learning how to "double five" — sit back and high-five with both of her paws at once. She's almost there. Just a few more inches to go and she'll get her click, her reward and a great big cheer.
The training sessions, which keep Annie's active paws busy in a positive way, have made her gentler with her human friends. She's even come to enjoy and look forward to the one-on-one time she gets with her caregivers. That, in turn, is helping her form better relationships with them, and also to make a better impression on everyone she meets. And for that, Annie deserves a big high-five.
Photos by Molly Wald and Kurt Budde