Forever loved: Lance the Vicktory dog
Vicktory dog Lance (former Michael Vick fighting dog) passes away, but he will never be forgotten.
By Christelle L. Del Prete
During the night of May 5th, a truly amazing dog peacefully crossed the Rainbow Bridge in his sleep. Lance was 10 years old and in the loving home of Victoria and George, the couple who'd waited years to make this much-loved dog part of their family.
Dog rescued from NFL player Michael Vick's dog fighting ring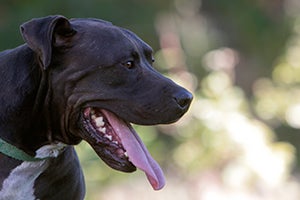 Lance was one of 22 dogs who came to Best Friends after being rescued from the property of NFL player Michael Vick in 2007. They were dubbed the Vicktory dogs and no one personified that more than Lance did. Just one year ago, after years of hard work and practice with Dogtown staff, and the family whose dedication to him never wavered, he aced his Canine Good Citizen (CGC) test. Because Lance was required by a court order to pass the CGC test before being placed in a home, it was truly a life-changing victory.
Remembering Lance the Vicktory dog
Today, though his friends at the Sanctuary were sad to hear the news of his passing, they're remembering Lance and celebrating his life, his hard-won accomplishment, and his journey to a home where he was safe, wanted and, above all else, loved. "My muscles were hurting from smiling so much on the day he went home," says Dogtown caregiver Jacquie Bushway-Speer. To Lance, the world was a big, scary place even five years after his rescue. But Jacquie found something she could do with Lance that he really enjoyed: golf cart rides.
"Once he built up that trust, he would he would lean into you on that golf cart and know he was safe. Those were the golden moments, when Lance felt like, 'This is alright; I can do this.' You always had to go the same route, though. Or boy, he'd know it." Jacquie remembers with a chuckle. Lance knew every twist and turn in the road. "It was a privilege to be part of his life," she says. "He is one of those dogs you just don't forget."
Michelle Weaver, Best Friends' director of animal care and Dogtown manager at the time the Victory dogs arrived at Best Friends, is also grateful to have had the opportunity to work with Lance. "I feel very fortunate to have had the chance to get to know Lance when he first arrived, to watch him come out of his shell, and to see who he really is. Lance wasn't socialized when he came here, but he got along with everyone." That included people, other dogs, and a cat he lived with in one of the Dogtown offices.
Vicktory dog adoption
Michelle is thankful that Lance went to such a loving, supportive family. "They took a lot of time to come to the Sanctuary, to visit and spend time with him before taking him home. It shows how dedicated they were to making him part of their family, and that dedication really drove us to help him overcome his fears so he could move on to the next chapter of his life."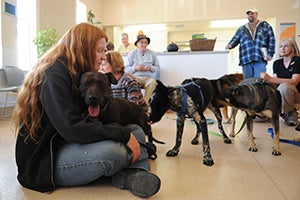 Lance lived in the office of Best Friends' adoptions manager Kristi Littrell while he was at the Sanctuary. Each day, Kristi worked with him, helping him practice what he learned from his trainers, and bringing him one step closer to the long awaited moment when he would pass the test. It didn't matter that it took him years to do it, or that the time he spent in his new home, when he finally got there, was far shorter than what we wanted for him. Kristi says, "I believe that if they go home, even if they are only there for a day, at least they've gone home." They've made it. Lance had made it.
When an elated Kristi first called George and Victoria to share the happy news that Lance passed the test, the only thing that had been standing in the way of his adoption, George was astonished. He said he had no idea he was about to hear that Lance was officially a Canine Good Citizen: "When Kristi told me … it was like my chin hit the floor and I was in total shock," he said. "It's been a long time coming. He had our hearts from the first time we met him. We've never given up on him."
Now Lance may be gone, but he will be forever loved by those who were lucky enough to know him, and to share with him a piece of their hearts. On the morning after Lance's crossing, George wrote a heartfelt note on Lance's Facebook page: "Please remember the love and happy times in his life and not the bad. Lance has loving caregivers, family, friends, and pack. He was loved by everyone that he met. He had such a kind and gentle soul."
Read more about Lance and the Vicktory Dogs
To leave a message on Lance's Facebook page, click here.
Read more heartwarming stories about the Vicktory dogs.
Photos by Best Friends photographers