Forget long vacations or sleeping in: This volunteer would rather spend her retirement years helping New York City's homeless pets
Kathy Posekel, who is retired, now spends her time working with dogs and cats in need at Best Friends Animal Society in New York.
By Nicole Hamilton
After retiring from her career two years ago, Kathy Posekel is focusing on having fun, and by fun she means volunteering with Best Friends in New York. If she's not at the Best Friends Lifesaving Center in New York City caring for dogs or training new members of the dog care team, you're likely to find her at an off-site adoption event or rolling down the highway, delivering a dog to a partner shelter.
Kathy also helps with adoptions and stays in touch with adopters to check on how pets are doing once they find homes. And she doesn't limit her volunteering to Best Friends. She also does trap-neuter-return (TNR) in her neighborhood for Animal Care Centers of NYC (ACC).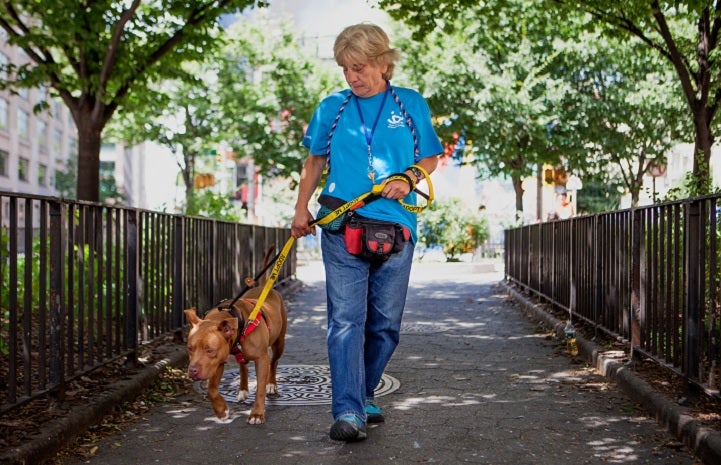 "Kathy is so incredibly invested in all of our animals and goes to the end of the earth to keep them happy," says Missy Parker, lifesaving support services lead at the center. "It would be impossible to highlight all of the ways Kathy supports Best Friends in New York. We don't know what we would do without her."
You can read more about Kathy in the following interview.
Why did you decide to volunteer and what motivates you to continue?
I can't remember exactly why or when I first became a Best Friends member, but when I went out to Best Friends Animal Sanctuary in 2006 for a workshop, I was blown away by everything and everybody. I was all in after that.
What does volunteering mean to you and why do you do it?
I believe that humans cause most of their own problems and, unfortunately, also cause the problems for animals. Best Friends offers an opportunity to help rectify that situation.
Can you tell us about your favorite volunteer moment?
There are so many, but one of my favorite activities is taking a dog out to the lobby of the center and just hanging out with them, letting them watch all of the activities and get lots of attention. I call them "lobby dates."
What inspires you most in your volunteer work?
I love all animals, but I've always felt that dogs own a piece of my soul. Despite whatever traumas or disappointments they may have endured in the past, when they look into your eyes and willingly give you their trust and affection, I'm compelled to do whatever I can for them.
What have you learned as a volunteer, and do you see anything differently now?
I've learned that animal rescue is a very challenging endeavor that can only be accomplished through teamwork. And while I admire and respect everyone's efforts throughout the Best Friends organization, I have found that no one has a tougher job than those individuals on the front lines — the caregivers. They work unselfishly and tirelessly every day, so I try to give them as much support as I can.
What are you most proud of in your volunteer work?
If my actions help an animal to feel safe, confident, and loved, that's a good day! And it was a privilege to be part of amazing teams during my two deployments in Houston after Hurricane Harvey.
Besides volunteering for Best Friends, how else do give back to your community?
I've been a board member of my local civic association for the past 29 years. And through this organization, I've been able to sponsor and host a pet adoption fair over 12 years. I'm a member of the NYC Community Emergency Response Team, and through the assistance of the ACC, I perform TNR services in my neighborhood. I also crochet blankets for cats at the ACC's Brooklyn facility.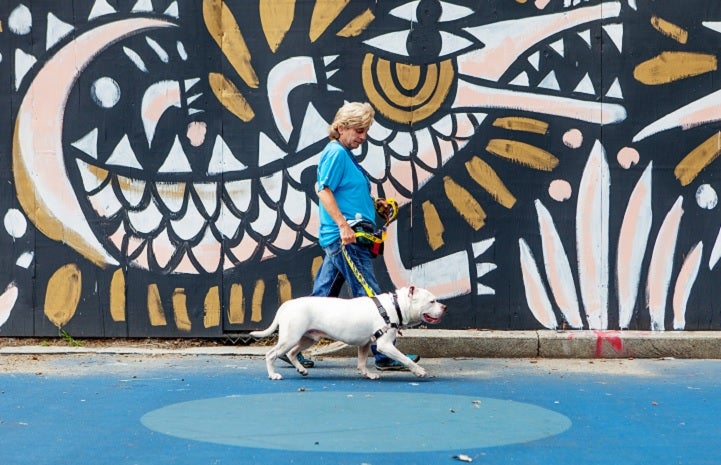 Could you tell us something we might not know about you?
I play the fife and have been performing with a Colonial Fife and Drum Corps for over 40 years. I'm also a 9/11 survivor. I was working in Tower One that day.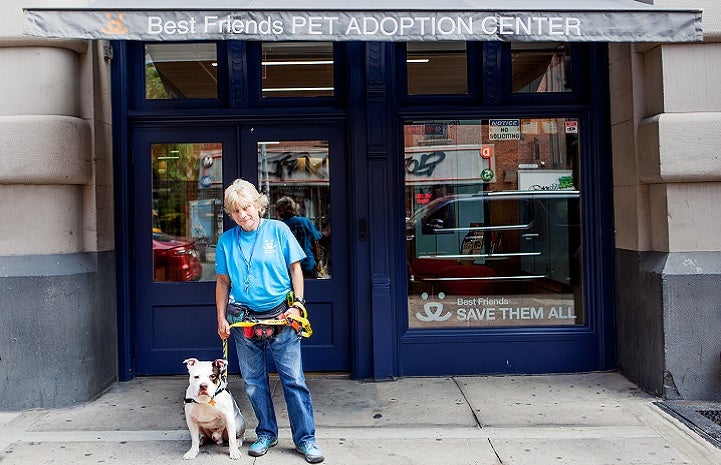 How about your own pets?
As a kid, my apartment building wasn't pet-friendly, but I was able to have a canary and various parakeets over the years. Since then, I've had several cats and two dogs in my life. At present, I have my dog, Simon, who I adopted at a Best Friends Super Adoption in 2013. He's now 12 years old, but still loves hiking and chasing chipmunks and squirrels in the park. Fortunately, he never catches any of them!
What would you tell others who are thinking of volunteering?
Best Friends' efforts are very far-reaching and provide volunteers with opportunities to help in so many different ways. There's a potential niche for everyone.
Be a hero. Volunteer at a shelter near you.
Best Friends in New York works collaboratively with city shelters, local animal welfare organizations and individuals to save the lives of pets in shelters in New York City and the surrounding tri-state area. As part of this work, Best Friends has a national lifesaving concept space and pet adoption center in SoHo, hosts adoption and fundraising events, and runs a foster program in partnership with Animal Care Centers of New York City. Together, we will Save Them All.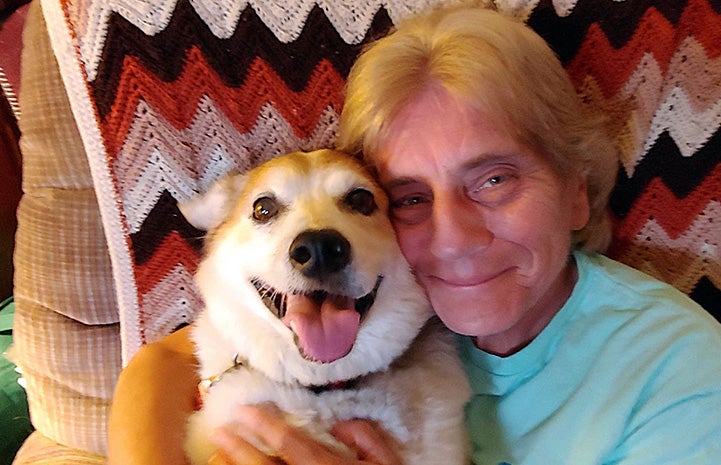 Photos by Robert Stoetzel and courtesy of Kathy Posekel